With the glitz and glamour of this year's Game BAFTA ceremony out of the way, we can take the time and look at the winners of the UK's most prestigious gaming awards. This year's ceremony has divided many opinions as to who deservedly won so we will start with the controversial winner of Best Game 2015.
Destiny is one of the biggest titles to come to consoles this season but put up against fan favourites such as Dragon Age Inquisition, Alien Isolation and Shadow of Mordor: you can understand why many have been left confused by this allocation. The game itself appealing to many due to its massive online capability, fell short for others when they discovered the story to be a bit sparse. Although Bungie recognized this and tried to do right by the fans with the release of more story-driven DLC, games should not rely on additional content which the players have to pay for on top of the AAA pricing.
The other big winners of the evening were The Last of Us: Left Behind and Monument Valley.
The Last of Us: Left Behind was nominated for two awards (Story and Performer with Ashley Johnson as Ellie) and walked away with both of them: Ashley Johnson accepted both awards on behalf of Naughty Dog.  The Last of Us has been praised universally for its narrative to the point that they also won the Story BAFTA in 2014, while Left Behind does focus more on the story of Ellie's past; should we really give the award to a 2-hour DLC? Especially when they are grouped with unique stories as Never Alone and Broken Age? But then we have to look at Ashley Johnson's win this year as Ellie, an award she also won for the same character last year – I am not denying that she brought life to the character but should someone win the same award for the same character two years running?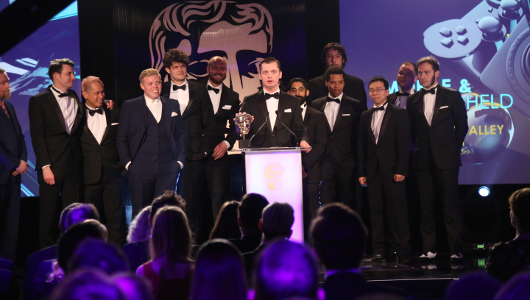 Monument Valley is one of the quieter games to be included in this year's BAFTAs but it was nominated for 5 awards and walked away with 2 of them.  With a minimalist art-style and complex puzzles, the game charmed the BAFTA Judges and they were awarded the BAFTAs for British Game and Mobile and Handheld.  When compared to some of the more recognizable titles within the categories; you do have to wonder how they fought off the competition from Alien: Isolation or The Walking Dead: Season Two.
Surprisingly fan-favourite Alien: Isolation only walked away with one of its six nominations, picking up the big BAFTA Face for Audio Achievement:  many expected Creative Assembly to grab a few of the golden visages and perhaps more worthy of the title of Best Game.
It was a good night for the quirkier sorts of games with British titles leading the charge,  Lumino City was up against Monument Valley in a couple of categories but won out for Artistic Achievement. State of Play games have poured their souls into creating a beautiful and unique landscape for this title and literal blood, sweat and tears.  The amalgamation of the cardboard cut-out world and the animated characters is unusual but brings the universe to life and it is truly an achievement.
Valiant Hearts won Original property for its moving portrayal of friendship and the struggle of WW1. The setting of this piece may not be original but the way it is portrayed it wonderful, bringing together both fact and fiction to paint a truer story of the war with eyes on both sides of the struggle.
The Vanishing of Ethan Carter went away with Game Innovation for its ability to incorporate past and present into a mysterious story line without feeling forced and allowing the player to become the detective rather than being a passive voyeur.
Debut game was awarded to Upper One Games and E-Line Media for their sombre tale Never Alone (Kisima Ingitchuna); bringing to life some lesser known Alaskan folklore with bleak but beautiful set-pieces.  Playing as Nuna and her arctic fox, you must use the characters in harmony to complete various puzzles and platforms; the game really shines in its storytelling which is why it was also nominated in the Story category but the studio has given us a strong Debut game and we are looking forward to their future.
When placed against heavyweights such as Call of Duty: Advanced Warfare, Minecraft, Destiny, Mario Kart 8 and Titanfall for the title of best Multiplayer; you would think that you would not have a chance but this year Blizzard's Hearthstone: Heroes of Warcraft beat them all.  With over 25 million registered users as of January 2015, this multiplayer card game has shown its worth amongst some more mainstream titles.  Overall this year, Hearthstone was nominated for 3 awards losing out to Monument Valley (Mobile and Handheld) and Middle Earth: Shadow of Mordor (Game Design) with its unique game-play elements and the innovative Nemesis system incorporating the traditional Tolkien-esque storytelling we all expect.
With several visits to the BAFTAs balls, Minecraft goes away with the Family Award for its console edition; the game has been nominated a few times over its lifespan with Notch himself receiving Special recognition in 2012.  The universal love of this game has spanned over half a decade, numerous ports and variations even to its very own convention (MineCon) and Lego line; it is easy to see why they won over other favourites like Little Big Planet 3 or Mario Kart 8.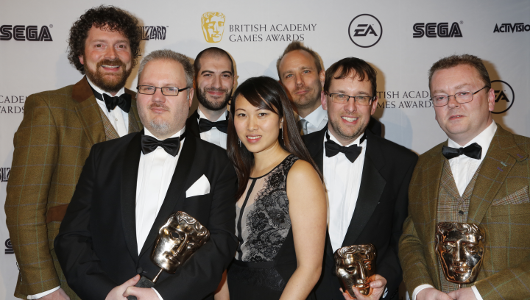 Far Cry 4 won for Music but I've never noticed when playing, I tend to be too busy killing elephants.  Sport was given to OlliOlli which is probably more accessible to the wider gaming public that games which scream either FOOTBALL or VEHICLES at you before you have even taken it off the shelf.
Persistent Game went to League of Legends which confused me a little as I thought the persistent would mean the game is never out of my face; be it on Twitch, YouTube or just adverts in general but according to the good folks at the BAFTAs it covers "games that make use of the internet to provide an evolving experience through updates, connected and on-going worlds, multiplayer and other features." 
To me this game fits more into the Sports category, I know that traditionally it is reserved for video game versions of well-known athletic activities but with the rise of e-sports and the following it has gathered over the past few years, maybe the category needs to evolve.
The final award went to a brand new studio called Overly Kinetic, they won the BAFTA Ones to Watch for their piece Chamara.  Chambara is a stealth-deathmatch supporting local multiplayer where you much utilize the dark and the light in this minimalistic landscape to hunt and hide from your adversaries. This is a studio to look out for, you can download Chambara from their website for free.
What do you think about this years winners? Let us know down in the comments below or in the Big Red Barrel forums.
Tags: 4J Studios, Activision, Alien: Isolation, Ashley Johnson, BAFTA, BAFTA Gaming, Blizzard, British Academy Game Awards, Bungie, Chambara, Creative Assembley, Destiny, E-Line Media, Far Cry 4, Hearthstone: Heroes of Warcraft, League of Legends, lumino city, Microsoft Studios, Middle-Earth: Shadow of Mordor, Minecraft, Minecraft: Console Editions, mojang, Monolith, Monolith Productions, Monument Valley, naughty dog, Never Alone, Never Alone (Kisima Ignitchuna), Nordic Games, OLIOLI, Overly Kinetic, Riot, Riot Games, Roll7, Sega, Shadow of Mordor, Sony, Sony Computer Entertainment Europe, state of play, The Astronauts, The Creative Assembly, The Last of Us, The last of us: Left behind, The Vanishing of Ethan Carter, Ubisoft, Upper One Games, Ustwo Games, Valiant Hearts, Warner Bros. Interactive Entertainment