You could win one of two Mass Effect Alliance Normandy SR-2 Replica Ships! This is officially endorsed as Commander Shepard's favourite contest on the Citadel.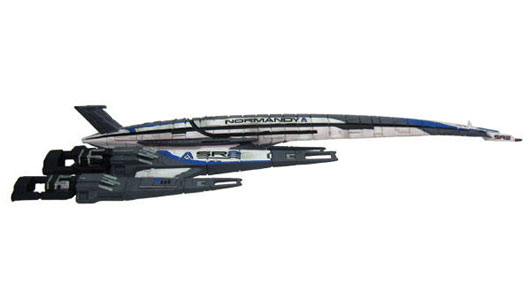 All you have to do to answer the question below. The funniest or best answer will win the top prize (one of the ships with an inflatable Omni-Blade). The second best entry will also win a replica ship.
Please note these are replica ships and as such are NOT life-sized or capable of actual space travel. They will look pretty damn awesome on your gaming shelf though!
Question: In your fight to save the Earth, name your ideal four crew members (picking one in each category) to join your Normandy from the following options:
• A fictional animated character
• A character from any other BioWare game
• A Star Wars character*
• A member of the Big Red Barrel staff
Additional credit will go to those with funny brief explanations of why these crew members would work well together.
Rules and Regulations
*Picking Jar Jar Binks will result in automatic disqualification. All entries must be in by 12 noon (GMT) on Sunday March 11th. Any entries after this time will not be considered for prizes. The winners will be announced on this thread shortly afterward. Multiple entries are permitted but only one prize will be given to any one individual. As always, my decision is final … unless I change my mind.
Note that you will need to provide a postal address for this prize to be delivered. Be warned that if prizes remain unclaimed for more than 28 days they may be offered as prizes in new competitions thereafter.
If you are not lucky enough to win your own Normandy, they can be purchased in the UK for £29.99 from Forbidden Planet and purchased from Dark Horse in the US. The prizes were kindly supplied by Tully Ackland, UK Community Coordinator at BioWare.
Tags: Alliance Normandy SR-2 Replica Ship, Contest, Mass Effect, Mass Effect 3, Normandy