COMPETITION NOW CLOSED – ALL ENTRIES WITH A TIMESTAMP BEFORE 00:00 GMT on 27th MARCH 2012 ARE ELIGIBLE TO BE WON.
THE WINNER WILL BE SELECTED AND EMAILED WITHIN 24 HOURS.
You!  Yes, you.  Have you just picked up a shiny new PS Vita?  Is your wallet hurting after spending all that cash?  Are you still in need of a copy of Uncharted: Golden Abyss?  Never fear, because we've got your back here at BigRedBarrel and are giving you the chance to win a brand new, sealed copy of the cartridge version of Golden Abyss.  Aren't we spiffing?
To enter, all you need to do is provide a (preferably comedy) caption for this photo of Nolan North and Richard McGonagle hard at work mo-capping for Uncharted.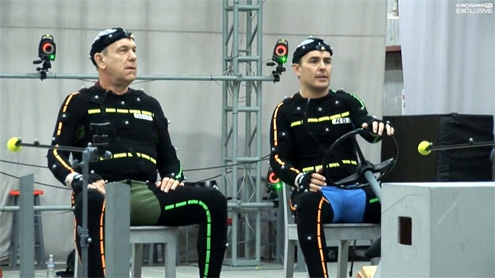 To win, all you need to do is post your caption for this positively magical photo in the forum thread for this post.  This competition is only open to registered members of BigRedBarrel.com – if you're not registered, you can sign up to the site right here and start enjoying the wonderous range of regular articles, previews, reviews, podcasts and video content that we've got on offer.
This competition will close at 11.59pm (GMT) on Sunday 26th March 2012; the winner will be notified by email within 24 hours of the competition closing.  The prize is a brand-new, sealed UK retail physical copy of Uncharted: Golden Abyss.  No alternative prizes in the form of cash or PSN download codes will be offered.  Please note that this game requires a PS Vita memory card; this is not included with the prize.
Good luck!
Tags: Awesome, Competition, PlayStation, PSV, Uncharted, Uncharted: Golden Abyss, Vita, win