I was lucky enough to win a copy of That Trivia Game thanks to @BROzKlair88 on Twitter. Originally, I entered the competition as the game seemed to fill a genre gap in the next-gen library and wanted to see if it could take a place beside game franchises like Buzz! and You Don't Know Jack!
The good news is That Trivia Game is a competent quiz show title with a large breadth of questions and topics available. The bad news is the lack of almost anything else in the game.
• Developer: Happy Dance Games
• Publisher: The Game Room
• Reviewed on: PlayStation 4
• Release Date: Available Now

At the very beginning of the game, you are given the option to play alone or to play with friends. Selecting to play alone, you are given a rudimentary character select scene. You are then pitted against another single AI opponent. In the local multiplayer mode, you can select up to four local players. Before the game begins you can choose a character, a color, a buzzer sound, and enter a name.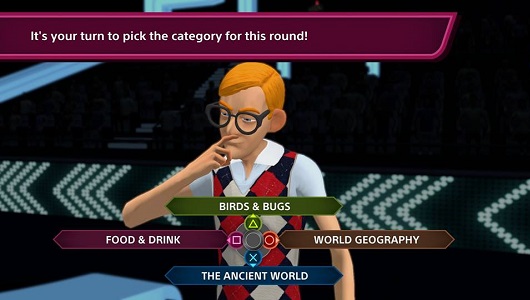 Each 'show' is split into four rounds – each of which play differently to the last. The first round is a basic multiple choice round in which each correct answer earns you 250 points. The questions here are relatively easy, covering topics from Modern History, The Human Body and Music. The next segment allows you to bet 100, 250, 500, or 750 points on a new, random question – allowing you to extend a lead, or close a gap.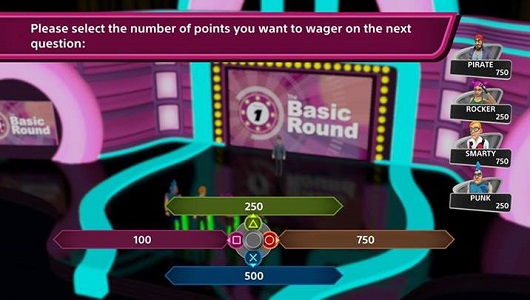 The second round changes things by removing incorrect answers as a timer counts down. Points received are determined by how quickly you choose the correct answer. This obviously introduces an element of risk to proceedings as you can simply wait to increase the chances your answer is right (but lose out on points) or risk guessing early (and possibly not earning any).
The third round continues the trend of rewarding players for answering questions quickly – this time though, it doesn't remove incorrect answers. As the timer ticks down, a points tally on the bottom right ticks down, starting from 500. The quicker you answer correctly, the more points you get.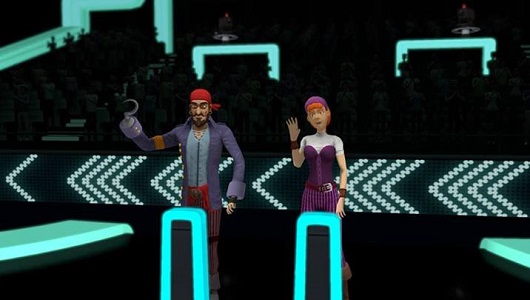 Finally, the last round in That Trivia Game plays out differently again. After asking a question, the various possible answers appear on screen for a second or two at a time in a random order. When you see the correct answer, pressing X selects that answer and ensures the other player(s) cannot pick. If you pick correctly, you earn 1000 points. However, choosing the wrong answer will lose you 1500 points – so the stakes are quite high here.
Overall, the diversity of the topics is good and I have not seen any repeated questions yet. However, the game's presentation and general aesthetic is limited. The host's voice lacks any personality and the various characters are far too basic, in terms of design. There is little in the way of visual flair at all. Given the format, I was expecting music rounds to involve musical clip questions or movie rounds to have some visual-based tasks – instead, the vast majority were text-based, multiple choice questions.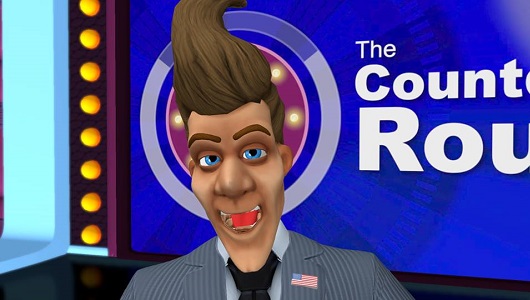 Each game also seems to start from scratch. There are no profiles saved or stats kept – meaning I had to select and name my character every time. Also, the format of the show stays the same, with no options for different types of rounds or customising the experience at all. With no online mode present either, I cannot see That Trivia Game becoming a regularly played title.
Fills a sparse genre gap
Limited gameplay options
Average, unappealing visuals
No online or saved profiles
That Trivia Game may fill a gap in your game library if you are a fan of the quiz genre. It is indeed a competent trivia game. However, the severe lack of ambition in some of its design choices is all the more disappointing when you think that Happy Dance Games had the genre to themselves so far this generation. They have made a basic game with a good foundation, but if they plan on turning this game into a franchise, far more effort will be required.
Copy provided by @BROzKlair88 and Happy Dance Games
Official Game Site
Tags: Happy Dance Games, PlayStation 4, That Trivia Game, The Game Room