WWE 2K14 is the first game from World Wrestling Entertainment since Take-Two acquired their licence as a result of THQ's bankruptcy filing. Combining a story mode that details 30 years of  Wrestlemania, The Undertaker with his massive 21 winning streak and innovations for its creative modes, this looks to be the biggest WWE title to date!
• Developer: Yukes/Visual Concepts
• Publisher: 2K Sports
• Reviewed on: Xbox 360
• Also Available On: PlayStation 3
• Release Date: North America October 29th / Europe November 1st
BigRedBarrel were very generously invited to a hands-on preview for WWE 2K14 which took place in a rather dark and spooky crypt themed venue. Filled with candles and huge posters of The Undertaker, this would be the setting not just to get some hands-on time with the game, but also to receive a demonstration from WWE 2K14's Lead Designer, Bryan Williams. After taking a pew (literally) the game was loaded up, and we were shown a video package that introduces you to the spectacle that is Wrestlemania.
The first mode shown was 30 years of Wrestlemania, which takes you on an epic journey as you fight your way through more than 45 different matches that took place on the grandest stage of them all. Starting out with 1985's Bodyslam Challenge between Big John Studd and Andre the Giant, to the 2013 blockbuster WWE Championship title match of John Cena vs. The Rock. Following on from WWE 13's Attitude Era Mode, 30 Years of Wrestlemania will aid you in re-enacting each bout using special video packages that have been created by WWE's team themselves, actual audio commentary taken from the original broadcast and authentic looking Superstars and Legends who will be wearing the correct attire that reflects on the era.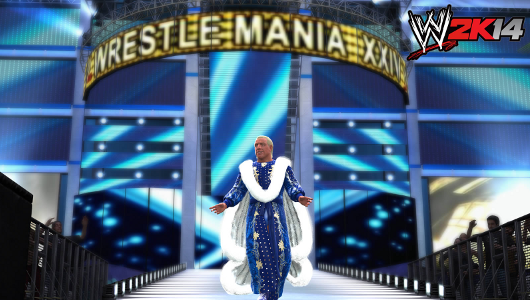 To show the game in action, Williams chose an emotional 'Mania favourite in the form of Shawn Michaels and Ric Flair's Retirement Match. After another video package out the way and some impressive looking entrances from each Superstar, the bell sounded, and the game began. Each match aims to recreate the original broadcast by using an objective list for the player to follow to complete the event. Tasks range from dishing out enough punishment to bring your opponent's damage level up, to positioning Flair against the announcer's table. If successful then a short cut scene will be activated and show a recreation of the painful looking moonsault from Wrestlemania 24 where HBK missed and took a table to the ribs. Just like in WWE 13, completing objectives and clearing a match in the historically accurate way, will mean you are rewarded with unlockable in-game items that include, new characters, costumes, arenas, theme music and more.
Next, Bryan unveiled a brand new mode called The Streak. As fans of the WWE, either old school or current will know, The Streak is the undefeated record of the Deadman himself, The Undertaker. As the number of 'Mania events climb, so too does the Phenom's win record for the event, which has now become just as an important part of Wrestlemania as it's biggest Championship matches.
The Streak is formed of two different modes, the first of which being Defeat the Streak. Here your objective is simple, pick your favourite Superstar or Legend and square off against the Big Evil in his yard at Wrestlemania. An interesting feature we were shown here, is that if you pick to play as someone that may have a history with Undertaker, then the arena, match and attire will all change accordingly to recreate their original fight – you will still get the choice to change if you like. If you prefer to play as say Daniel Bryan rather than Triple H however then all of those options above will be randomised. Now in previous titles, there have been opportunities to end Undertaker's streak, either in story modes or challenges, but playing Beat the Streak is something that stands out from previous attempts by trying to make you feel what it's like to go up against the Deadman by essentially creating a "Boss Battle". His AI has been specifically designed to win, and stats like speed, power and stamina have all been increased to provide the biggest challenge possible. To give us an example of just how complicated this version of Undertaker is, Bryan set up a match Kane and demonstrated that in this mode the reversal trigger is your friend. He also brought up how Undertaker will use his famous tricks and mind-games to turn the tables should the scales be tipping in your favour, one example being when Kane hit his brother with the Chokeslam, a familiar sounding church bell rang as the lights went out for a moment and as the arena light back up, Undertaker was to his feet and standing behind his opponent, ready to hit him with a Chokeslam of his own.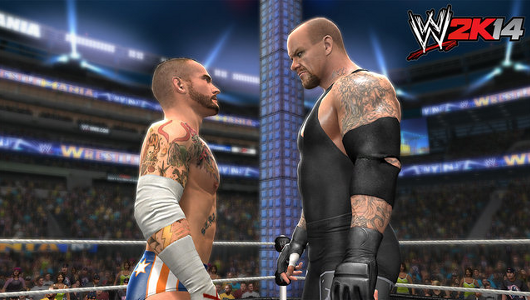 Following the match, a result board displaying scores based on the length of the fight, competitiveness, showmanship, along with other attributes that factor into your number. This is then loaded to a weekly refreshed leaderboard on either Xbox Live or PlayStation Network for friends or rivals to see and then try to beat. The second mode named Defend the Streak plays more like a traditional challenge mode, allowing you to play as whichever iteration of the Undertaker you choose – including the American Badass if you've ordered the Phenom Edition of the game – whilst you take on challenger after challenger who all want to be the first to break the streak.
Bryan Williams finished up the presentation by going over some of other new editions debuted in 2K14, which includes something that always excites me in WWE titles, the different 'Create' modes. The development team have spent a great deal of time reacting to fan feedback for customisation options and look as though they have really delivered just for those creative types. The number of new Superstars you can create has now been increased from 50 to 100, which means that if like myself you wish to create a new show for your WWE Universe sessions – maybe a rival outside the WWE so you can start a modern version of the Monday Night Wars – and build it a brand new roster from scratch, then go ahead. When you have your new show then you're going to want to give it a prize worth fighting for right? Well, now you can create the Holy Grail of championships using Create a Title. Whereas WWE 13 brought in customisation options for existing titles, this year you can make brand new ones from the colour of the strap to the face-plates on the front. Each belt design can be selected from a choice of pre-existing templates, or you can use the in-game paint tool and create something brand new, like the coveted BRB Hardcore Championship.
Superstar Threads are back, and this time, you can not only change the colour of your characters in-ring attire – because who doesn't want a pink Kane? – But now you can do the same for entrance attires too. Finally, Edge's trench coat will not go untouched. Superstar Templates are now available in the create mode; this will allow you to take someone like CM Punk and alter anything from the head down. Say you miss Y2J wearing long tights instead of trunks, just make some new tights from him, or say you're a bit sadistic like me and want to mess with John Cena and take away some of the muscle, maybe even give him a beer belly, all possible with this new mode. However, only select members of the roster can be used, so don't think you're going to be jumping in and 'enhancing' any of the Divas anytime soon. Speaking of the Divas, they've also had more options added, again the following feedback. Players will now have the ability to create a full roster of Divas to full entire female shows in WWE Universe, complete with the Divas Championship as the main title. WWE Universe mode will also allow for the player to create rivalries between superstars both real and created. Single or Tag team rivalries can be created and edited, with such detail that you can even plan for superstars to interrupt their rivals matches.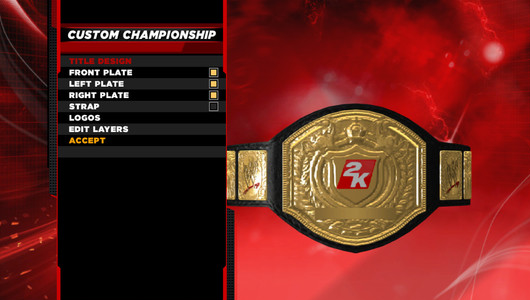 Once the presentation was over, it was time to get my hands on the game itself. But rather than do as I was told by going to play 30 years of Wrestlemania or challenging the Streak, I did exactly what I do in every WWE game first time – take the smallest Superstar and put him up against the biggest challenge available. I picked Heath Slater for myself – a favourite in my household – to go up against Big Show in an extreme rules match, I was pinned pretty quickly. Changing to 30 Years of Wrestlemania, I thought I'd try out the Heart Break Kid/Nature Boy match for myself and was not disappointed. The controls seemed to be exactly the same as last years, which for those who have played through all the iterations of WWE games will know, this isn't a bad thing. Movement between the characters, however, do seem more fluid in this instalment and felt closer to the actual live TV events than ever before. Following the objectives is easy enough, with one or two shown and the rest blocked out, as you complete a task then another is shown until it's time to end the match. like the Attitude Era mode before it, 30 Years of Wrestlemania promises to not only be a fun and challenging experience, but also a brilliant nostalgic trip for longer term Pro-Wrestling fans like myself.
Next, I went for Beat The Streak, in an attempt to take the Undertaker down. Looking around I saw people go for more popular guys like The Rock or Randy Orton, but to truly test the difficulty of the Deadman, I picked Santino Marella. As soon as the bell rang, I went in for the attack, only to be reversed before 'Taker wailed on me repeatedly with punches and kicks. Reversals are not my strong point in these games, but I learned quickly, just not quick enough. A Chokeslam followed by a Tombstone Piledriver later, and I was done. Unfortunately for me that day the Streak remained undefeated and proved to be quite the challenge that even an experienced player may struggle to overcome.
I've been playing wrestling titles myself since WWF WrestleMania on the Amiga but didn't really latch onto the games until the now defunct THQ took over the licence. Now that 2K Sports have come to play with WWE, they look to be making some welcome changes whilst still maintaining key elements from the older titles in the series. If you're a fan of the WWE brand of games then this is for you, if you've fallen out of Love with the series, however, then WWE 2k14 may very well rekindle your interest.
[youtube id="7C2AdPGRcQk"]
Official Game Site
Tags: 2K Sports, PlayStation 3, Take-Two, THQ, Wrestlemania, WWE 2K14, Xbox 360, Yukes