First of all I must confess I am an easy mark for things like Super Robot Mayhem. It's a comic about space ships, aliens and, most importantly, a huge robot. When I saw a flier for Super Robot Mayhem in my local comic book shop I was very excited. So when Subversive Comics sent me a copy of Super Robot Mayhem #1, I was incredibly excited!
• Writer: Jeremy Biggs
• Art: Javier Borden
• Colours: Yel Zamor
• Letters: Jon Scrivens
• Publisher: Subversive Comics
• Release Date: 4th September 2017

Super Robot Mayhem is a Kickstarter funded independent comic written by Jeremy Biggs with art from Javier Borden. Issue 1: Fall From Grace will be available in digital format from Subversive Comics in early September. It opens with unnamed figures exploring an otherwise abandoned giant ship floating in deep space. One of the figures finds what looks like an intact cryogenic pod. From there we cut to the "present day" and the crew of a mining ship who have found something they believe is a huge statue.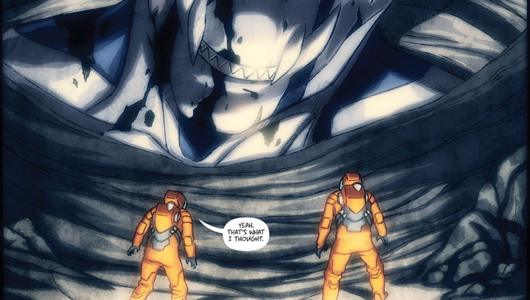 The plot starts slowly and has barely had a chance to get going by the time I reached the end of Issue 1, which is perhaps why the last few pages jump from our protagonists to introduce the aliens who will be Super Robot Mayhem's villains. We do not get much of an idea of who they are or what they want beyond the cry "I… want… Mayhem!" However this tease is certainly enough to make me want to read more.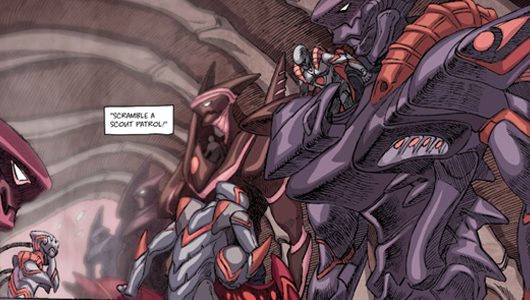 The art, while never spectacular, is very good with a slight feeling of Saturday morning cartoons transferred to the page. This appeals perfectly to the child inside me (a child not particularly deeply hidden while reading a comic about a giant robot called "Mayhem"!). The full page introduction of Mayhem's head beautifully communicates the size and mysterious nature of the titular robot.
Really nice art
Compelling story, as far as it goes
Story starts a bit slowly
Kickstarter funded per issue so I cannot be sure how long it will run
Because Super Robot Mayhem is a new property from a small publisher, Subversive Comics have decided to fund each issue with a separate Kickstarter campaign. This is an interesting, if no doubt very stressful, strategy that makes me a little worried we might not ever get to see the full story. However, from what I have read so far I am certainly going to be looking at backing issue 2.
I really enjoyed the all too brief introduction we get to Super Robot Mayhem in this comic and would urge everyone who loves giant robots fighting aliens to rush out and buy a copy if only to make sure I get to read more.
Review copy provided by Subversive Comics
Super Robot Mayhem will be available from Subversive Comics
Tags: comics, Mecha, Robot, Subversive Comics, Super Robot Mayhem