This year's UK Games Expo once again was bigger and better than last year. Storming ahead as the UK's premier Tabletop and Boardgaming event of the year, it is quickly becoming the one event of the year that UK gamers can not afford to miss – and now seems to be attracting even more visitors from abroad, in the same way large events such as Spiel and Gencon have established themselves previously.
There was a LOT to see, so here are some of my highlights…
Previews
An advanced look a number of upcoming games due for release later this year…
The Refuge: Terror from the Deep
Designer: John Brieger, Floyd Lu
Publisher: B&B Games Studio
Release Date: On Kickstarter Now
Number of Players: 1-6 Players
Playtime: 30-60 minutes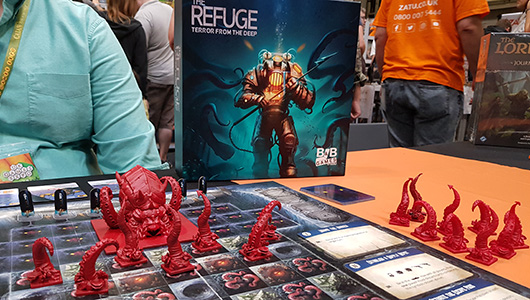 The Refuge is like a whole game set in a boss battle with a giant Kraken (we like Big Red things around here and who doesn't like a good kraken battle?) Variety comes to the gameplay thanks to the ability to swap out win-conditions and objectives, as well as the composition of the team of divers facing off against this mythical beast!
There are also a number of options in the way you can play. 2–6 players can play competitively or 1-4 players can play a solo mode or cooperatively.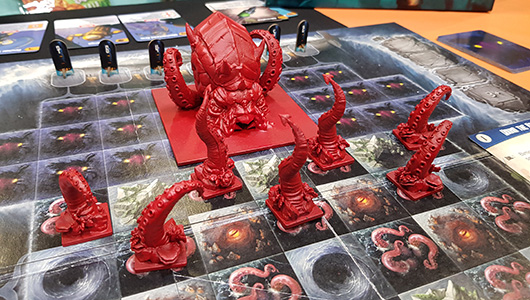 The quality of the figures were high and I liked the feel of the gameplay – although I would have to play a few games to get a better feel of just how much variety there is in the objectives. The Kraken had a very simple to implement AI and I think this is a very important factor that a lot of similar games can sometimes make overly complicated.
This game is available to back on Kickstarter. So check out their Kickstarter campaign if you want to dive in! Pleased to say they are already over 100% funded, so won't be sinking without trace!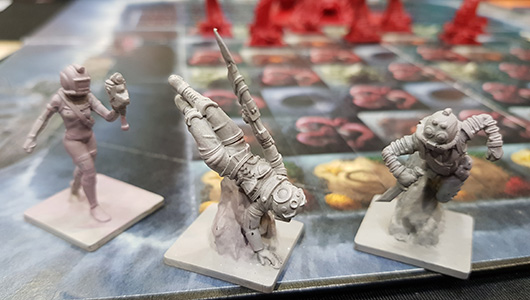 God of War: The Card Game
Designer: Fel Barros, Alexandru Olteanu
Publisher: Cool Mini Or Not
Release Date: 2019

Number of Players: 1-4 Players

Playtime: 90 minutes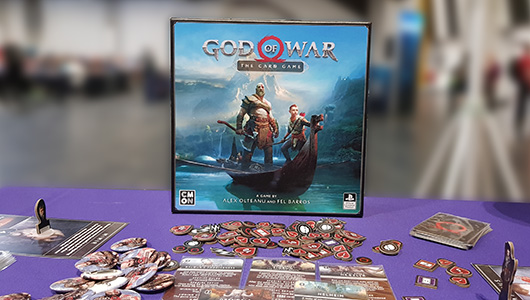 BOY! My favourite videogame of all time is being made into a card game. My only slight disappointment with this that despite being made by a company literally called "Cool Mini Or Not", it has opted for the "NOT" when it comes to the inclusion of mini figurines of the game's characters. However, they do have these attractive cardboard standee.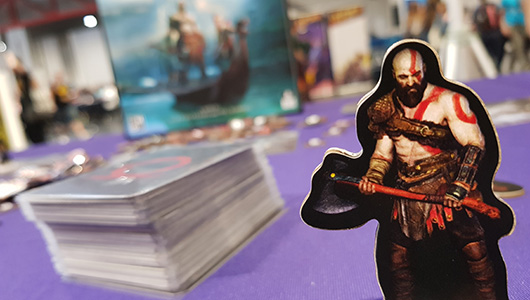 I also like the look of the combat. An area of cards is put together such as in the picture below. These double-sided cards collectively form an image of an area from the game representing a quest – but more importantly contain information of the enemies you are facing, to which tokens can be added to keep track of their health. The top row can only be struck by range attacks and the bottom row can only be hit with melee attacks.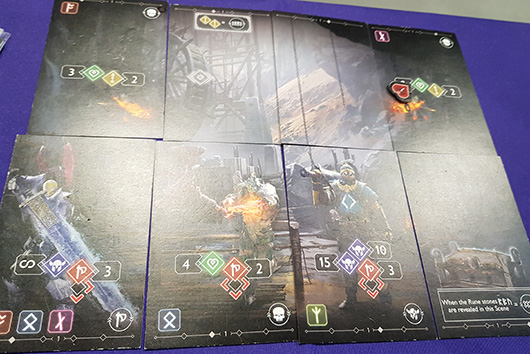 I did wonder how they would make it four-player, but as well as Kratos there will also be Arteus, Mimir and Freya. Apparently Brok & Sindri will also be playable but I did not see them in the set that was available, so not sure if they come as a pair or not – but the components list "6 Hero Standees" – And as I know you may be wondering; Mimir is a disembodied head rather than a tree! Each character has a variety of special abilities and characters can upgrade their available attack cards as they progress.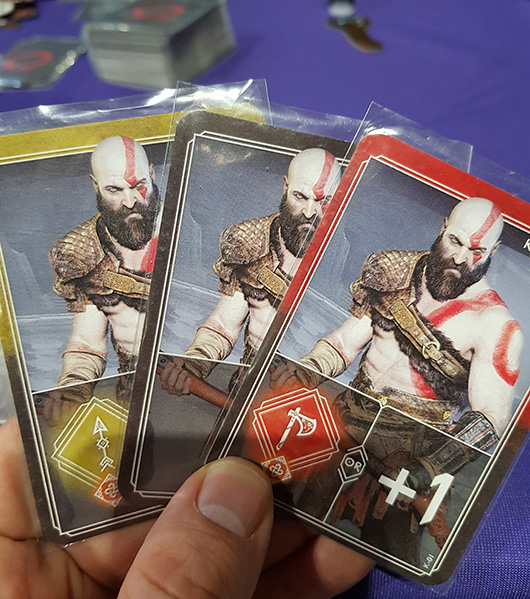 Players are tasked with preventing the destruction of Midguard by avoiding the impending Ragnarök. Players combine their efforts cooperatively but the single player version sees you taking control of multiple characters at once. I do worry that, like similar properties (such as Conan) with one main protagonist and a group of side-characters that it may feel like "Kratos and Friends", with players all wanting to be the main character.
I do like the look of the game but have to admit I would probably still be picking up a copy even it was the worse card game in the whole of Midguard.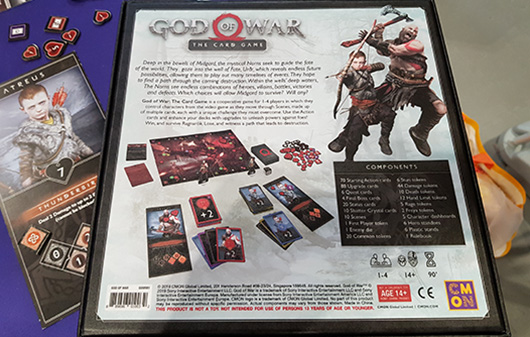 Bosk
Designer: Daryl Andrews, Erica Bouyouris
Publisher: Floodgate
Release Date: July 2019

Number of Players: 2-4 Players

Playtime: 20-40 minutes
I wanted to like this game purely due to the way it looks but discovering that it is a deceptively strategic area control game, actually had me offer cash for their demo copy at the end of the event. I do not think I can give a much better recommendation than that. I guess I should qualify that with you may need to be a fellow fan of area control games and beautiful forests.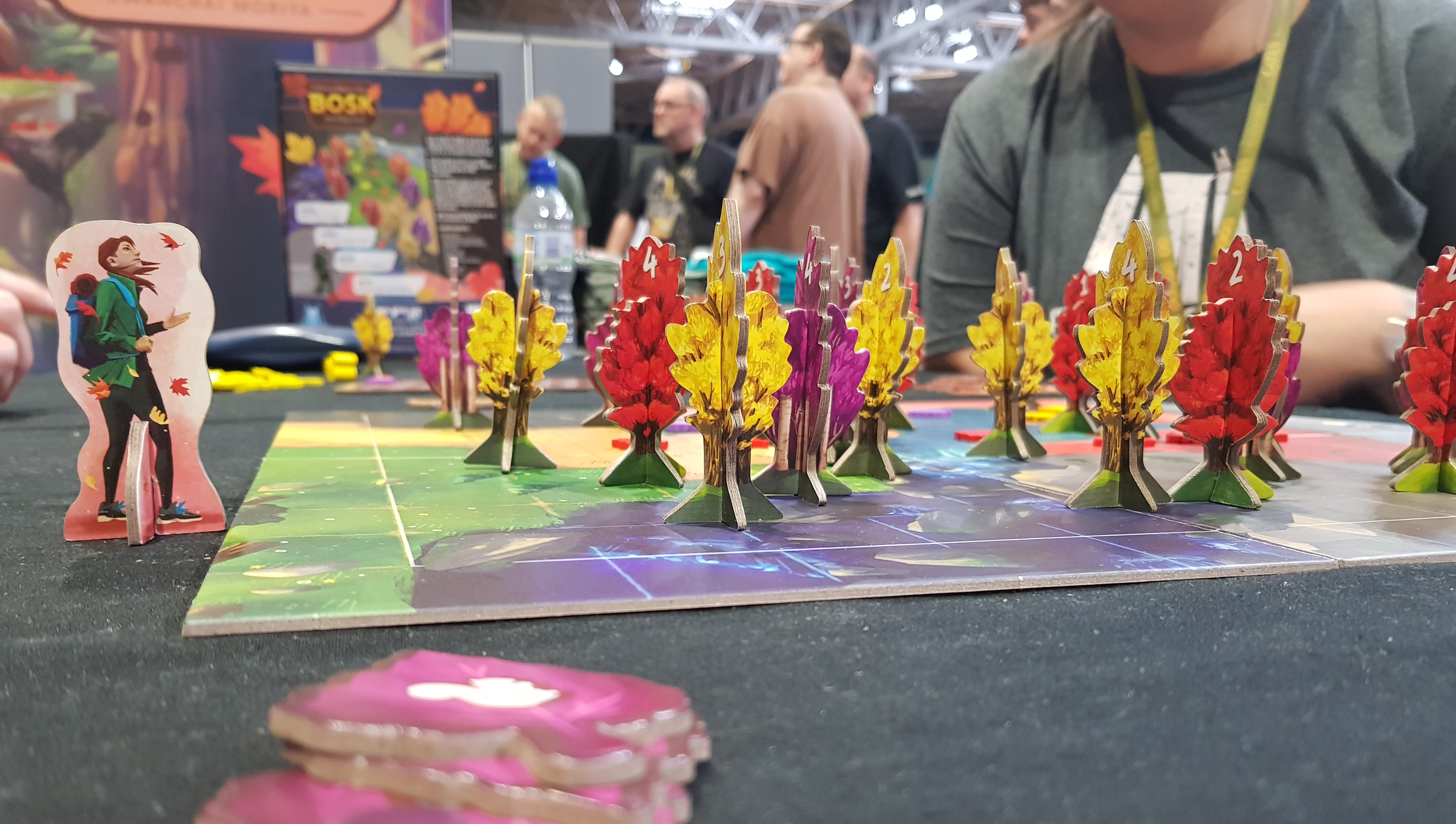 The game takes place over the four seasons with trees being "grown", or placed on the board during Spring. Then in Summer a hiker awards points based on the rows and columns as they walk amongst the trees. Then during Autumn, paths of leaves are laid out from these trees, which are influenced by the prevailing winds but subsequent players can cover your leaves with their own and only the uppermost leaves scores during the Winter season. Squirrels can also be employed to defend a stack of leaves – and everyone should want to own some squirrel meeples (Sqeeples?)
Suffice to say I will be venturing into the forest when available in July.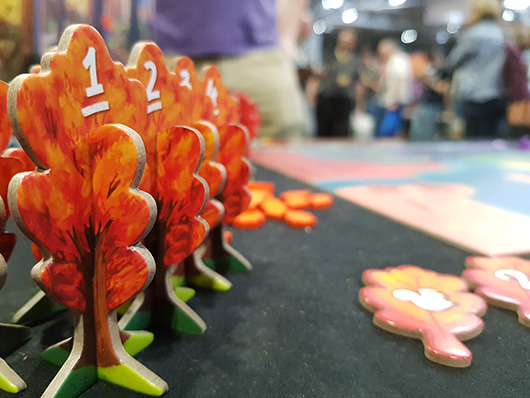 Paranormal Detectives
Designer: N/A

Publisher: Lucky Duck Games

Release Date: October 2019

Number of Players: 2-6 Players

Playtime: 30-50 minutes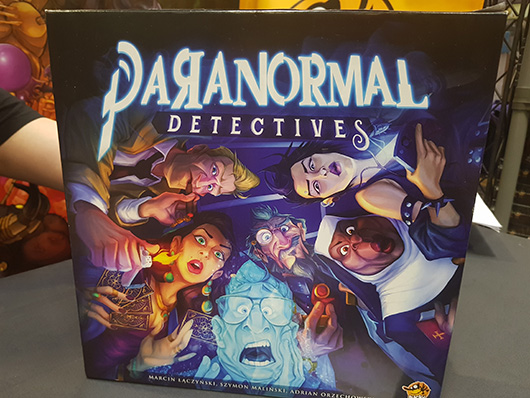 Seems a bit like a less serious Mysterium – which is a bit like Dixit meets Cludeo. For those left in the dark by the previous sentence this is a murder mystery game that tasks the players with interpreting clues given by another player as to circumstances in which they were killed.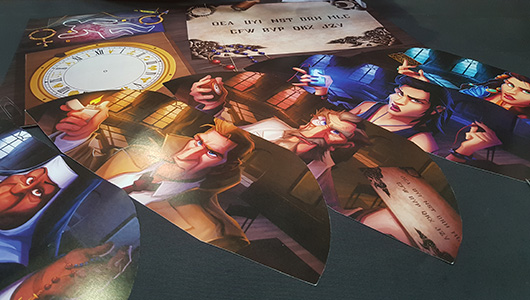 In Paranormal Detectives these clues can be given in a variety of ways.
One such way is the tarot cards in the image below but clues can also be given by drawing a shape on the back of a player or mouthing a single word.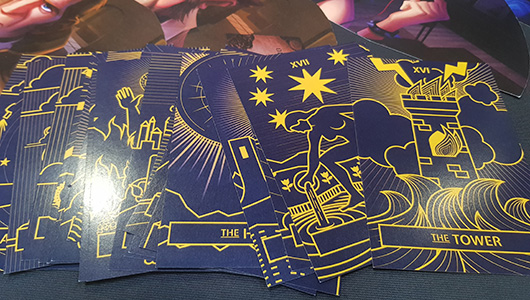 This should add some variety to the gameplay when playing repeat games. Looks like one to try to detect at Gencon and Spiel for a chance of playing or maybe even getting an advance copy with a general (or paranormal) release in time for Halloween.
Letter Jam
Designer: Ondra Skoupý

Publisher: Czech Games Edition

Release Date: 2019

Number of Players: 2-6 Players

Playtime: 30-60 minutes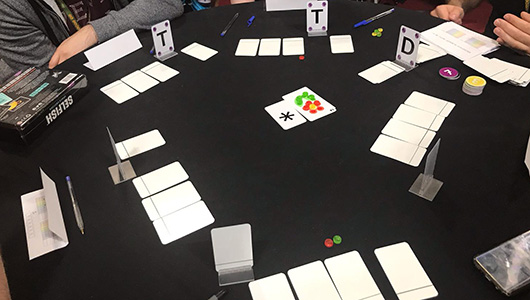 Letter Jam is a co-operative game for up to six people (and while you can play with less, I would advise playing with no less than the five people we played with.) Each player secretly constructs a five letter word from a selection of randomly distributed cards. This word is then shuffled and passed to the player on their left. Each player then needs to eventually deduce their letters and then unscramble their word.
To achieve this end-goal, each player reveals their letters one-by-one to the other players, popping into a stand facing away from them and thereby keeping it visible to everyone but themselves. Players then give clues in the form of words that are comprised of the letters they can see in front of them. Players may use a combination of the other players visible letters and an available Wild Card, but can only communicate this word by placing numbered markers that correspond to the position of the letter in the word.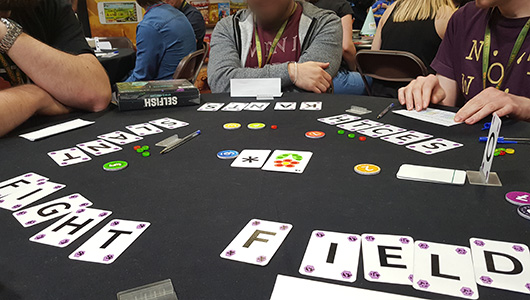 The idea being to assist the other players by helping them work out what their letter must be by a process of elimination. I also liked the system of dots, seen arranged around the flower cards in the middle of the table, that makes it so every player has to give at least one clue throughout the game.
CZE had a runaway success with Codenames in recent years and with the amount of buzz Letter Jam is getting I expect this may be their next big hit.
Softwar
Designer: Benjamin Green

Publisher: RepublicOf1

Release Date: 2019

Number of Players: 2 Players

Playtime: 45-120 minutes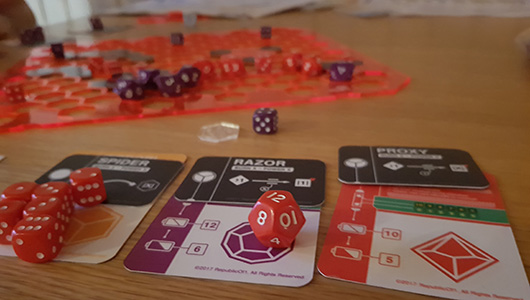 Players take on the roles of cyperspies who deploy dice that represent Programs. You must than use these dice to attack your opponent's critical Crypts that are guarding their Key Assets, while you defend your own. There are four of these Crypts per player and capturing three of your opponent's results in a win.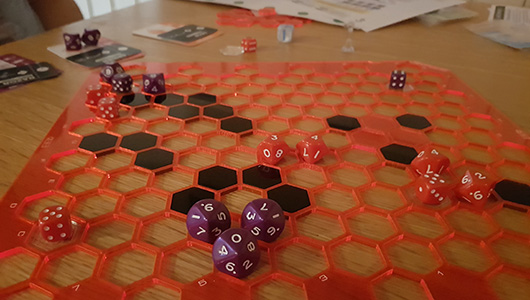 This is a game I have been keeping an eye on for a while, having played it at a previous UKGE and Rezzed, it was not actually on display this year but I was lucky enough to have a game with the designer in the hotel bar in the evening. It is a game I would really like to see do well. However, I fear it's abstract design as well as slightly dry, complex theme, may make some obstacles the designers will have to hack their way through. Having seen it develop over time though, elements such as player aids; guides and level layout templates should help get players up and running.
A game worth keeping an eye on, especially if your a Netrunner looking for somewhere new to run your programs!
Early Previews
An advanced look at some other upcoming games with not many available details as yet. Due for release later this year and beyond…
The Gruffalo
Designer: Brett J. Gilbert, Tony Boydell & Andrew Harman

Publisher: Yay Games

Release Date: Autumn 2019

Number of Players: 2-4 Players

Playtime: (4x)10 minutes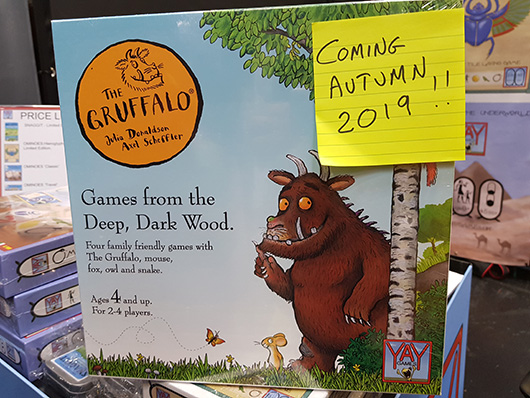 There is no such thing as a Gruffalo.
Four family friendly games crammed into one box, playing the parts of mouse, owl, snake and fox. Two to four people with four different types of gameplay, lovingly crafted by the games company Yay!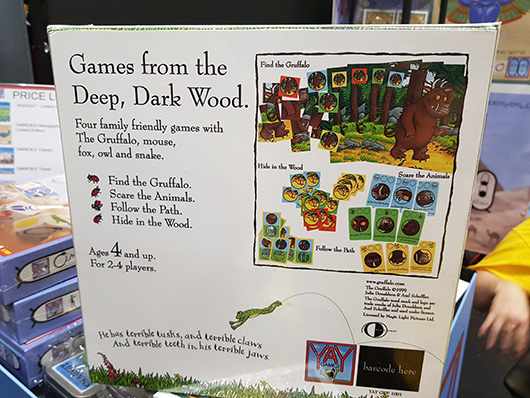 A team-up of three, actually lovely, great British designers, namely; Brett. J Gilbert, (Raids, Elysium), Tony Boydell (Snowdonia, Guilds of London) and Yay Games' very own Andrew Harman (Ominoes, Sandcastles) makes this an even more exiting prospect. I just don't believe it exists yet.
Earthenwar
Designer: John Stephen Richards Power

Publisher: Not Known (Previous game was Gibsons)

Release Date: Unknown

Number of Players: 2 Players

Playtime: 45-60 minutes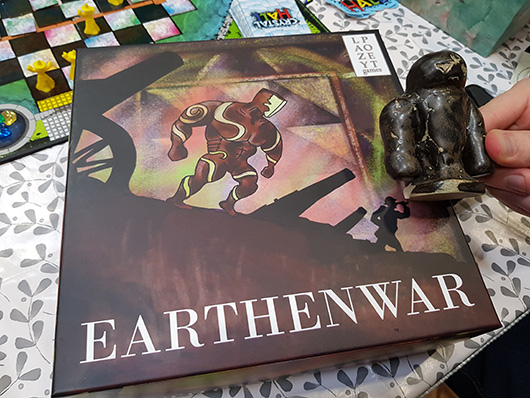 Just a very early preview of this one. From the creator of Crystal Hall, a alternative World War 1 era setting with mythical stone golems. A 3×3 grid of dice govern available actions with players aiming to destroy their opponent. Not much more information other than that for now but one to look out for in the future.
Rome and Roll
Designer: Nick Shaw, Dávid Turczi

Publisher: PSC Games

Release Date: 2019

Number of Players: 1-4 Players

Playtime: 60-90 minutes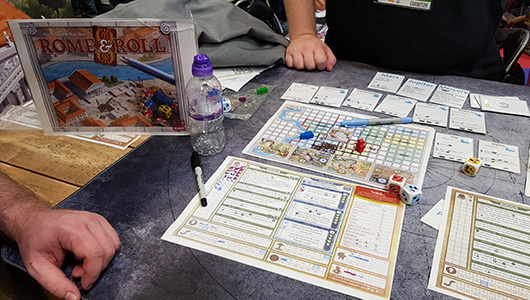 There were quite a few "Roll & Write" games at this year's expo, certainly seemed like a very on trend genre this year. They are a type of game that features paper and pencils mechanics, with players filling in pre-made sheets as gameplay progresses. I am currently unsure how I feel about this genre overall and will need to spend some more time with one to see how I get on with it.
I was attracted to Rome and Roll by the Roman City Building theme and the Tetris like mechanics of fitting buildings as you actually draw the shapes on your plans.
(Takaido:) Namiji
Designer: Antoine Bauza

Publisher: Funforge

Release Date: 2019

Number of Players: 2-5 Players

Playtime: 30-45 minutes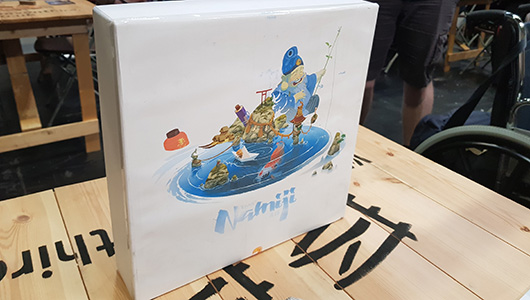 Tokaido is one of my favourite games of all time – and also more calming and Zen-inducing than any competitive game has a right to be. Unclear if this is a direct sequel, especially as I am not entirely sure if/where the branding includes the Takaido name. It seems as though it uses the same movement system ideas and fantastic artwork, although it looks possibly longer than Tokaido and with a new fishing based theme.
Each player gets a boat travelling along routes in the sea to catch the best range of fishes, via a push your luck mechanic. There are also some added hidden objectives which are only revealed at the end of the game.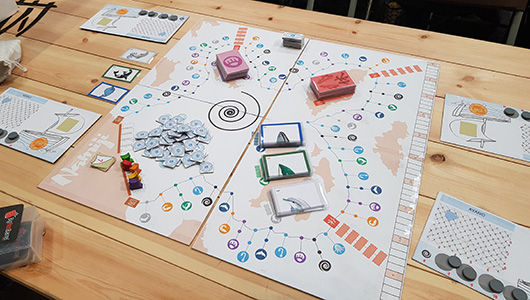 Am really keen to see how this develops, the only one thing I did not like the look of is that they kept the painting panoramas from Tokaido, but these have replaced lovely looking Japanese murals with pictures of whales – I am not sure it was worth keeping this mechanic for this purpose.
Purchases
Just a quick overview of the recommendations from some of the games my friends and I bought at the show. All should be available now.
Meeple Circus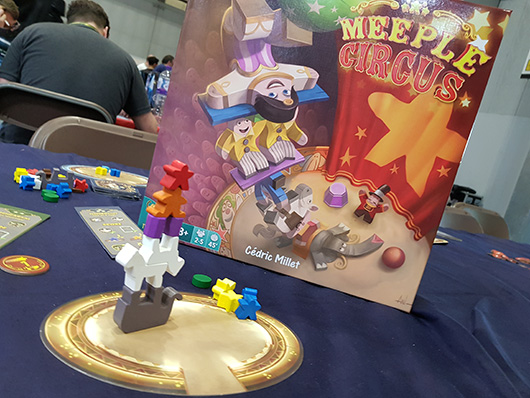 A quick fun and family friendly dexterity game based around balancing various circus shaped meeples in impressive arrangements – also comes with a circus based soundtrack! Silly, easy to play and relatively cheap to buy.
Gretchinz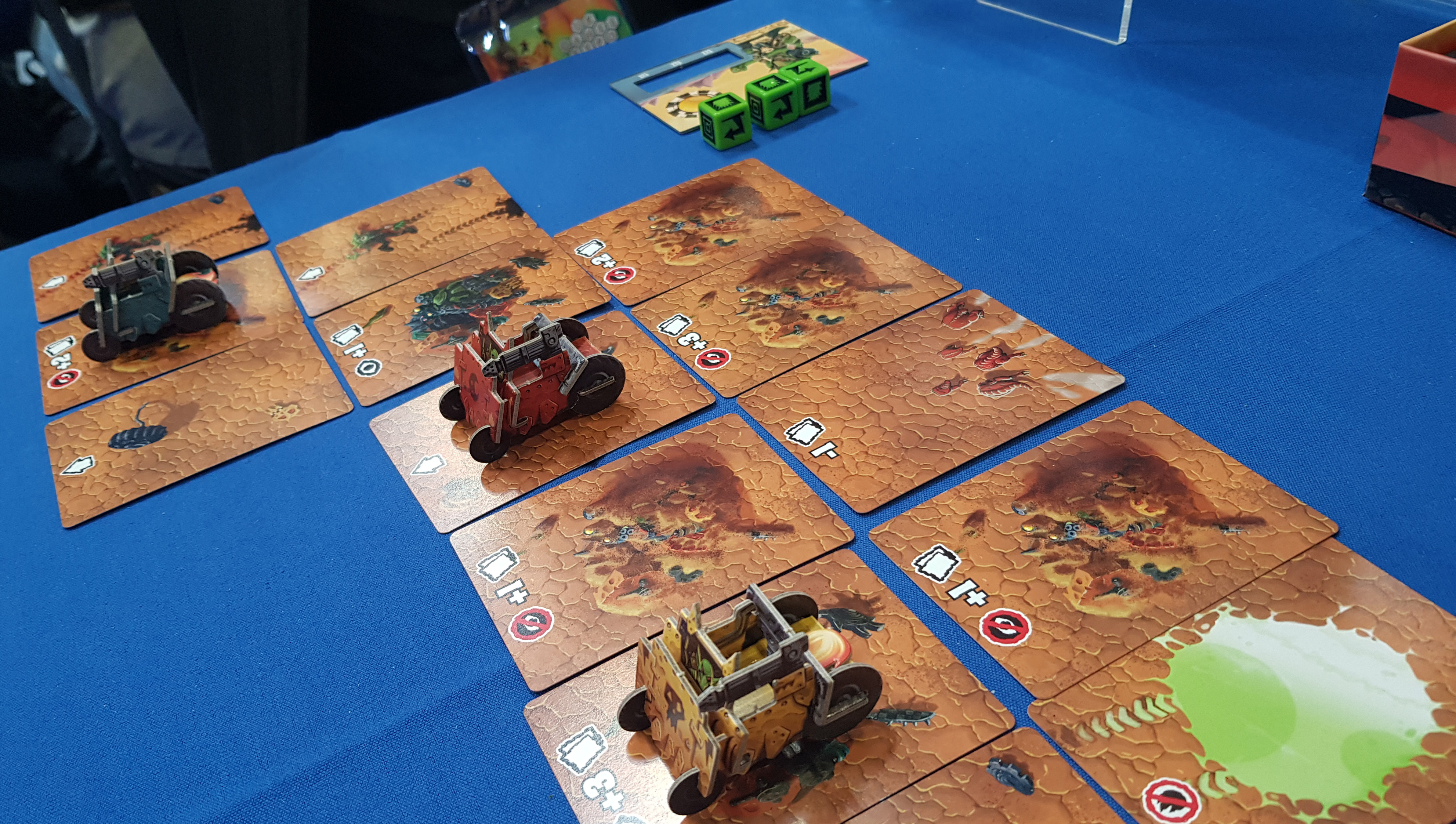 A quick and easy to play racing game set in the Warhammer 40k universe. Cards are double sided and can be used to lay terrain for you to advance into or used to gamble on an attack – which can easily backfire. So enjoyable that I would have bought a copy if my friend didn't race ahead and get one first.
Keyforge: Age of Ascension
One of my current favourite games to play and a friend and I picked up copies of the newly released decks and I also reserved a Starter Set at my local friendly game store (after all the stores ran out of sets before I arrived at UKGE.) Each deck has a unique set of cards, with the name of that deck printed on them. A very in-depth and fun two-player card battling game from Richard Garfield – who previously designed Magic: The Gathering, so he knows a thing or two about designing this sort of game and I am pleased to say it shows!
Other Games To Look Out For
Some other games fro the show that stood out for me that you should look out for…
Sanctum: A dungeon crawler from the team that made the excellent FPS-like Adrenaline. Top of my hit list that I missed out on playing. I aim to hunt it down later in the year.
Chocobo Party Up: Only found this at the last minute and did not get time for a game but looked like a cute game from Square Enix and who doesn't love a Chocobo?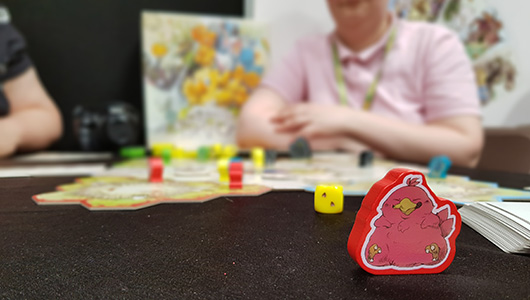 Bad Bones: A multiplayer tower-defence game that sees the enemy skeletons you successfully fend off hopefully overwhelm another level of your opponents towers. Looked like an interesting take on a videogame genre that I have not seen well-executed in boardgame form and this looks like it might do exactly that!
Inuit: Got a lot of buzz in the run-up to the show and every time I went near it was busy. Considered buying a copy but really could not see a justification for the £40 price tag for an (admittedly pretty) set collection card game. I like the look of the game but not the price.
Kitty Cataclysm: Launched on the first day of the show, from friend of BRB, Bez – of the well-known StuffByBez. A humourous card game crammed full with take-that mechanics and, most importantly, a mountain of purr-fect cat puns!
Copenhagen: A really pretty city-building game with a intriguing Tetris-style puzzle mechanic. You are tasked with fitting the pieces of the facade of the building together from pieces that are Tetromino shaped, and also give a bonus for lining up window panes randomly distributed across the pieces.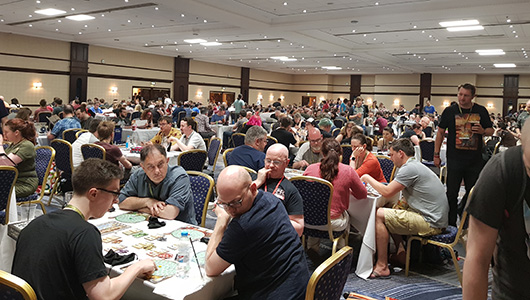 Summary
Once again I was left cursing not being able to attend all three (and a half) days this year. There was so much to see and do and while I had a great time, I was left with regrets about all the games I did not get to play or the designers I did not get to talk to. I would also have loved to spend time in the Playtest UK section and would have signed up for the Keyforge contests, not least as there were some excellent prizes available for the winners.
I was glad the Hilton hotel at the NEC (which was previously the entire venue for UKGE) had free gaming space available to the wee hours, as this did not seem to be the case in previous years. The event has certainly grown over the years and now fills Hall 1 and 2 of the NEC with plethora of awesome gaming goodness, but there are also arranged competitive and general organised play sessions to keep both casual and hardcore audiences well entertained for the whole long weekend.
Tags: Tabletop, UK Games Expo, UKGE, UKGE2019