Coming mere months after Thanos turned the Marvel Cinematic Universe on its head (and half it to dust) with his Gauntlet-clad fingers, it raises the immediate question of how can Ant-Man and the Wasp even attempt to follow it? And the answer, quite simply, is; it doesn't.
• Director: Peyton Reed
• Exhibition: 2D
• Rating: 12
• Run Time: 118 Minutes

As announced early on, the sequel to 2015's well-received original outing takes place in between the Wars Civil and Infinity, with Paul Rudd's Scott Lang serving the self-imposed house arrest that explained his absence during his fellow Avengers' battle with the big purple titan. So without the universal threat of Thanos to worry about, Peyton Reed and the film's writers can focus on continuing to build Lang's world, which this time sees him attempt to juggle time with his daughter while confined to his apartment, although it isn't long before that pesky superhero-ing job comes a-calling and he is reunited with Hank Pym and his daughter Hope, though this time out Lilly comes with her own suit; the post-credit scene from Ant-Man not-so-subtly teasing that it's time for Hope to step into her mother's wings.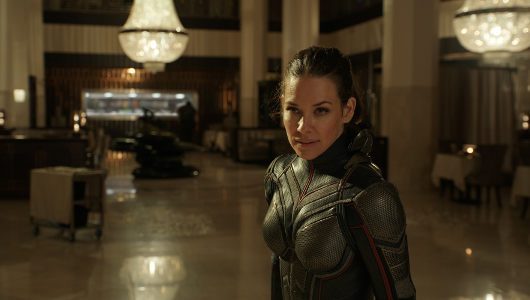 The story this time out, as well as Rudd's home incarceration, is Pym's attempts to venture into the quantum realm and save his wife Janet, who we already learned from the original movie has been stuck there since a subatomic transformation during a missile-stopping mission left her stranded. Of course, Michelle Pfeiffer being cast in the role makes the outcome of the mission somewhat obvious, inevitably taking away some of the film's drama. The inclusion of the (dare I say token?) bad guys, Walton Goggins' Birch and Hannah John-Kamen's Ghost, attempts to add an element of threat to proceedings, though it has to be said that this feels like a step back into that oh-so-familiar Marvel territory of a bad guy being there purely because a bad guy needs to be there. Goggins is suitably sleazy and unlikeable and plays his role well, but his money-drive motive is played out and he doesn't get an awful lot to work with. Ghost, meanwhile, is given somewhat of a backstory, and a lot more human and sympathetic one than most, but still falls a little flat. Laurence Fishburne also regrettably seems little more than an addition that doesn't really need to be there.
With Rudd, Michael Douglas and Evangeline Lilly all reprising their roles, it's no surprise that the chemistry and banter that worked so well with the three in the first film picks up with no issues here, plus with the welcome return of Michael Pena comes the further humour he previously brought. It is clear that having these four to work with and write for making penning this rather simple, although it has to be said on more than one occasion, some of the gags seem to rely a little too much on calling back to the first movie. And while many may not find that a bad thing if they enjoyed them the first time around, and it isn't necessarily a bad thing, it does become more obvious as the movie progresses.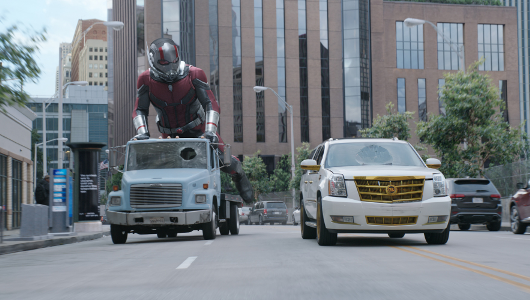 Progresses, though never drags. Like most Marvel outings, things rarely slow and when the action comes, it doesn't let up. This time out, however, Rudd takes somewhat of a backseat to Lilly's Wasp. With the growing focus on Marvel's ongoing dedication to more focus on their female superheroes, she picks up the slack and kicks ass, most notably in an effective size-ever-changing kitchen scene, and in a high-octane car chase through the San Francisco streets. Lilly seems comfortable in the role, her suitability in action scenes coming on great strides since her time on the Lost island before coming to the forefront in The Hobbit's Middle Earth. Rudd, however, is no slouch and still gets his fair share, including the film's big giant set piece, bringing back his supersized party trick first spotted at that German airport in Civil War.
Great chemistry between the leads
Action set pieces work well
An easy-to-watch movie that doesn't outstay its welcome
Back to the pre-Thanos issue with Marvel villains
Over reliance on callbacks to the first movie
Feels like a step back after Infinity War
Ant-Man and the Wasp's positioning in the Marvel release schedule was always going to make it difficult, given the cataclysmic effects that unfolded during Infinity War. Some have dubbed it a much-needed palate cleanser and there is certainly something to that, unfortunately so much has changed post-Infinity Snap that it changes the way you view a Marvel movie now. So as action-packed, fun and entertaining as a lot of this film is, recent past (or technically, future in this movie's timeline) and a familiar lack of work placed on the bad guys means this one falls a little flat.
The author paid to see Ant-Man and The Wasp
Official Movie Site
Tags: Abby Ryder Fortson, Ant-Man and The Wasp, Bobby Cannavale, David Dastmalchian, Disney, Evangeline Lilly. Michael Peña, Hannah John-Kamen, Judy Greer, Kevin Feige, Laurence Fishburne, Marvel Studios, Michael Douglas, Michelle Pfeiffer, Paul Rudd, Peyton Reed, Randall Park, Stephen Broussard, Tip "T.I." Harris, Walton Goggins