Free Comic Book Day 2017 had a little bit of something for every comic reader: from child friendly stories and superhero adventures to the real life story of Guy Delisle's Hostage. We have not been able to bring you a review of every FCBD comic but here are some of the best of what was on offer:
---
Wonder Woman (DC Comics)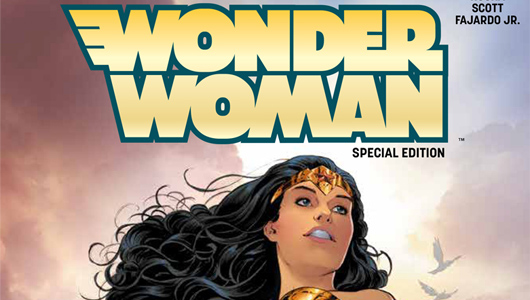 No doubt selected to coincide with the Wonder Woman film DC Comics have re-released the first issue in the Wonder Woman Rebirth arc. The plot is, in fact, very similar to that of the film with Diana isolated on Themyscira where soldier Steve Trevor has crashed. The setting is modern rather than World War One and much of the story is told in flash-backs leading up to the moment when the Amazons realise they are discovered by the world of men.
Reuben's Verdict: Although usually I'd regard any retelling of a superhero's origin as unnecessary at best, this version does a good job of explaining things for anyone who is not clued up on the Wonder Woman mythos. Also, in showing Diana and Steve Trevor's parallel but entirely separate lives before their chance meeting on the shores of Themyscira, the comic provides a new way of looking at a 70 year old story.
Richard's Verdict: What a great FCBD issue! This is a perfect starting point for anyone new to DC Comics. While it is a bit of a shame that this is a re-issue of a year old comic, there is really clear direction towards the end of the volume as to where to find out what happens next in the graphic novel Wonder Woman Vol. 2: Year One.
The Incal (Humanoids)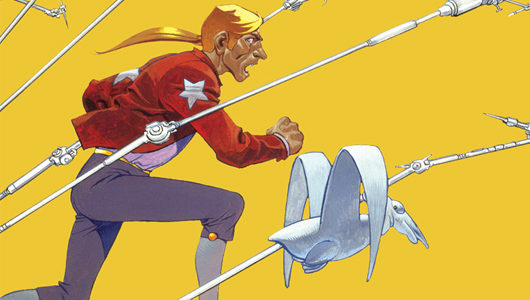 Hailed by some as the most influential graphic novel in sci-fi history, The Incal opens with hapless private investigator John Difool being thrown to almost certain death down the appropriately named Suicide Alley. From there John is caught up in a sprawling science fiction epic as forces beyond his understanding struggle to track down the titular object. This FCBD comic is the first 26 pages of the that graphic novel.
Reuben's Verdict: The best word to describe The Incal is strange, in all sorts of ways and for all for all sorts of reasons. Supposedly the result of writer/artist pairing Alejandro Jowdrowski and Moebius failing to get their version of the film Dune made, The Incal is a psychedelic and almost hallucinatory world with shades of everything from 2000 AD to John Carter of Mars. Not for everyone, but if you like your sci-fi weird and your art stylised you will find a lot to like here.
Richard's Verdict: I must confess I had never heard of The Incal before picking up this free comic but it seems to be a sort of science-fiction Tintin adventure with robot prostitutes. The art is perhaps a little on the ugly side but the plot moves along at a rip-roaring pace and is set in a rich, fully realised science fiction world. It's pretty good stuff and, by the end, you will certainly know whether or not you want to buy the graphic novel.
2000 AD (2000AD)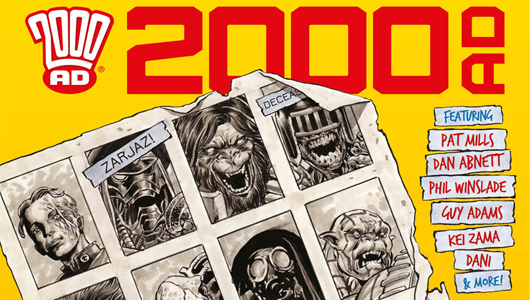 The opening panel of the main story in this 2000 AD FCBD anthology sees two of Mega City One's paramedics hunched over what looks like Judge Dredd's body while a horrified crowd look on in disbelief. Of course Dredd is not dead at all but somebody has been trying to get his attention by killing people and dressing them up for him to find. What follows is a short six page story as Dredd tries to catch the killer. There is also an A.B.C. Warriors story, an alternative 1940s story Hope… For The Future, Judge Anderson and Deadworld story.
Reuben's Verdict:
Everyone's favourite anthology is back with another collection and, in the interest of brevity, I'll try and keep it quick and clean:
Judge Dredd: more of the ultimate lawman doing what he does best; tackling creeps and meting out punishment on the lawbreakers of Mega-city One.
Blackblood: If you're not familiar with the ABC Warriors then you should be. This story tells the origin of their most treacherous member Blackblood and his battle against General Public, an enemy that exists only inside his mind. Like the original ABC Warriors comics this story has a line of dark humour running throughout, elevating it above standard genre fare.
Hope:  an intriguing urban fantasy noir tale, set in a world where dark magic is an almost necessary evil to the lowlifes and criminals of Los Angeles. Pulpy, grim and original.
Psi-ops: less fond of this one. The solo adventures of Judge Dredd's occasional sidekick, Judge Anderson. There was nothing wrong with it, it just felt a little superfluous in an issue that already had Dredd in it.
Judge Death: a dark mirror of the standard Mega City One tales, the story of the unrelentingly lethal Judge Death fills in a little info about the past of the malignant Dark Judges. Although if you weren't already familiar with the characters and setting you might end up lost.
Richard's Verdict: Never having been a big fan of 2000 AD's aesthetic I am not that familiar with Judge Dredd beyond the films (In line with all right thinking people: Stallone – bad, Urban – excellent). However this gives readers a really great cross section of the British comics juggernaut's output.
Guardians Of The Galaxy/The Defenders (Marvel)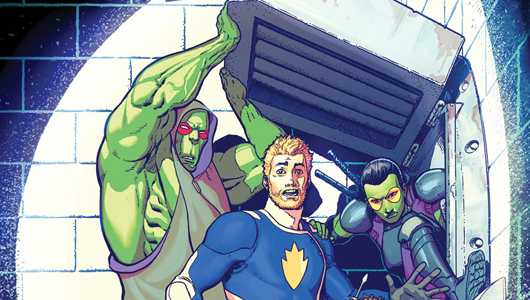 The Guardians Of The Galaxy films have been a surprise smash hit. It seems to have become film review law that any review will point out that before they were MCU merchandise money printing licenses, Star Lord and co were in a slightly obscure comic. The second Marvel FCBD 2017 issue opens with the Guardians in jail. Inevitably by the third page they have escaped but soon we discover they are being pursued by the mysterious Fraternity Of Raptors. The second story in the book is the first of a Defenders arc that opens with the villain Diamondback attacking each of the Defenders as a way of announcing his return to Hell's Kitchen.
Reuben's Verdict:
Picking up with our familiar
Guardians
characters in an unfamiliar setting, this introductory issue works very well as a pick up point from the movies and as a continuation of the comic series.
Even aside from the Defenders upcoming Netflix show, the lineup shown in the new Defenders comic is a perfect mix of characters. In this new story it seems that they have been given a new (old) enemy to fight and art and writing that captures the tone of the Netflix world while staying true to the tried and tested Marvel comics style.
Richard's Verdict:
It's hard to find fault with the
Guardians Of the Galaxy
and this adventure is an obvious starting point for anyone wanting to start reading the comic. It is fun, colourful, exciting and Groot is tiny but violent.
It was the Defenders story, on the other hand, that really caught my attention. While the Marvel Netflix shows have been a bit mixed, there is something about this alternative street level companion to the MCU's candy coloured fireworks show that has got to me. In fact, I liked the Defenders so much I have started collecting the monthly comic.
---
What makes a good Free Comic Book Day? For us it's lots of free comics and finding something new to love. By those standards FCBD 2017 was superb. Did you find a comic you loved? Have our reviews inspired you? Let us know in the comment section below.
Tags: 2000 ad, 2000ad, comics, dc, DC Comics, Defenders, FCBD, Free Comic Book Day, Guardians of the Galaxy, Humanoids, Marvel