Nicoll Hunt and his studio I Fight Bears shot to whatever the indie mobile app developer version of fame is in 2013 with his debut app Fist Of Awesome. Harking back to the 8-bit arcade era, Fist Of Awesome starred a bearded time-travelling lumberjack who punched bears in the face (sometimes with a fist that was on fire). I Fight Bears has followed up this subtle and sophisticated debut with another game inspired by simpler 8-bit days: Maximum Car.
[youtube id="IwJpiXN67_M" align="center" maxwidth="530″]
• Developers: Ancient Games D.S, I Fight Bears, tea&cheese
• Reviewed on: iOS
• Also Available On: Andriod
• Release Date: Available Now

Maximum Car is a title that promises fast-paced action, thrills, explosions, boosts and possibly even racing. The game itself delivers all of this and much, much more including car-mounted missiles, slow-motion cut-scenes of your rivals exploding, oncoming traffic and a voice-over announcer reminding you "that is a meaningful achievement".
I found the controls somewhat tricky at first as so much is thrown at the player. However, once I had wrapped my head around them, they are very simple: no break, no accelerator no degree of left or right (just touch the left of the screen to turn left and the right hand side to turn right). More advanced moves such as drifiting, firing missiles or turbo boors are initiated with simple gestures.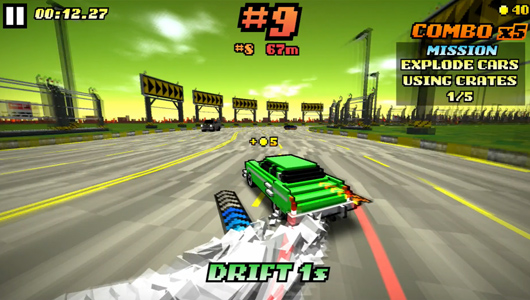 Maximum car's visuals are unashamedly blocky and as subtle as everything else in the game. This aesthetic is not particularly easy on the eye and does make oncoming traffic, fellow racers and the scenery all a bit difficult to distinguish from each other on a mobile phone screen. On the other hand, even this simplistic style is certainly giving the processing power of my phone a work-out, which will get pretty warm after playing the game for any length of time and makes a serious dent on my battery's charge.
Gameplay is frenetic and challenging without ever feeling truly punishing. In-game currency can be earned by winning races and by doing cool things (including overtaking opponents, blowing them up, driving towards oncoming traffic, drifting, narrowly avoiding collisions and so on…) this can then be used to upgrade your car (no fiddly engine tuning or suspension adjusting here, once you have enough currency, just "Maximise" your car) and buy other cars. All of this insanity is accompanied by a fantastic sound-track with a motivational voice chipping in whenever things collide or explode.
Fun, fast-paced racing action
Challenging without being punishing
Infectious sense of over-the-top fun
Busy, blocky graphics
Very battery hungry
Possibly in order to make sure you don't spend your whole life sitting on the toilet playing Maximum Car, the player is given a limited number of race tokens (required to take part in a race) at any one time. Race tokens can be purchased (via in-app purchase), earned by watching a video advert or are replenished over time, though somewhat inconveniently the player is required to visit the store even to collect the free tokens. This is pretty standard for a free-to-play game and is about as unobtrusive as possible while still allowing the developers to earn a living. Until the tokens replenish, there is always the Endless Mode to earn in-game currency and hone your skills.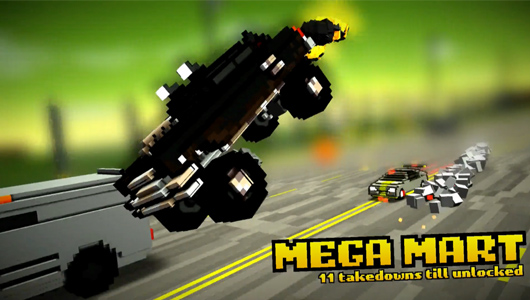 Maximum Car is not a very deep or realistic racing game but it is fun, fast-paced and has slow-motion explosions. With six different race worlds and one hundred different cars to unlock, what more could you possibly want? Also, it is free!
Review copy provided by I Fight Bears
Official Game Site
Tags: Android, Fist of Awesome, GAME, Gaming, I Fight Bears, iOS, Maximum Car, mobile