Senran Kagura: Peach Ball is the latest spin-off in the Senran Kagura series, a series I have heard about courtesy of YouTube, and one of the sketchiest games I have ever played to the point that after spending several hours with it I feel like I may now be on some kind of watch list.

• Developer: HONEY PARADE GAMES
• Publisher: Marvelous Entertainment
• Reviewed on: Nintendo Switch
• Also Available On: Steam
• Release Date: Available Now

The story is a simple one; the girls of Senran Kagura have been turned into animals, or more precisely they are wearing furry bikinis and animal ears, and must sit on a specially modified pinball table and be whacked with a pinball until they become human again, i.e. their clothes fall off. The story is told through visual novel style 'adventure scenes' with some of the cringiest, most awkward dialogue I've experienced, especially on a Nintendo console.

Game-play is simple. It's pinball. X launches the ball, the left shoulder buttons move the left flippers, the right shoulder buttons move the right flippers, and knocking the analogue sticks shakes the table. It works, but it isn't great. The balls and flippers feel heavy and slow to respond, helped in no part by how stiff the Switch's shoulder buttons feel compared to other consoles.

There's little to no table variation too, at most there are two or three tables with different skins offering only the most basic level of variety. They're painfully small, maybe less than half the size of a regular pinball table, and they're lacking hazards and bumpers, and all the other stuff that makes pinball fun. They're there, they're just sparse. I'm beginning to think maybe the pinball was an afterthought.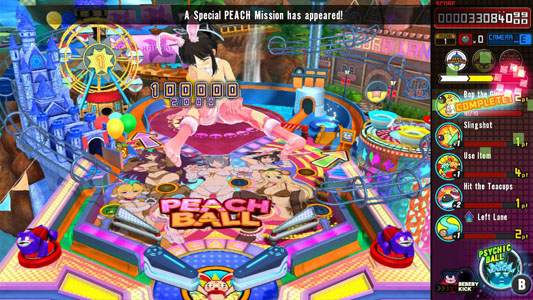 There are PEACH Missions to complete on each table which literally just give you points for doing the stuff you were going to do anyway, like smack the cat-girl with the ball. When these have been completed they are replaced with more to do in a kind of never ending list of chores. The PEACH Missions really add nothing to the game, but they made me get an S rank on most of the tables so there's that.

Once the raccoon-girl has been hit with the ball enough, or if an elephant shouts at her (I promise you I'm not making that up) she'll fall into a heap on the floor and beg you to stop. So naturally this is the perfect time to hit her in certain areas of her body for bonus points.

There are bonus stages called Sexy Challenges which trigger after a certain amount of PEACH Points have been collected. The aim of Sexy Challenges is to hit a never ending flow of balls at different targets, such as ducks or frogs, until the timer runs out. When the timer hits zero whichever target you were abusing will throw something at the already quite battered bear-girl and make her already minimal clothes rip apart exposing even more skin.

Once your PEACH Points have maxed out for a third and final time you enter a Super Sexy Challenge, the aim of which is to hit a never ending supply of balls directly into the poor rabbit-girl's breasts or butt, depending on which part of her anatomy is hanging over the table. Once the time runs out her clothes fall off. Congratulations, you have saved this young ninja from a lifetime of animalistic embarrassment by abusing her to nudity. Not all heroes wear capes.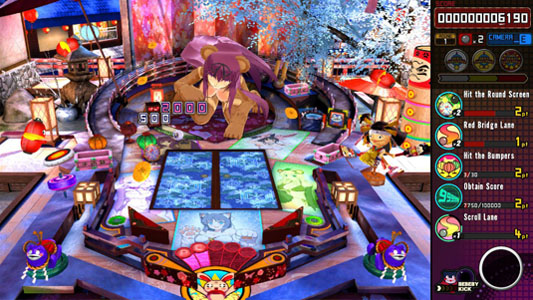 As well as the aforementioned Story Mode Senran Kagura: Peach Ball also has a Free Mode for you to play at your leisure and earn outfits, accessories, and balls. A dressing room were you can dress the definitely over 18 year old ninja girls in the outfits and accessories you've unlocked, saving your favourite costumes for later, an Intimacy mode where you can virtually molest them, and a Diorama where you get the half naked warriors to pose for you.

There is some seriously creepy shit going on in Senran Kagura: Peach Ball, and pinball was definitely an afterthought. It's really nothing more than a mechanic to grind fake money to buy fake clothes to dress up fake ninja women before slapping their virtual tits until they virtually enjoy it. I thought having half naked furries on the pinball table was bad enough, but spending some time in the various modes after I finished the story showed me what the main pulling point of the game is.

And do you want to know the worst part? The few hours I spent playing it with my friend were an absolute blast. We laughed, we screamed, we had a good time. Senran Kagura: Peach Ball is a lot of fun, if only for how truly absurd it is. The pinball part anyway, the rest is bordering on abuse fantasy fulfilment.
If you're looking for a top tier pinball game, this is not it. Pinball FX 3 is free for you to try out the starter tables, and the extra table packs you can buy are better value for money than the BGM packs available for this on the Nintendo eShop so I highly recommend that. And if it's the other thing your after, just watch porn. It's free, and nowhere near as embarrassing if you get caught than it would be if you were caught playing this.

Tags: Ball, Entertainment, games, HONEY, Kagura, Marvelous, Nintendo, PARADE, Peach, Senran, Steam, Switch