Eleven years. twenty-two movies. A cornucopia of characters and backstories and tales all meticulously interwoven, all leading to this. So it's safe to say that Anthony and Joe Russo have their work cut out for them bringing a saga so feverishly followed and overanalysed to a suitable and satisfying end.
And you'll be glad to hear that they do. But not without a minor bump or two.
• Director: Anthony Russo & Joe Russo
• Exhibition: 2D
• Rating: 12A
• Run Time: 181 mins

We all know where things are; coming out of Infinity War, half of our heroes are best suited for a Dyson while the other half are left to pick up the pieces of a world in disarray at the Gauntlet-clad hand of a Mad Titan. Our usually-tough heroes are struggling, battling with the knowledge of failure and loss while also trying to find a way to bring back the vanished and track down and beat their purple nemesis. An early scene shows a Captain America-led support group, briefly showing us that it isn't just the Avengers suffering and trying to move on in a post-Snap world, but that
And right there is where I'll stop with the plot. Spoilers and all that, so instead let's just skip through the highlights (and unfortunate lowlights) with the spoiler-avoiding soft touch of Shuri trying to remove an Infinity Stone from Vision's head. Now obviously, with a saga-concluding epic like Endgame, we'd expect massive action set-pieces battles the likes never before seen, and basically, that is what we get. The final battle is genuinely staggering, a true marvel (pardon the pun) in show-ending battles. Yes, it can on occasion go a little faster than maybe necessary and wanted, but it never fails to excite and does contain one of (if not) the greatest fan-service, geek fandom, giddy moments the MCU has produced. Multiple characters get their own little moment and all work well, except for one awkward girl power moment that feels a little forced and doesn't flow anywhere near as well as the similar scene towards the end of Infinity War, but other than that the whole final fight is a full-on home run that acts as the perfect ending to an eleven-year saga.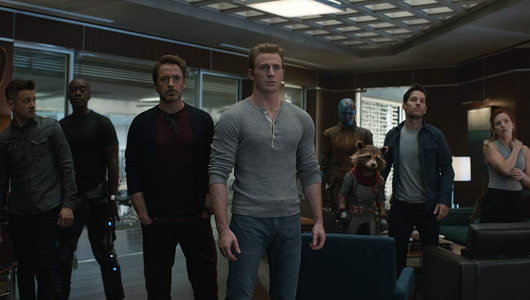 Elsewhere, Messrs Russo and Russo do a pretty good job of working through an exposition-heavy plot with consistent haste, mixing it well with action and humorous scenes. The humour, in particular, is a pleasant surprise given the despair with which this movie opens and progresses; Thor especially diverts down a path you will not expect yet, while Hulk also brings plenty of laughs as this acts as the suitable conclusion to the arc that Mark Ruffalo previously spoke about his character having.
Some characters that haven't been given enough previously get a redemption, while Captain America, in particular, is thrust right back into the forefront after a subdued role in Infinity War. Regrettably, some characters don't get the attention they deserve or are just simply not given enough to do, which while understandable in a film that has to deal with the scope and deep cast list that it does, still can't help but leave you with the feeling that one or two of the movie's side plots could have been reworked or shortened to allow others more time.
On the subject of plots, that brings us to the movie's biggest downfall. On more than one occasion, you're left scratching your head at the lack of logic or explanation on things where there really should be an explanation. I realise that many fans won't care or will blindly accept this in exchange for the giddy moments or high octane action, however, while these moments aren't plenty, they stand out clear enough and really shouldn't. While I won't go into these moments specifically (obviously), they should not just pass by with the most basic of detail – if it gets even that – and after eleven years and twenty-two movies, we should get more.
Wraps up several stories well
Incredible action in final set-piece
Does well to maintain the pace
Several plot holes left largely unanswered
Overall, it's hard to be too critical (oh, the life of a reviewer…) as the mammoth task that laid ahead of the Russos, the vast character base, the interwoven stories built up over eleven years (in movie time, even longer in the mythology) meant that whatever they did, they would always leave themselves open to criticism. You have no choice but to sit back and – once you've recovered/stop crying/processed what you've just watched – marvel (again, pardon that pun) at what we have been given; action, intrigue, drama, emotion, heart, wonderment, the whole package. It is a truly impressive production and a more-than-worthy end to an incredible eleven years.
Only one word comes to mind how to end this. Seems obvious really…
…Excelsior.
Tags: Ant-Man, Anthony Russo, Avengers: Endgame, Avengers: Infinity War, Black Widow, Bradley Cooper, Brie Larson, Captain America, Captain Marvel, Chris Evans, Chris Hemsworth, Danai Gurira, Disney, Don Cheadle, Hawkeye, Hulk, Iron Man, Jeremy Renner, Joe Russo, Josh Brolin, Karen Gillan, Mark Ruffalo, Marvel, Marvel Cinematic Universe, Marvel Studios, Nebula, Okoye, Paul Rudd, Robert Downey Jr., Rocket, scarlett johansson, Stan Lee, Thanos, War Machine