Dixiart and Aardman Animation, in association with Bandai Namco, invited me to a presentation on their recently released  WW1 game, 11–11 Memories Retold. The presentation took place in the Imperial War Museum after closing time and gave it a very suitable, respectful and sombre setting.
Arguably that is exactly what the developers are trying to do with the game itself, while also being presented in a vibrant, hand-painted art style. A style which may look, at first glance, like a simple filter overlay is actually a much more complex set of systems to enable their artists to have greater control over aspects such as brushstroke size. A lot of work has clearly been devoted to a project the teams are clearly passionate to deliver a game that is high quality, attractive and preserving the stories and valuable lessons taken from the War.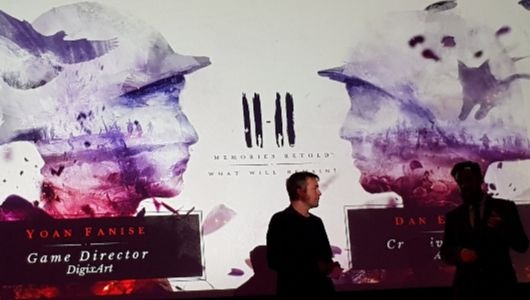 The c0-founder of DigixArt, Yoan Fanise, is an ex-Ubisoft employee, who had worked on projects such as Raving Rabbids and Assassin's Creed III. After leaving Ubisoft he released the highly regarded indie game, World War 1 based, Valiant Hearts – The Great War. Now, 11–11 Memories Retold see his new studio return to a time period he obviously holds in some reverence.
Aardman Animations are most famous for its plasticine model animations such as the iconic Wallace & Gromit, but they also are involved in a great variety of animations styles and projects. However, aside from a few smaller mobile based projects have yet to have tried their hand at larger PC or console based games. Aardman has always appeared as a very "British" company and seeing them join forces with a French company seems entirely fitting for this project. I wanted to ask how this first came about and what their aims were for the game.
What made 11–11 Memories Retold an attractive project to DigixArt?
We created the project with Aardman because we realized when we met by total hazard at Games For Change festival in Paris that we had a common vision about Videogames. Aardman wanted to enter gaming space but they also knew they needed a strong expertise of gaming development that is very different from animated movies. We had this expertise at DigixArt so it was a perfect fit. The choice of WW1 as the setting of the game was an obvious one considering my passion and connection to that era.
You mentioned that many of the people working on the game had a more immediate direct family connection with the Second World War – what attracted you to all work on a World War One project?
Most people have a connection to WW1 and WW2 in Europe. And because of this direct connection, it lead us to taking a different approach, telling the story from a human side with a lot of care and respect.
In the credits, we added a line under each team members where they can pay tribute to an ancestor, not necessarily that fought during a war. This made us all thankful to live in a moment of peace between our countries, hoping that it can continue everywhere.
The two main roles in the game, Harry and Kurt, are played by Hollywood actors, Elijah Wood and Sebastian Koch, I wanted to know about the influences behind the characters that they portrayed.
How close to real events is the story and characters we see during the game?
They are fictional characters we built based on tons of real moments we read in letters and books from soldiers from both sides thanks to the two historians we worked with. We follow real dates and locations and take more liberty near the ending to get a huge finish toward the Armistice moment at 11 am the 11th day of the 11th month.
Neither main character seems to be portrayed as being inherently "good" or "evil" – in fact, Kurt's motivations for going to war seem to be more altruistic – do you think this is a valuable lesson to learn when looking this far back at such a bleak moment in history?
I hate stories with caricature characters, with obvious bad guys. And moreover during WW1 majority of people did not want to be there and kill people or being killed. The evil is war, its concept and the way it turns places into mass butcheries and advances technology to aid this atrocity.
Games that revel in the more bombastic nature of war tend to be some of the most popular large-scale videogames in the industry. 11-11 Memories Retold takes a very different narrative-based approach – This will likely limit its widespread appeal but do you think this is an important addition to make and what would make it a "success" as you see it?
11-11 is not a war game but a game about war and its impact on humans. This is the aspect which we believe videogames need to portray. It is a wonderful period we're living in now where this medium is becoming mature, attracts very different audiences. People with kids above 30s have less time to delve into a huge open world.  A narrative experience of 6 to 8hours is a good format that works really great in fact.
The factor that would make 11-11 a success is of course its emotional impact and the multiple endings it has depending on the players choices. I'm confident that a game made with so much passion from the team will find success.
Tags: 11-11: Memories Retold, Aardman Animations, Bandai Namco, Digixart, IWM, Remembrance Sunday, Valiant Hearts: The Great War, WW1