Board game designer Marc Andre made one of my favourite games of all time, Splendor. It is incredibly snappy and while mechanically very straightforward, has a lot of replayability and strategic opportunities. Splendor is probably one of the few titles which I can play one game after another, without getting bored. Now, Marc Andre has designed a second game like that and it's called Majesty: For the Realm.
• Designer: Marc Andre
• Publisher: Z-Man Games
• Number of Players: 2-4
• Playing Time: 20-30 mins

Everything I loved about Splendor is also in Majesty: For the Realm, despite both games being quite different. As a set collecting game, the staple mechanic of Majesty is picking up new cards – medieval characters, like innkeepers, witches, guards and others – out of the available line-up and adding them to your town. This action triggers a simple acquisition of points, that come in nice chunky chip tokens, not dissimilar to the jewel tokens in Splendor. Typically, the more characters you have in your town, the more combos are available. So close to the end of the game, the payout in points can be quite significant. As everyone is also getting a lot of points at the same time, this quick escalation never feels unfair – it is, however, very satisfying.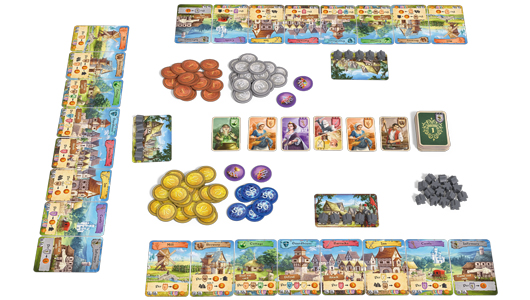 As there is just one action that can be done and it is the same – pick up a card and place it in your town – the rounds go fast. Unlike, Splendor, where there is still chance of analysis-paralysis as players try to count their tokens and decide which cards are better to buy, Majesty is much more straightforward. There are only six characters available to pick up, the first one being free and later ones requiring players to leave a meeple behind. The supply of meeples, is, of course, not limitless. However, it is the variety of characters and their respective locations – the cards of which are double-sided, offering different powers for more replayability – that give Majesty its strategic edge. It also manages to strike that important balance of giving several options worth considering, without over complicating moves and making the game feel clunky.
I have always made sure I mention player interaction as part of a review. It is, once again, a difficult aspect of the game to balance. Needing to keep track of overall board is not enough player interaction. Equally, games, where a player can essentially walk away from the table and return twenty minutes later knowing their chances of winning have not diminished by their absence, are also not doing player interaction right. However, Majesty proves easily that even a small rule can engage the whole table both with the game and also with the players around that table.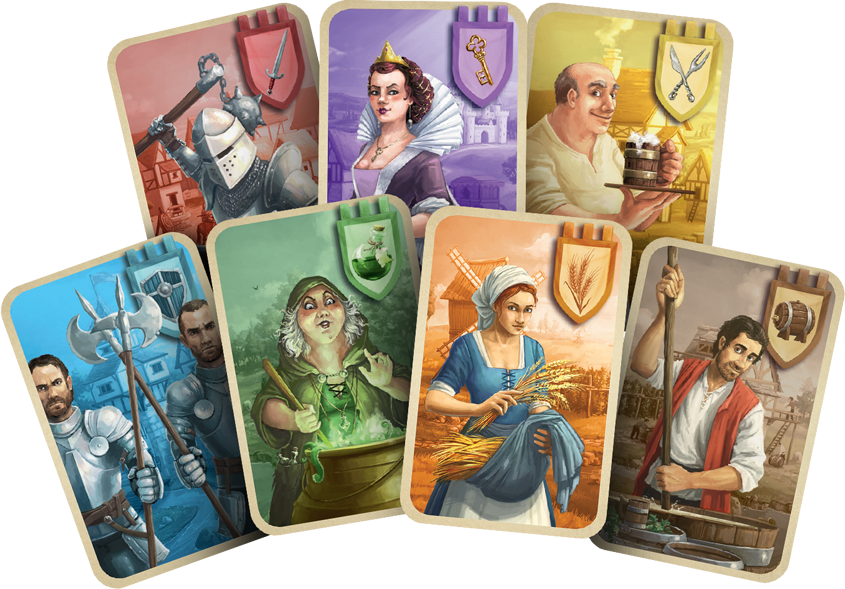 Simply adding guards and soldiers as characters, former to protect your town, while latter attacking anyone with inadequate defenses, does the job. Attacking other players does not feel overly confrontational because there are also characters in the game, like a witch, that can later reverse the consequences of the action, with bonus points for adding the witch into town, which is equally nice. However, even so, it makes players vigilant, raising the stakes of the game by creating a competition for those characters. If a soldier or a guard come up in the lineup, maybe it is worth to spend extra meeples to get it, instead of risking losing characters from the town. Even if that move was over-cautious, adding both of them to the town lineup still earns points, so there is a benefit either way.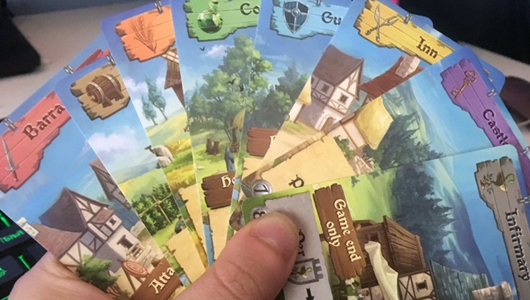 Majesty's medieval theme, while mostly window dressing and slightly unoriginal, still does a good job of tying the spirit of the game and the gameplay together. The special abilities make sense in relation to the characters that trigger them, even if they are a bit abstract. The artwork also adds a few nice touches that bring the whole concept together. The town is composed of several cards, each featuring the main location. However, all cards also connect together creating one panorama showing the spread of the town, like a little snippet into its life.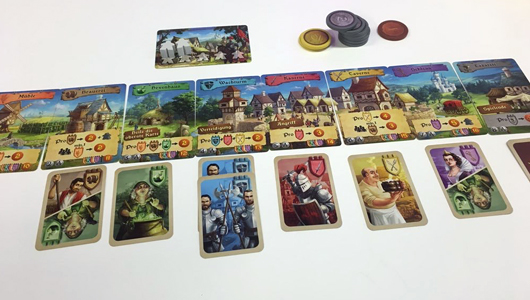 Majesty's overall components are fairly simple: small character cards (those who played game's like Timeline will be familiar with the format), custom designed town cards, simple grey meeples, chunky point tokens (that are not as satisfying and heavy as in the first edition of Splendor) and a custom box designed to fit all components well.  It is nothing extraordinary, but they are functional and work well with the game format. A few extra loving small touches, like the panorama, just bring the whole game together leaving an overall favourable impression visually.
Quick, snappy but with just enough to think about
Special ability combos feel really satisfying but are not overpowered
Beautiful artwork
Components are quite simple, but functional
Since Majesty: For the Realm was published, I have played a few games with a similar format, for example, recently released Micropolis. However, Majesty has always managed to stand out as an exemplar. Its mechanics are tight and fun. The set up is minimal and the playtime never makes the game feel like it overstayed its welcome. In fact, a more common feeling was a desire to play again. As a lightweight strategic game, Majesty: For the Realm knows exactly what it is and how to do its job exactly right.
Review copy provided by Asmodee
Official Website
Tags: Abstract, Marc Andre, Medieval theme, Set collecting, Splendor, Z-Man Games