These days, the general feeling as it relates it Dwayne Johnson is, apart from wanting to ask the question "Where does he find the extra hours in the day to do all he does?", is that whatever he touches is a success. Whether it be on the big screen, small screen, executive producing a podcast, showing up on a wrestling show, even most recently releasing trainers and headphones or workout gear, it seems that whatever the former 'Most electrifying man in sports and entertainment today' sets his mind to and signs on for, he makes it work. He has become the highest paid movie star in the world, signs on for more movies and TV projects than the normal person buys bread and milk, and gosh darn it, he's just so likeable.
• Director: Rawson Marshall Thurber
• Exhibition: 2D
• Rating: 12A
• Run Time: 102 mins

Skyscraper, however, puts our leading man's abilities to the test. Because while it stands out this year as one of the few Hollywood productions that isn't a franchise/universe-continuing sequel or an unnecessary remake/reboot, it doesn't have a whole lot of originality. As soon as the first trailer landed, complete with that physics-defying crane-to-window leap that had boffins the world over trying to debunk or prove, it was obvious to anyone over a certain age that callbacks to Die Hard and A Towering Inferno were hard to miss.
The film rushes through the storytelling early on, doing its best to paint Johnson's Will Sawyer as an normal guy – albeit one with hulking muscles and screen presence like few others – rebuilding his life with a wife and family after his FBI hostage rescue days were cut short in an incident that costs him his leg. And while Johnson does an admirable job with what he is given, but the script carries little in the way or dialogue or scenes that are going to make his task any easier.
Every major event that takes place is easy to see coming, reducing or outright nullifying its impact when it arrives. You pick a disaster movie, then pick a moment from said movie, there is a very good chance you will see it here. Of course, scriptwriters will call them tried and tested tropes from this genre, but that doesn't mean it's a good thing. Johnson and Neve Campbell – and how great it is to see her in a major Hollywood movie again – are capable of plenty, and have been let down by a script so intent on delivering the usual genre clichés that it foregoes the chance to do something different.
For a movie that features a father trying to get into a burning building full of armed terrorists in order to save his family, Skyscraper has a remarkable lack of drama and intrigue; you never once feel like Sawyer or his family are really in danger, or that the bad guys will be defeated in the end (sorry, spoiler alert).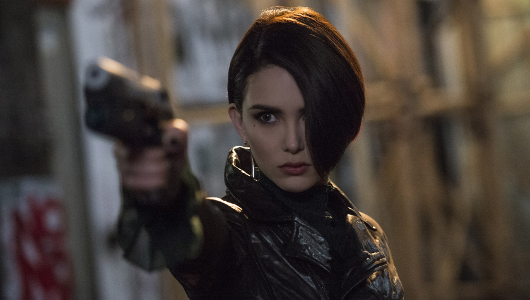 I mentioned it briefly earlier, and let's return to it; the trailer's money shot, Johnson's death-defying leap from a crane into an open window, at seemingly-impossible angles and possibilities. Yes, it's ludicrous, however, it is hard not to, for one moment, get sucked into the spectacle. And while you don't doubt he will make it, the vertigo-inducing camera work and build-up to it make it work. Just.
What does not work, however, is the nasty gang inside that building that he's trying to jump into. You will struggle to find a collection of movie bad guys so ineffective and underwhelming (and that may even be including Marvel's worst in that), something else that fuels that feeling that nothing bad will really ever happen and the film will only end one way.
Johnson reaffirms his position as a reliable leading man
A welcome return to the big screen for Neve Campbell, despite being given little to do
Lack of drama and intrigue
Weak, nondescript villains
Packed full of disaster movie clichés
When looking at Johnson's recent hits, it's hard to include Skyscraper among them. It isn't a patch on Jumanji or Rampage, and in actual fact, it comes closest to San Andreas. And that isn't a good thing, once again coming back to that lack of intrigue. You know he's going to win because he always does. He's likeable as always, gets to kick ass like he always does, and just basically does Rock things. Hot take; it may be starting to wear a little thin. Conversely, if all you want to see is Dwayne Johnson playing the role of John McClane, trying to save his family from a gang of terrorists whilst trapped in the largest building in the world, then this is the movie for you. Yippee-ki-yay, indeed.
The author paid to see Skyscraper
Official Movie Site
Tags: Beau Flynn, Byron Mann, Chin Han, Dwayne Johnson, Flynn Picture Company, Hannah Quinlivan, Hiram Garcia, Legendary Pictures, Neve Campbell, Noah Taylor, Pablo Schreiber, Perfect World Pictures, Rawson Marshall Thurber, Roland Møller, Seven Bucks Productions, Skyscraper, Universal Pictures