We have come to the second day of UK Games Expo. If you missed the first entry in our UK Games Expo Diaries series, you can find all the games we have seen and played here. Now, onto a new day and more board games!
Dead & Breakfast (Alex)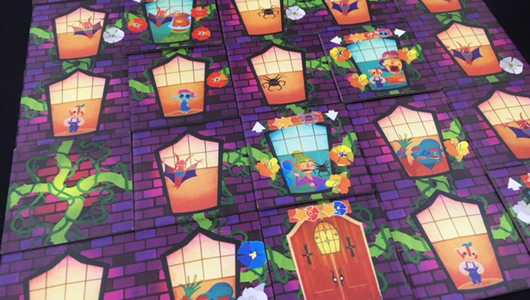 Monsters and ghosts in a hotel – what can go wrong? Dead & Breakfast is a tile drafting game, where players build a hotel where almost every room has a different scary creature. Somehow, silly humans still come to stay, and the objective of the game is to realise their worst nightmares. Players draft tiles that represent two rooms in the hotel and arrange them in a 5 x 5 grid. As soon as a row of the hotel is completed, a visitor tile can be positioned in a location that will have the most creatures that frighten them. The bigger the scare, the more points that player gets at the end of the game. Separately from the scares, tiles also have vines, and if they connect flowers of a specific colour players also receive bonus points at the end of the game.
Silly, with beautiful artwork, Dead & Breakfast integrates the theme into the mechanics of the game really well. It was the most spookily adorable game that I played on the expo floor.
Starship Samurai (Tim)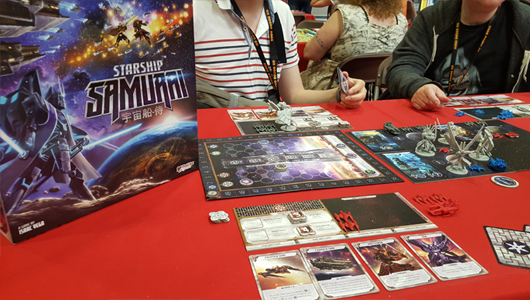 The awesome space Samurai Mech miniatures may have attracted me to start playing but the streamlined and well-integrated combat and influence systems kept me playing for longer than I really had time for. I also wanted to immediately rush off and purchase a copy and my only disappointment with the game was that it won't be available until later in the year. Straddling the line between a light euro-style game with a bigger emphasis on combat that pushes it towards a heavier American style game. While clocking in at the up to 90 minutes timeframe, every part felt so well co-ordinated that it nothing felt bloated or that it overstayed its welcome.
And did I mention those fantastic Samurai Mechs! Look at them! Don't you dare dishonour my clan or I will crush you on the battlefield!
(UPDATE: A kind and knowledgable person on Twitter also pointed out to me that this was designed by the same person who made Dead of Winter. Knowing how well that game turned out makes me even more keen!)
Solomon Kane (Alex)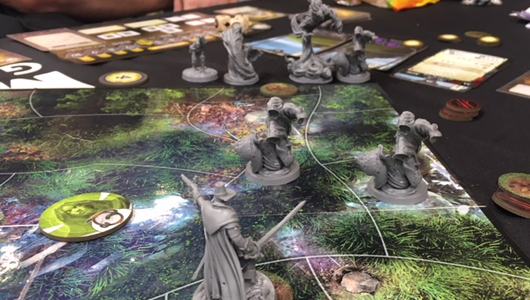 From the designer of Conan, coming to Kickstarter in a few days, Solomon Kane is a narrative board game that has an interesting twist on the well-trod formula of games with miniatures. All players control Solomon Kane but play as his virtues. While mechanically virtues simply represent asymmetric abilities that each player controls, as the game is co-operative, they supplement each other well and their different strengths come in useful depending on the scenario played. Essentially, players will be rolling three dice and using them to activate abilities either on their virtue sheet or on two cards from their unique decks. Every scenario has a specific mission, some of which might include simple objectives or explorations, while others will have combat. While this is not a unique concept, the decisions of how to share and best use the dice between the players is what makes Solomon Kane interesting. Players decide their play order, discuss which abilities would be the most useful for the task, and can donate dice to each other if one or more players need to perform a more complicated roll.
You can check out the gorgeous minis of virtues on the show floor or look out for Solomon Kane when it comes to Kickstarter on June 12th.
Itchy Monkey: A Battle of Lice (Tim)
Currently on Kickstarter, this is a game of abstract strategy monkey manipulation and, more importantly, the colonies of lice that inhabit them. While firmly in the family-friendly category of games it gets head-scratchingly tactical enough to also be of interest to a barrel of adults too. The only real element of luck that comes into the game is hoping that your opponents will be too busy bumping their own monkeys to notice you spawning enough lice to colonise the correct sets of monkeys needed to win the game. Plays a little like a lice-infested game of draughts with a few more tactical options. We played the basic versions of the game but the more advanced version also gives the individual monkeys types unique powers that mix up the gameplay and the double-sided board helps keep the game balanced for 2–4 players.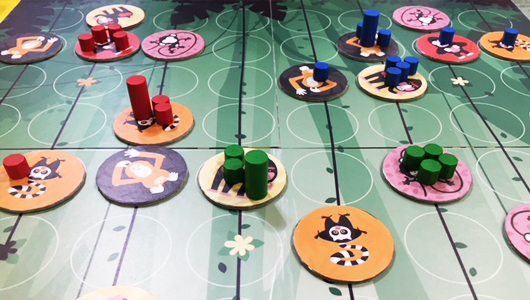 Check out their creepy-crawly catchy monkey Kickstarter here!
Clickbait (Alex)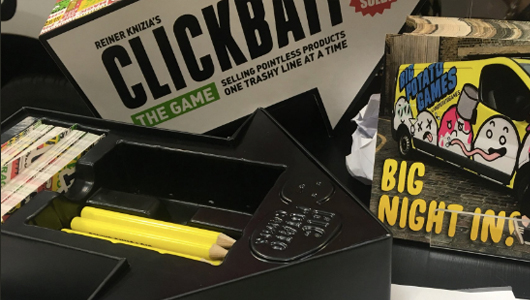 Big Potato Games always bring fun and fresh party and trivia games to the expo. This time, they collaborated with a celebrated board game designer Renier Kenizia to create a game about making slogans, Clickbait. All players are given a product, which, of course, is hilariously ridiculous, like 'The How-To Guide for Flamethrowers for Kids'. Then the dice with lettered faces are rolled and players have to come with a slogan, where each word starts with one of the letters. It is not a requirement to use all the letters, however, it is encouraged. In the end, the funniest most appropriate slogan, as adjudicated by a selected player, wins.
Simple, yet catchy, Clickbait is exactly what it says on the tin!
Weird Things Humans Search For (Tim)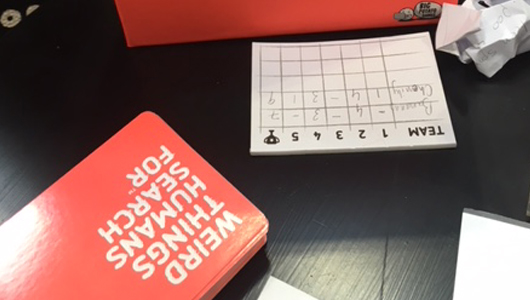 Delving into the hive-mind that is the internet can be a scary and dark place at times. If you have ever seen Wired's video series of Celebrities answering autocomplete questions or ever stopped to laugh or stare in amazement at the questions that other people type into Google then our friend's over at Big Potato have the party game for you. Points are scored for anyone correctly identifying the answers given by other people that come after a few introductory words such as "I have never seen…" Bonus points are awarded for anyone that puts the top answer as their primary response and everyone gets two guesses each. While not exactly deep, this was easy to start or explain and hard to resist laughing at the answers your friends give and the (hopefully*) even more absurd answers that make up the bizarre lists.
*If not you may want to worry about some of your friends.
Hero Master: An Epic Fight of Epic Fails (Alex)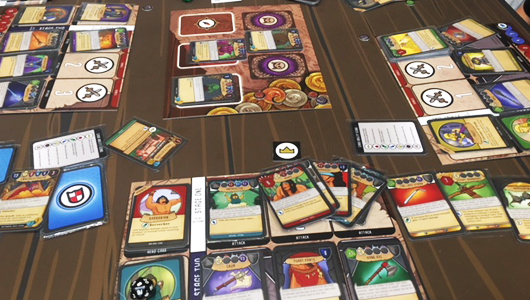 A party of heroes goes out into the woods to slay monsters, gather some loot and earn glory. They are well skilled, courageous and strong, but they would never survive their adventures in they did not have their friendship to rely on… Boooooooooring! How about a party of wannabe heroes, where every member wants to stitch everyone else up, get all the loot and glory for themselves and then GET THE HELL OUT THERE! Yes, this is An Epic Fight of Epic Fails, a humorous twist on fantasy role-playing adventures, that takes its tropes, exaggerates them to ridiculousness and then sends them into a fight. While this game will be especially appreciated by the lovers of Dungeons & Dragons, no RPG knowledge is required. In fact, as the game adapts some of the mechanics into a lighter, more approachable form, this could be a good entry for those who would like to venture on check out DnD as well.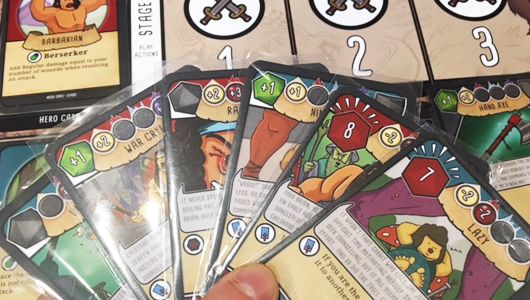 Hero Master: An Epic Fight of Epic Fails is pretty much exactly like its name. It is a card game, where players are always trying to stitch each other up while having way too much fun. There is magic, monsters, loot and, of course, dragons!
—————————————-
That's everything of note for today, however we will return tomorrow with even more games that we saw at the last day of the expo and a few more that we didn't manage to squeeze in to today's diary. In case you won't able to see for yourself this year's even more monstrous sized expo has a tonne of great games to check out and we'll do our best to highlight some of the best we have seen over all three days.
Tags: Big Potato Games, BRB @ UKGE, Clickbait, Conan, Dead & Breakfast, Hero Master: An Epic Fight of Epic Fails, Itchy Monkey: A Battle of Lice, kickstarter, Renier Kenizia, Solomon Kane, Starship Samurai, UK Games Expo 2018, UKGE, Weird Things Humans Search For, Wired