While most people were attening Rezzed this past week, half way around the world, a different sort of festival was taking place; an alternative arts fringe festival. Set in a valley about 2 hours outside of Sydney, the township of Lithgow comes alive and transforms into the Kingdom of Ironfest! Metal and Steampunk combine in a framed narrative for two days as time and space collide in one of the greatest battles of the year.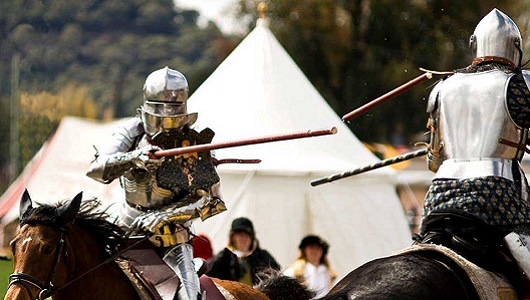 As far as tabletop gaming, video games and geek culture have their place in society, it is only recently that this has crossed over into the arts as Ironfest is more than just a geek Ren-fair or a bunch of steampunk cosplayers. For most of the stall owners, patrons and displayers at Ironfest, it is a way of life – as the blacksmiths, loomers, weavers, dancers, forgers, artisans, reenactors and machinists put on a show of force from a simpler, more industrious time in a space of country that most people have forgotten about.
This then crosses over with whatever inflection you care to pursue; be it burlesque, furry, robotics, acrobatics, war, civil war, sword play, skill at arms, goth punk or something in-between. In an appeal to the younger generation, Ironfest has grown thematically and every year is framed around a loose narrative, such as "time and space," "medieval" or as was this year, "the Wild West."
For those who take cosplay seriously, I'd argue that re-enactors take it 10 times more so, not just working on their uniforms and costumes but literally practicing their skill and character in clubs all around Sydney and Australia every week. In more recent years, the Army has come into Lithgow with reservists and the single largest display of active and non-active tanks and troop carriers in the country, that have been bought and even used in such movies as Fury which they are more than happy to let loose; mixing it up with the 19th century French Armies and Medieval swords and jousting.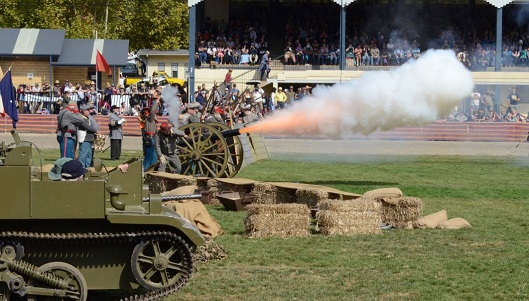 For anyone into video games, this is 'video games – come to life' with live falconing displays and the national Australian jousting and skill at arms finals (as a real sport practiced in Australia). Ironfest encourages you to 'pick a clan' be it Sci-Fi, Medieval, 19th century, 20th Century or Steampunk. The mythos around Ironfest has only grown year on year, including the penultimate (fictional) "Battle of Lithgow" between French and English troops as a foothold into the current basin of Sydney City. One of the unique aspects of Sydney is that it is essentially landlocked with the ocean on one side but a sprawling range of mountains on the West. There are only 2 highways into and out of Lithgow – hence the fictitious foothold that valley would have created during settlement; albeit the fact that, for obvious reasons, Sydney was settled from the coast …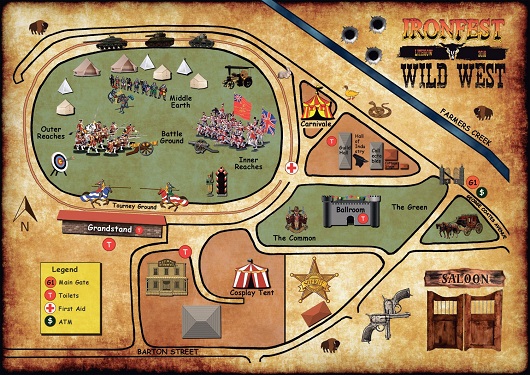 "It has had an immeasurable effect on Lithgow's post-industrial image transforming it from a dirty old coal mining town into a place where quality events take place"
With this in mind, Ironfest is also no Burning Man, preferring a slightly more civilised exchange of ideas with a focus on entertainment, but also historical learning and families. To see such a melting pot of people who live off the grid and work for themselves though, is entirely more noisy, smelly, sweaty and messy than the finale of Legends of Tomorrow makes out. Yet there is a culture and sub-culture of geek couture that wants to see pirates and Saxons mix it up with robots and ninjas in a post –industrial West World town.
One thing to consider is that despite the inclusive nature of the event, as far as conventions and group meetings go, Ironfest is obstinately not multicultural. Whilst this may change in the future, over the past 20 years, it has been built on the back of working-class men and women born out of the white colonisation and occupation of Australia. This is surprisingly at odds with the various festivals and movements that pervade Sydney and despite being whitewashed is a reminder of both the roots of 1st generation Australians and their achievements.
Ironfest expands on this by embracing the European heritage of Australia, including world music from Ireland, Russia and Scotland. Only at such a convention would you be able to talk to a former captain of the Austrian Army and Knights Templar in full regalia walking around in plain site without judgment.
Having attended more than half a dozen times over the years, Ironfest has shifted and split away from the classical medieval and Renaissance feel to embrace the core mental and iron; doubling down on the number of military displays. This, in part, has allowed other festivals to spawn such as Winterfest and the St Ives Medieval Fair.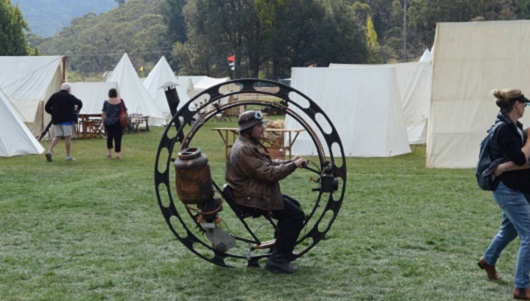 In this regard, Sydney is spoilt for choice as Winterfest, spinning out of Ironfest brings all the fun of the Ren-faire to the city of Sydney, as stated – in the middle of winter. Most of what is missing from Ironfest, including about 100 more stalls and shops descend on the northern foothills of Sydney for more jousting, sword play and reenactments including larping, harping and yes the titular Hurdy-Gurdy.
Winterfest is a true festival and perhaps more P.C. than Ironfest, without having to travel the distance and with a more focused theme that anyone can embrace. That said, it would not be untoward to see the odd Elf, or Witcher or Assassin sitting around the crowds.
Born out of the need for a third festival of similar tastes, this 2 day event is run in Sydney at one of the older and larger showgrounds and asks people to "step back in time". Run through different associations to Winterfest and Ironfest, the draw-card is arguably the life sized and functional trebuchet that owns a field of its own and is run to hurl melons at phenomenal speed. This is a family friendly event that has different time periods operating to show people how they would have lived their lives as you walk through the 16th, 17th, 18th and late 19th centuries.
The one time I did attend they also had an open alcohol policy and bar in a tent/hall that doubled as live music. The showgrounds were also offering horse riding which differs from the more tonally serious and professional festivals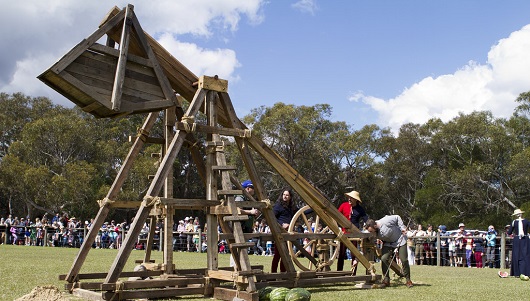 Ironfest, is always going to have a special place in the convention scene of Sydney and specifically NSW. While Australia has a number of more secular conventions for pop culture such as Supanova, Smash!, PAX AU and RTX Sydney, Ironfest is its own beast embracing anything and everything goes as long as you make it yourself.
The location, scenery and people I have met over the years, will keep me coming back as I have seen friends take up arms and persons younger than me now running their own stalls and wears. For anyone sitting at home playing games or making costumes, who doesn't think they belong or wants a more practical application, then Ironfest and the like should be applauded as it rocks on to 20 years strong.
Official Website of The Kingdom of Ironfest
Tags: Australia, convention, coverage, Event, Ironfest, Medieval Faire, Sci-fi, Steampunk, Winterfest