Once upon a time, a member of my regular board gaming group brought a tiny board game with big ambitions, called Tiny Epic Quest. Despite my initial scepticism, the game delivered on everything it promised. It was small in size, a positive as board games go, but the gameplay was deep and engaging, managing to encapsulate effortlessly the epicness of its fantasy theme. It was not long before I set out to find out more about the game and discovered that it belonged to a series, Tiny and Epic, encompassing a variety of themes and types of gameplay. There was a little bit for everyone, whether a fan of space adventures or westerns and now zombies, as the next instalment in the series, Tiny Epic Zombies, makes its way to Kickstarter.
For a deeper look at the new game, I chatted with Michael Coe from Gamelyn Games, who are developing and publishing the Tiny Epic Series.
Gamelyn Games was founded in 2012, as Michael was looking for an alternative to a standard road to publishing after his board game has been rejected several times:
"I've played games my whole life, all sorts of games, it has always been my unparalleled pastime of choice." Michael says. "At the time, Kickstarter was fairly new and unproven, but I saw it as an opportunity to bypass the corporate gatekeepers and show my games to [the] hobby world. After a few successful Kickstarters for games I designed, I opened up to taking other designer's games and assumed the role of a traditional publisher."

Then designer Scott Almes comes in and the Tiny Epic series is born. The premise is very simple: challenge the idea that microgames need to sacrifice depth of gameplay in favour of simple mechanics and small size.
"The ethos of Tiny Epic is to create meaningful games that push the envelope of what small games are capable of, to redefine small box games." Michael explain. "With every Tiny Epic game, the series' author, Scott Almes, and myself, aim to offer a big game experience, with nearly all the offerings of a big game: depth of strategy, replayability, variability, etc. in a small and affordable package. These are the six design goals for a Tiny Epic game: easy entry, high strategy, low downtime, short playtime, high replayability and small footprint."
The first game, Tiny Epic Kingdoms offered an adaptation of the 4X genre, while Tiny Epic Galaxies compressed expansive space exploration and Tiny Epic Western similarly condensed a European worker placement game. All without sacrificing the strategy element or the depths of the respective genre. More than that, every game focused on a different type of gameplay that complemented the theme.
"Much of the task of marrying theme and gameplay falls on the shoulders of Scott Almes." Michael says. "He designs the mechanics of the games, which of late are, based on themes I request of him. The gestation period of a Tiny Epic game is about a year and a half and involves a lot of back and forth between Scott, myself, and our graphic designer Benjamin Shulman. We all enjoy a wide range of themes and hope to eventually explore many, if not all of them, with the vehicle that is Tiny Epic."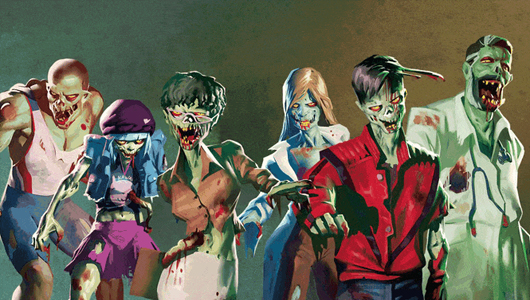 With kingdoms, galaxies and westerns out of the way, come the zombies. A genre so popular, even overused, however, it seemed like a completely logical progression for the Tiny Epic worlds, and Gamelyn Games have proved previously that they can put an interesting spin on any premise.
"…Zombies are cool and we hadn't done anything like it yet. It was time to try something a little more mainstream." Michael says. "We also knew we wanted a game about pacing and wanted it to possess a sense of urgency. Zombies fit very well with this concept."
Tiny Epic Zombies is a cooperative survival game, where players work together to complete a set of objectives, like collecting parts to fix a helicopter, finding weapons and even a cure, before the zombies overrun the location. Of course, there will be plenty of opportunities for fighting and if your character is killed they will come back as a zombie.
The game also comes with 5 different modes, competitive and cooperative. The players will have an opportunity to play as zombies against others, though Michael recommends that new players start with a cooperative set-up:
"Scott Almes did a brilliant job designing the different play modes…Though certain tweaks have been made to make sure we achieved the level of difficulty we desire for cooperative play. Surviving a Zombie outbreak isn't supposed to be easy after all. For first time players, I would recommend they play cooperative vs game controlled Zombies. Though after the first couple plays I imagine they will find that player controlled Zombies are quite entertaining and may become the most desired version."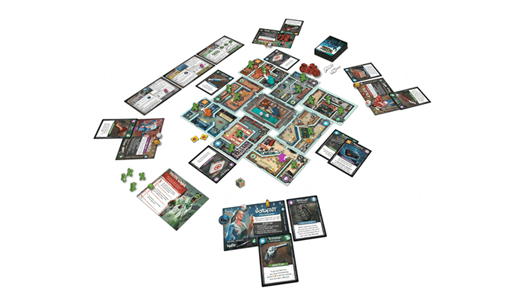 The Tiny Epic series has always been humorous, preferring to embrace the playfulness of their themes, rather than take themselves too seriously. Part of that joy clearly comes through in their ITEMeeples, that will take down any meeple with their sheer adorableness and epicness. Traditional meeples have become a staple of board games, however except for making them different shapes, no other game has seemed to do anything interesting with them until ITEMmeeples: simply, tiny meeples with attachable tiny weapons. They were first introduced in Tiny Epic Quest and have returned for Tiny Epic Zombies.
"It has always been a marquee element of Gamelyn Games to offer compelling and innovative components." Michael clarifies. "ITEMeeples encompasses that. Tiny Epic Quest is an adventure game where your heroes of traversing an overworld, exploring temples and collecting items. During the development of Tiny Epic Quest, we had the crazy idea to attach said items to your actual meeples instead of just placing them next to your player card. This posed some complications. First, it wouldn't work with the classic wooden meeple, we needed the fit of the item to be perfect. Tight enough to remain in place and loose enough to be able to be swapped out. Wood simply wouldn't support this level of precision. So we needed to make them plastic, which required expensive molds to be made. Many of the first iterations of the ITEMeeples didn't work. The items would fall right out. We found that by creating a hex hole instead of a circular hole in the arms of the ITEMeeples it gave us the friction needed to hold the item and even allowed us to pivot the items. So your ITEMeeples can hold its sword straight up, or across its body etc. As subtle as this seems, being able to give the items different positions triggers the imagination and helps bring the ITEMeeple to life. My favourite item in Tiny Epic Zombies is the chainsaw. It just looks so cool in the hands of an ITEMeeple."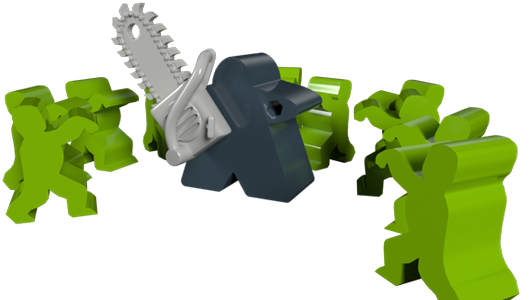 Miniatures and RPG in a box style games have been dominating Kickstarter lately, attracting most of the public's attention. However, Tiny Epic series had no problem finding its audience on this platform. As of the writing of this, Tiny Epic Zombies have raised  $659,460 of their $15,000 goal. Michael Coe explains why he thinks they had such success with Kickstarter:
"Every Kickstarter is a learning process. The platform, the backers and the industry are always changing. Keeping my finger on the pulse of these changes is paramount. That's why each Tiny Epic game is so fresh and new compared to the last. I would attribute the success of the series to numerous things, for starters when Tiny Epic Kingdoms hit Kickstarter there weren't other small box games offering as robust an experience as Tiny Epic Kingdoms. Small box games at that time were mainly perceived as filler games and party games. Tiny Epic Kingdoms changed that. It filled a void in hobbyists' collections. We have continued to explore this niche with numerous Tiny Epic games offering a wide array of mechanics and themes. Another contributing factor to the initial success of the series is that we offer a free print and play version of the games during our Kickstarters. This allows players to try the game out and see for themselves just how compelling a small box game can be. The continued success of the series can be contributed to solid game designs offering lots of replayability and high-quality components at an affordable price. The integrity of the product has always been our highest priority and our backers have shown their appreciation of that by their repeated support."
As for the things to come to Tiny Epic Worlds, Michael gives us a little hint:
"Our tongue-and-cheek approach is to create a Tiny Epic game for every letter of the alphabet. So far we have, TEK (Kingdoms), TED (Defenders), TEG (Galaxies), TEW (Western), TEQ (Quest) and TEZ (Zombies). So we have a lot more to do still."
Check out Tiny Epic Zombies campaign here before it ends!
Tags: Benjamin Shulman, Gamelyn Games, ITEMeeples, kickstarter, Michael Coe, Scott Almes, Tiny Epic Galaxies, Tiny Epic Kingdoms