'No sex and drugs, just rock'n'roll, right?' asks Gretchen, played by Miss USA 2012 Olivia Culpo, of her boyfriend Johnny Faust, played by Andy Biersack of Black Veil Brides fame, as mommy Denise Richards watches anxiously. Yet, we all know how this ends. There will be plenty of sex and over-the-top female nudity, faces will be smothered in cocaine, and if we are lucky, there will also be some decent tunes. The only unexpected part, really, is that Satan comes to town. He helped found Apple, wrote 'Empire State of Mind', and led Iron Maiden to fame, did you know? Maybe we can blame all the drugs and sex on him too…
• Director:  Ash Avildsen
• Exhibition: 2D
• Rating: R
• Run Time: 111 minutes

American Satan, directed and co-written by Ash Avildsen (CEO of indie heavy-metal label Sumerian Records) with Matty Beckerman, follows the path to fame of half American and half British rock band The Relentless. It is hard for talented young boys and girls to make their way in the music business, so to succeed they have to strike a deal with the Devil – literally – here played by Malcolm McDowell. Satan, also known as Mr Capricorn, apparently finds rock scene very lucrative in terms of human sacrifices and general mayhem. He is pestering and torturing the band so they fulfil his demands, especially Johnny, their leader and main singer.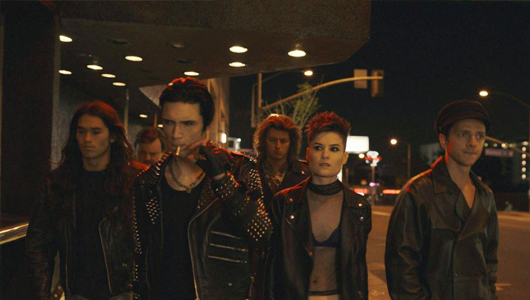 As unbelievable it may be that Satan had a major hand in the development of the modern rock and metal music scene, it is even less plausible how easily the young musicians fall for his promises of fame, riches and the cure of Denise Richard's breast cancer. One failed attempt at the gig and the young boys are quite ready to sacrifice a person's life to fulfil their dreams. The Satan did not even need to hide his true nature, and The Relentless are ready to jump in, ignoring all the warning signs. 
While watching the movie, I tried to figure out what exactly it was trying to say about rock music. If Satan to be believed, he seemed to have created or at least influenced that whole genre, so is rock'n'roll bad then? Yet, again, the way the story proceeds, especially when the guys of The Relentless encounter caricature rednecks that get in a fight with them just because of how they look, is the movie trying to challenge the shallow mainstream perception of that type of culture and music? Is it saying that The Relentless were not good enough on their own to make it with their music or, maybe, that no matter how good you are the chances of success are still small? The end of American Satan does not seem to definitively clarify any of these questions.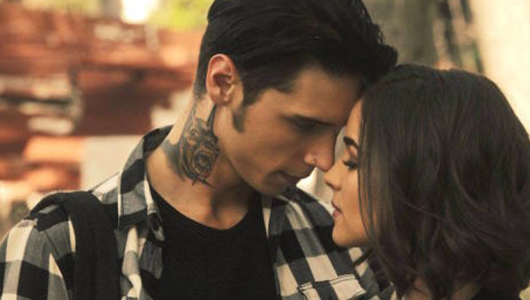 Among the other cast, who you might recognise, are Ben Bruce of Asking Alexandria, Mark Boone Junior (luckily, there are no rats or buckets present this time), WWE Hall of Famer Bill Goldberg and the marketing gold-mine, John Bradley, our lovable Samwell Tarly from Game of Thrones. Oh, and Larry King also makes an appearance. There are no star performances, however. Andy Biersack has one haunting smoulder that works for him throughout the length of the movie. John Bradley is still playing an awkward guy, but now an out of depth band manager, but this time he does not have multiple seasons of character development to build on. Ben Bruce has one moment of true emotion but afterwards relegated to the background. The other members of the band have one note and very little to none of the story development to work with.
If you were hoping for subtlety or hidden meanings in the story, then the name of the main character – Johnny Faust – should give everything you need to know. Not only everything you would expect to happen, indeed does happen, but when the plot twists come they feel completely unsatisfying and almost irrelevant. 
American Satan did have one good opportunity to do something interesting, but even that it brushed by, almost as an obligation, rather than an opportunity for a deeper discussion. As The Relentless grow more famous, their fans begin to copycat some of the more controversial acts of the band. As Johnny accidentally kills a guy in self-defence, other bullied teenagers follow suit with a more violent revenge of their abusers. The movie shows some clips of violent teens and even gets the band to appear on TV for a brief discussion, but ultimately it is more interested in showing band members have sex in a strip club with satanic decorations.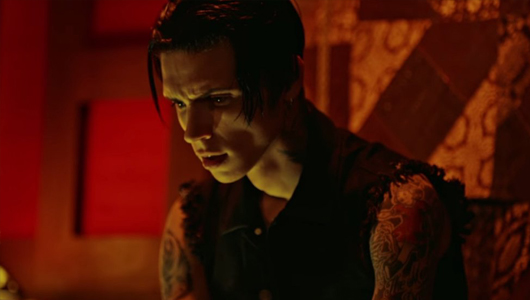 For one hot second, the movie sets up the premise of an evil figure of the religion, that gives other people an excuse and a justification to do bad things in its name, rather than take responsibility for their actions. Yet that point seems to fade as American Satan comes to its conclusion. 
Luckily, the music is decent. Except for an awkward cover of Korn's 'Freak on the Leash', the songs were written for the fictional rock band The Relentless are quite good. Although, they are lip-synced by Andy Biersack and actually sang by Palaye Royale's Remington Leith. Again, though, some of the soundtrack is too on the nose, especially during the scene of Satan's 'first sacrifice', making the whole scene slightly comical rather than chilling.
Good music
Seems to set up an interesting premise…
… but does not follow through on that promise
Entirely predictable, except the Satan part
Mediocre performances
Watching American Satan I had several flashbacks to The Queen of the Damned, not the greatest of comparisons. Despite that, a film about sex, drugs and metal music will find an audience to appeal to, just as sex, metal and vampires. Unfortunately, this on its own does not make a good movie. The soundtrack, on the other hand, I will add to my regular playlist, so there is a silver lining. However, the credits roll and the quotes from famous rock stars, implying the presence of outside supernatural force in their music and performance show up on the screen. It is unfortunate that the movie seems to suggest that even the most iconic and talented musician, did not make it because of their talent. Sending a cautionary warning about the dangers of wanting something too much and at any price is one thing, but discouraging the value of creativity is something else entirely. 
Andreson Group PR provided a review copy of American Satan
Official Movie Site
Tags: Andy Biersack, Apple, Ash Avildsen, Ben Bruce, Bill Goldberg, Black Veil Brides, Denise Richards, game of thrones, Iron Maiden, John Bradley, Korn, Larry King, Malcolm McDowell, Mark Boone Junior, Matty Beckerman, Olivia Culpo, Palaye Royale, Remington Leith, Sumerian Records, The Relentless