Are you the ultimate Phone Destroyer?! Ian throws down with South Park to find out.
• Developer: South Park Digital Studios, RedLynx, Ubisoft Pune
• Publisher: Ubisoft
• Reviewed on: Android (Samsung Galaxy S4)
• Also Available On: iOS
• Release Date: Available Now
First there was The Stick of Truth, then there was The Fractured But Whole, now, hold onto your butts because there's a new Sheriff in town it's Phone Destroyer! the newest outing from South Park Digital Studios. A free to play real time action game that combines collecting cards and tower defence tropes, come on down to South Park and meet some friends of mine.
Free to play mobile games, that mix card collecting with summoning and casting characters in an auto-play fashion are nothing new on mobile devices, but already South Park: Phone Destroyer is upping the ante and doubling down on high production value, humour and replayability, not unlike other properties including Futurama and Family Guy, that are seeing whole new episodes or canonical stories played out on the small screen.
In the wake of The Fractured But Whole, it would seem that all genres are on the table and it's a literal free for all that, like the previous stories, start with a battle between Cartman and Stan; Cowboys vs Indians that escalates quickly to include pirates and science-fiction, fantasy and whatever else Matt Stone & Trey Parker can conceive for the denizens of Colorado.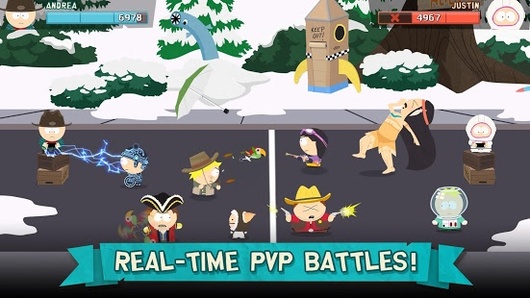 Initial impressions indicate that the writing, such as it is, is still of the high quality players expect from the creators of South Park. Given the accessibility of the mobile market and the general audience that is playing Phone Destroyer stays away from some of the low brow and more elaborate plot points sticking closer to a ton of mobile, phone and texting gags as a parody of every other mobile game and generally the rise of micro transactions, loot boxes and mobile gaming as a medium.
The story is padded out through singular missions over a number of chapters, which sees the returning "New Kid" battle his way through an increasing number of characters to become the ultimate PvP "Phone Destroyer!" Rather than lots of cut scenes and animations, most of the story is slyly told text based, as a slew of back and forth texts and messages that literally appear at the top of your devices screen.
This allows for characters to troll crass emojis at one another or for Stan to text his mom, who decides she wants to play, join the group chat and is summoned into the battle as a boss/healer. Characters are written true to form, even if there is a lack of voice acting and dialogue and the story segues naturally, such as a text conversation about Pirates existing 'roughly the same time' as Cowboys & Indians.
The game was running specifically on an older Samsung Galaxy S4 and besides actually installing on older devices, runs smoothly. It does default to being played only in the horizontal, but this also highlights the biggest issue: screen real estate.
The bombardment of text messages is relentless as the story is told before, after, and during battle. The messages come in at the top of the screen but can be two or three long as you also try to navigate the combat. Cartman will also randomly call you invoking that you answer to progress.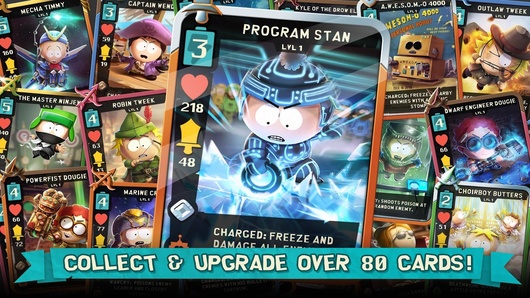 If the hook is a solid South Park story, then the bait is the tried and true '3 pillars' of free-mium mobile gaming: Collectable card packs, a customisable character and a never ending supply of Player vs Player drip feeding currency and items to upgrade cards, craft decks and hopefully obtain some new cosmetics for your character to show on the way to level 50
Currently it does look like Ubisoft and RedLynx have implemented guilds or teams as well, to join and compete against and with for even more cards and loot. Some of the changes to current mobile models of gaming worth noting include the fact the game is highly streamlined. Gamers are unable to skip any of the animations or story beats and there is currently no option to pause or speed up the battle; many other games now come with auto play features that will deal cards and auto attack while all the player has to do is watch.
Also missing is any ranking for story missions. There are rewards for playing and replaying but no rank or 'star based system' rather an ever increasing difficulty meter. So much so that this may be the first game of this type that has 15! levels of difficulty per mission making for an escalated difficulty curve early on.
On the plus side though there is no barrier to entry.  South Park: Phone Destroyer has no energy level to recharge or lives to lose that mean you can only play a bit at a time. This means that any PvP battle that you lose, has no loss to the player or handicap and you simply enter a new one.
At first glance, the biggest draw card (pun intended) and departure from even the AAA console games is the inclusion of highly artistic and stylised cards and a 3D environment that has risen in trend since Futurama: Game of Drones dropped in 2015. Initially it appears odd, having 3D model houses of your favourite cartoon with the trademark South Park textures, card board cut out trees and then 2D drawn characters on top, but after a while it blends in with the mixed artwork of collectable character cards of which there are many including many obscure and minor character this time like Heidi & Ike, Nathan & Mimsy or Terrance
Although Phone Destroyer looks great and is engaging to play, scratch the surface and there is just not much of a game. Over and above the console counterpart the games player level cap is 50, 30 more than The Fractured But Whole, and finally there is no limit to the characters you can summon and use but beyond a highly repetitive story and countless PvP battles there is little else except collecting cards.
Many other games of this ilk might make up for this with creative Match 3, or strategic turn based battles such that each level feels fresh or progressive. What we currently have is a weak attempt at tower defense where there are too many characters on screen, not operating in any lanes or cohesion all rushing at each other screaming and that becomes messy and unbalanced.
Add to that trying to watch which cards are recharged and available to play as well as executing special moves for characters already summoned and it can become confusing and a spammy mess of simply playing whichever card happens to be available. There is some skill in summoning tanks at the right time or flying characters that are out of reach as well as environmental attacks like explosions and lightning but it is currently not easy to tell what character does which attack, or the effect.
While I have yet to try the game on other devices, a new phone or tablet, extended play did seem to overheat the phone, and whether it was the connection to the servers, the game will suddenly lag, stutter or glitch out, both graphics and audio. On numerous occasions using both Wi-Fi and Data the connection to the server was lost when trying to redeem items.
As long as the developers and Ubisoft continue to support the game, especially over Christmas and New Year, there may be enough of a time-waster here to see payer support increase. Traditionally seasonal updates, unique holiday themed packs and hopefully a patch or two will see South Park: Phone Destroyer grow into something great
Official Game Site
Tags: Android, cards, iOS, mobile gaming, Phone Destroyer, PVP, South Park