Whenever a new Assassin's Creed game is announced, I always have the same pattern of behaviour. First, comes the excitement of a new location and protagonist, and a traditional conversation whether the new assassin can hold the candlelight to the series clear standout, Ezio. Then comes the dip, where anything about the new game is summarised by a sentence 'Well, it is just another Assassin's Creed game.' That sentiment is hardly ever swayed by the hands-on demos that in Ubisoft's – unfortunate – signature style are littered with glitches and questionable frame rates. Finally, I end up getting a copy, despite my skepticism, and always enjoying it, although the levels of enjoyment will vary. Assassin's Creed Origins fell into that pattern and currently I am in my dip stage, and my hands-on experience with the game at EGX has not managed to take me out of it yet.
• Developer: Ubisoft Montreal
• Publisher: Ubisoft
• Reviewed on: Xbox One
• Also Available On: PlayStation 4, PC
• Release Date: 27th October 2017
To give the demo credit where it is due, it is really hard to condense an open world game into fifteen-minute demo, and this demo tried its best to do so. You can't show too much of the story because that will spoil the experience. You have to drop the players at some point mid-game, so they can experiment with different abilities. However, having not spent hours building up to these abilities, it is hard to get a good grasp on them. You can't give players too hard of a fight because you don't want them to get stuck and miss on exploring the rest of the world. Hence, the fights are almost always boring and unchallenging.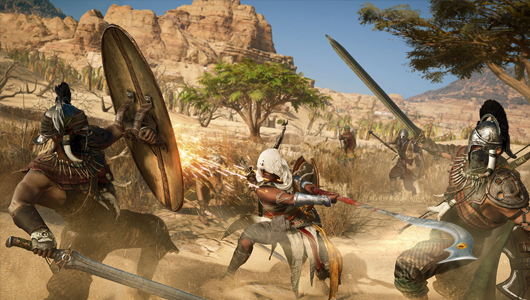 Besides unsurprising frame rate drops, a very familiar style mission and all too serious main protagonist Bayek, there are a few things worth mentioning about Assassin's Creed Origins demo. The first standout is your pet eagle, Senu, similar to the drone in Watchdogs 2, can scout the fighting scene, tag enemies and even help you fight them. Having used the eagle to scout ahead and note the movement of the enemies allows to go in a fight more prepared, especially for those players who prefer the stealthy approach. The unfortunate side effect of the flyby is that I witnessed too many men relieving themselves – for some reason a very popular animation in the demo.
The other pleasant surprise was a complete rehash of the UI. What previously was unreasonably convoluted and confusing, now is more straightforward and to the point. Also, players of Destiny will find the new UI very familiar looking. There is also an expansive skill tree that I am sure will be fun to unlock during the game, but is impossible to assess properly during the demo.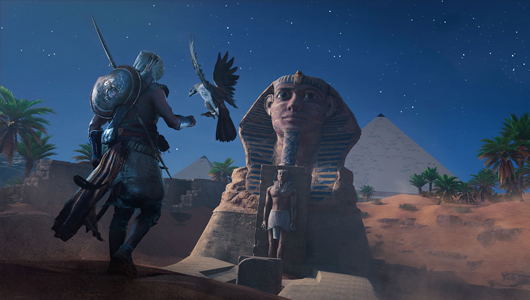 Apparently, the combat style has also been completely changed for Assassin's Creed Origins. I will have to take their word for it because I did what I usually do in an Assassin's Creed games: spam one button. This trusty tactic worked this time easy enough, even if I had to give the enemies a bit of a chase.
Assassin's Creed took a break for two years, a break that was much needed. It gave the game's fans a time to miss the universe and the developers time to consider what can give this franchise a new wind. While I do find myself missing the game, I am not sure that 'the new wind' part has been achieved. 'It's another Assassin's Creed game' still tells you all you need to know. The fans of the franchise and I count myself among them, will get the game and most likely enjoy it. However, for those who felt tired of the series, Origins, from what I have seen, has not done anything special enough to entice jumping back in.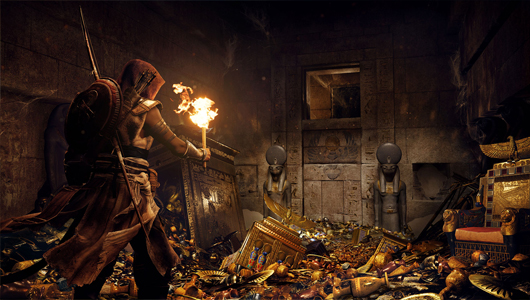 Assassin's Creed Origins will be available on Xbox One, PlayStation 4 and PC on October 27th 2017.
Official Game Site
Tags: BRB @ EGX, Destiny, EGX 2017, PC, PlayStation 4, Ubisoft, ubisoft montreal, Watchdogs 2, Xbox One