One thing we knew to expect from Microsoft's press conference was Project Scorpio's official reveal – but the real prize was their focus on software. In this console generation it's been deemed a regular sticking point that PlayStation 4 offers superior exclusivity, particularly since a number of project cancellations (we miss you, Scalebound). Whilst the library Xbox is offering might not be bursting with AAA  titles, their emphasis on software is a much needed blessing. Here's a rundown of what they covered.
Starting off the show in dramatic fashion was Project Scorpio's reveal, now officially titled the Xbox One X. We got both a release date and a price – November 7 at $499. Just in time for Black Friday…
The console was detailed as providing true 4K resolution and 6 teraflops GPU (yes, they're back – and that's more than the PS4 Pro's 4.12 TFLOPS). The Xbox One X will feature 4K Blu-ray playback and HDR, and will also provide a visual enhancement to those of us without 4K TVs, apparently. Its insides include a liquid-cooled vapour chamber, a first for a console. Probably the loudest cheer was in response to the news that the Xbox One X is the smallest Xbox ever. The lump of weight that was the original Xbox One has been replaced by a more powerful and compact alternative.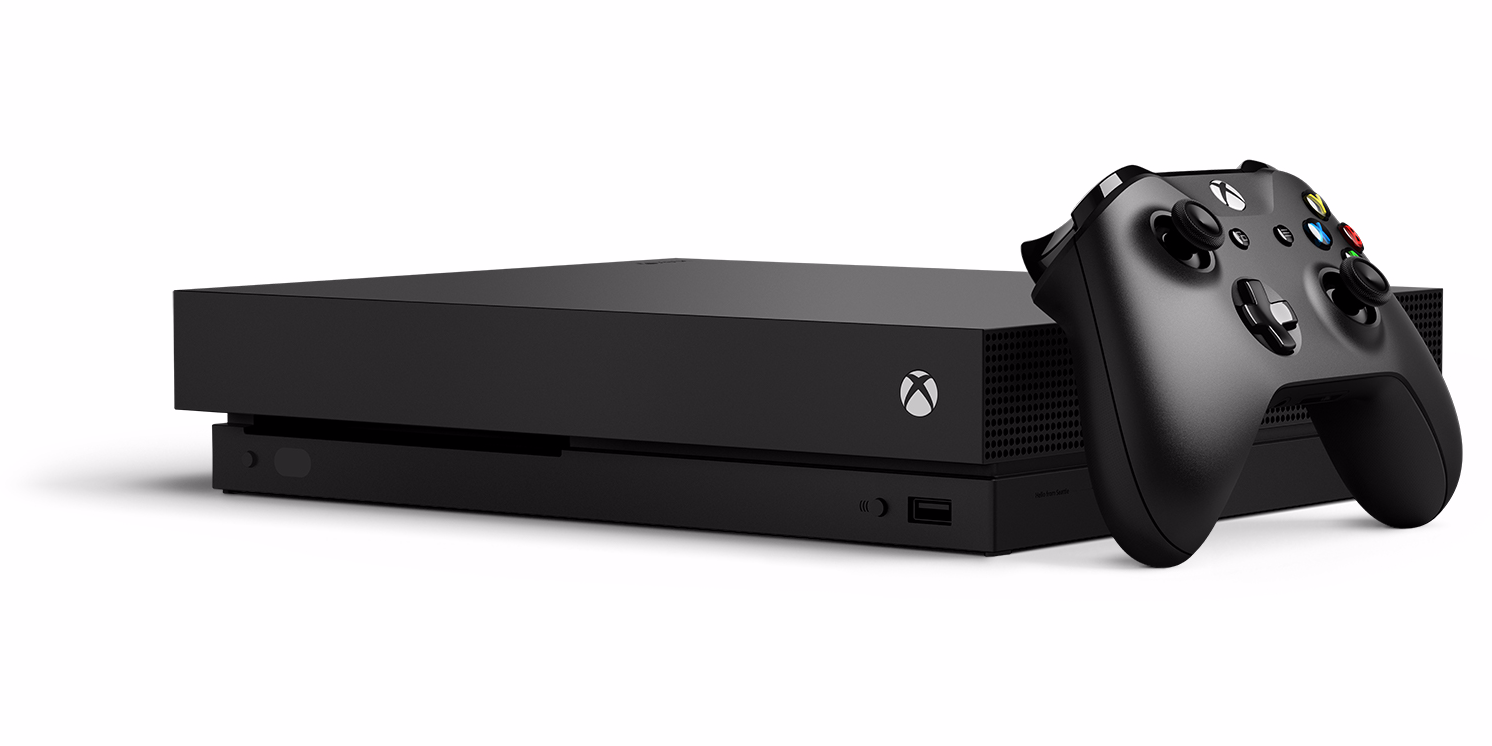 In other Xbox feature news, backwards compatibility will expand later this year to include original Xbox titles. The news was met with a whole load of cheering, particularly the promise that OG games with look and play better on Xbox One. News on actual titles is still to come, but Phil Spencer confirmed that one of the first compatible game will be flight game Crimson Skies.
As predicted, the new Forza title was showcased alongside the X's reveal. Making good use of that partnership with Porsche, they unveiled the Porsche 911 GT2 RS on stage and in game. Forza 7 will play in native 4K and 60FPS, and it also sounds really good. The selling point of dynamic weather was further emphasised, and there will be more than 700 cars to race through puddles with. It's out October 3.
Now, let's delve through the avalanche of software mentions. Whilst many were introduced as Xbox exclusives, an important distinction was made here; some are promised as exclusive to the Xbox console family, but many were described as 'launch exclusive'. This implies said games will be exclusive upon initial release, but not indefinitely. Think Rise of The Tomb Raider.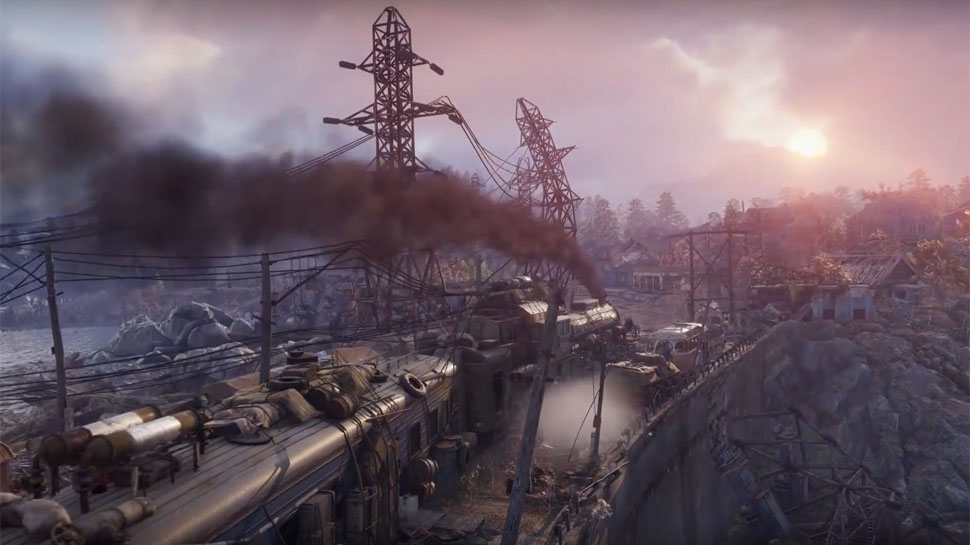 Launch exclusives include Metro Exodus, sequel to 2013's Last Light, set for an early 2018 release. The clip showed us a stricken and diseased Russian landscape, and the game looks to be much more explorative than previous installments. Another win for Xbox is landing PlayerUnknown's Battlegrounds, another launch exclusive for the console. This MMO survival game has become a favourite for streamers after PlayerUnknown/Brendan Greene developed it from a mod. The battle-royale shooter will come to Xbox One at some point this year.
Other launch exclusives that appeared include Ashen, probably a standout feature for its memorable art style. It certainly gives off a Dark Souls feel with its dungeon exploration and creepy atmosphere. Visually, it's very appealing – it reminds me a little of Brothers: A Tale of Two Sons, if Brothers was actually a nightmarish action RPG. Hmm. We also saw The Last Night and The Artful Escape of Francis Vendetti, both side-scrolling adventures. The Last Night is set in a pixel cyberpunk world, starring Charlie, a lower-class citizen. The Artful Escape looks to be a gorgeous rhythm style game; the main character plays shredding guitar and wears a spacesuit. Oh, indie games. It looks stunning and soulful, but no word of a release date yet.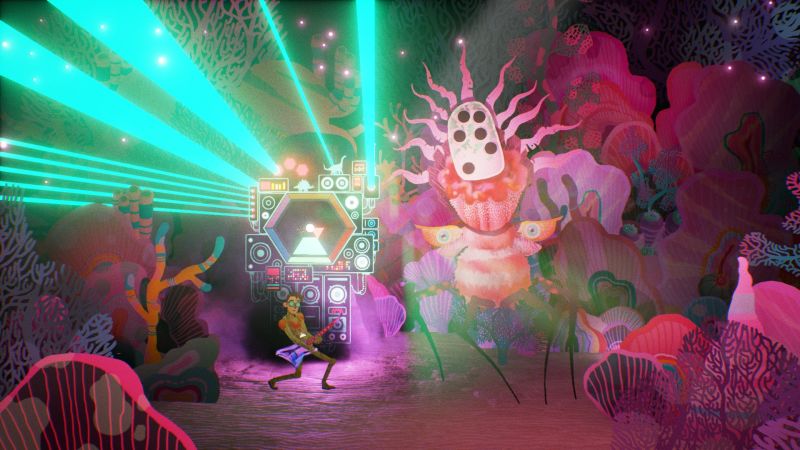 Two full exclusives (well… Exclusive to both Xbox One and Windows 10) viewers expected to see were showcased – State of Decay 2 and Crackdown 3. The former's footage showed some settlement customisation that looks similar to Fallout 4's, where resources and defences can be constructed and maintained. It also features an open-world environment that can be fought through cooperatively. The release date is set at Spring 2018.
Crackdown 3 will arrive earlier, releasing on the same day as the Xbox One X. Actor Terry Crews threw us into the action, which involved robots and huge explosions. The trailer shows off single-player gameplay, whilst the memorable destructive environments that were shown at Gamescom 2015 is reserved for multiplayer only. Featuring a neon punk graphic style similar to Saints Row, the footage also showed off jetpack-style flying and cars being thrown at mechs. Count me in.
Other for-real exclusives include Takoma, releasing on August 2, and Cuphead, which has become a bit of a running joke given the amount of times it's appeared at Xbox keynotes. We finally got a release date of September 29!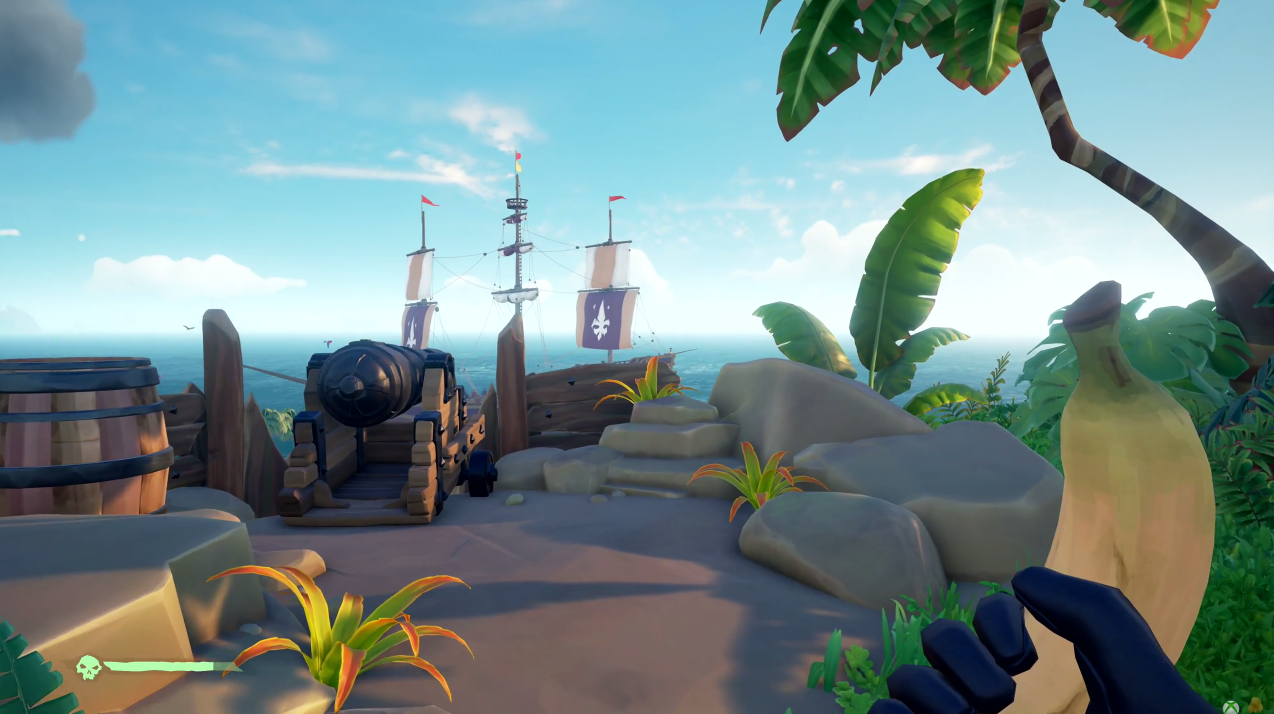 The exclusive Sea of Thieves shared some gameplay, detailing the more objective-based fun you can have, as well as the sandbox silliness they've previously shared. This is well worth a watch just for the fun, down to earth narration which provides a break from the usual scripted woodiness of E3. The crew showed us some of the surprises in the deep, including lootable shipwrecks and angry sharks. The hunt for treasure was on thanks to a riddle map which provides step-by-step hints, offering a look at some more directed gameplay. The exploration led the players to land, showing off some combat, item usage and eating a banana with the skin on. Ew. Your pirate ship includes a map room, showing you different outposts and islands; but the most important reveal was the ability to fire yourself out of a cannon and onto an enemy ship. What more could you want? Sea of Thieves is another early 2018 release.
Rounding off our recount of Microsoft exclusives is Ori and the Will of the Wisps, a sequel to the beautiful 2015 game, Ori and the Blind Forest. Whilst there's no word of a release date, Microsoft showed us an incontestably touching trailer rich with beautiful lighting, gentle characters and Gareth Coker's haunting music.
Now, let's turn to the non-exclusive games. Assassin's Creed Origins was unveiled at E3 as a surprise to no one, and Microsoft snagged the first chance to show off the game running on an Xbox One X. After giving the franchise a year off, it'll be returning to its roots – the origins of the assassin order in Ancient Egypt. Yes, the gameplay looks extremely familiar, with some cool additions. Eagle Vision is much more literal, with the player taking control of a falcon to gain a bird's eye perspective. Also, I can't wait for pyramid parkour. The release date was announced as October 27.
Life is Strange also hit the Microsoft stage, but was possibly a little misleading; Life Is Strange: Before The Storm might be a new three episode LIS game, but it may not be a canon tale. This prequel story will focus on Chloe and occurs three years before she is reunited with Max. Playing a LIS game without hella cool powers will be strange, but Chloe being able to travel through time would definitely not be canon. Either way, the fans are likely to be more than happy that season one characters are returning; Before the Storm is arguably fan-made, a project by Deck Nine Games with seemingly no input from DontNod, the original team. We can return to Arcadia Bay on August 31.
Microsoft started and ended E3 strong, with many viewers likely sticking around to see more on Bioware's new IP, Anthem. Little was known about the game prior to E3, other than some hints it would be an action-adventure with important multiplayer elements. The gameplay shown on the Microsoft stage looked a blend of Destiny, Titanfall and Horizon: Zero Dawn, with a bit of Iron Man thrown in. You play as a Freelancer, someone who explores this shared-world from inside different kinds of exosuit. The gameplay showed off different play styles; the controlled character wore a lightweight suit that allowed her to fly through a dense jungle, even seamlessly diving beneath water. The player's buddy had more of a tank role in his heavy-mech style suit. One exciting element is the dynamic environment, where unpredictable events, like a crazy lightning storm, can be encountered. Microsoft's conference ended with the promise that Anthem would release in Autumn 2018.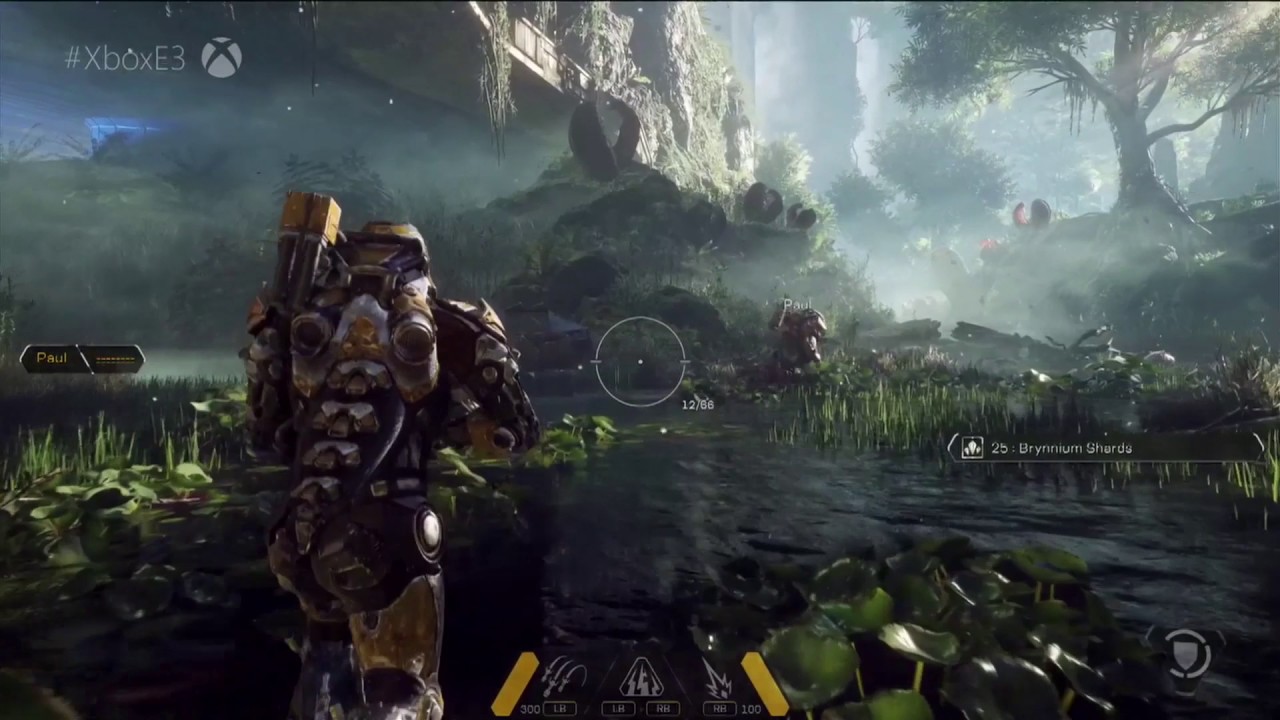 For those of us who might not be able to meet that $499 price point, Microsoft did promise free 4K updates to the following released titles: Gears of War 4, Forza Horizon 3, Killer Instinct, Minecraft and Halo Wars 2. As has been pointed out by audiences and critics, a new console needs to deliver not only on hardware, but software. Microsoft definitely showed off a shed load of content.
Tags: Anthem, ashen, Assassin's Creed Origins, Crackdown 3, cuphead, E3, E3 2017, Forza 7, Life is Strange: Before The Storm, Metro: Exodus, Microsoft E3, ori and the blind forest, Ori and the Will of the Wisps, PlayerUnknown's Battlegrounds, Project Scorpio, Sea of Thieves, State of Decay 2, Takoma, The Artful Escape, The Last Night, Xbox 4K, Xbox exclusive, Xbox One X