UK Games Expo is an event I have attended for a few years now, but in a very leisurely manner. However, last year it became clear to me that one Sunday is not enough to even scrape the top of what this board gaming event has to offer. As UK Games Expo moved into an even bigger NEC venue this year, this was further confirmation that this event is growing bigger and stronger each year. It is also climbing my person con(ventions) chart as well, overtaking one of my old favourites, MCM London.
Now, you might think me biased towards UK Games Expo because I am a board gamer and MCM London, even though it has a board game section, is not really about that. While that is partly true, this is not the main reason. After years of attending all cons I could fit in between work and occasional sleep, my con rating is firmly based on the answer to one particular question: 'How hard does this con try to stuff merchandise down your throat?' If the answer is 'not very hard' and that there are a lot of other things to do on the convention floor, than buy yet another geeky t-shirt, you have my attention.
And UK Games Expo is getting a lot of my attention. While there are board game shops around and I would definitely encourage anyone attending the con to buy board games that they like from the designers who came to show them, this is hardly the only reason to come here. The main reason you came is because UK Games Expo is the biggest community of board gamers in the country, who want to play, talk and breathe board games. There are new, yet unreleased board games to see and playtest, live podcasts and panels to listen to, cosplay competitions, board game competitions, talented artists, writers and board game developers to hunt down (please, don't take that literally) to chat about their work.
The Big Red Barrel team has, of course, been in attendance at UK Games Expo this year, and we have already covered some new, upcoming and still in development board and card games. If you would like to see what games we played and our quick thoughts on them, there are UK games Expo Diaries for day one, two and three. In those posts we really wanted to focus on the games that were new to us. However, there were many other games on the show floor, that you should check out if you have missed out on them before. Below are some of our suggestions, listed in no particular order.

Tatsu by Gen 42Games – Last year I played Tatsu at UK Games Expo while it was still in development. This year it was on the show floor all bright, new and shiny. A contemporary take on backgammon, Tatsu is a two player game where players try to get rid of all of the opponents tiles of one colour. There is a little bit of luck, strategy, nice chunky tiles and, of course, dragons!

Mysterium by Asmodee – Having played Mysterium once at MCM Comic Con, I bought the game as soon as I got up from the game table. The game is a mixture of Dixit and Cluedo, a combination which takes the best of both games. One player takes on a role of a ghost who sends cryptic messages to the clairvoyants (the rest of the players), to help then figure out who committed his/her murder.

Ominoes, Sandcastles and Frankenstein's Bodies by Yay Games – All you need to know about any game by YAY games is that they are fairly quick to play, easy to explain and give ample opportunity to mess up your opponent, while climbing on their heads on your way to a glorious victory. For more you can read our Sandcastles preview here and Ominoes review here.

Burger Boss by Legend Express – This is a worker placement game that uses dice instead of meeples and where players compete to fulfil orders of very hungry clients. In addition to that, the game box is a burger. That's right! More of our thoughts on Burger Boss here.

HexAgony by Andy Allen – Easy to learn, fun and quite competitive, HexAgony is a great little abstract game. It had an amazing development history. For that and our review of the game head here.

Imhotep by KOSMOS – While my time with the game was limited, Imhotep left a very good impression. This year's Spiel des Jahres nominee, in Imhotep players become architects in Egypt and compete to become the best builders. Also you know the game is great, when everyone you meet on the show floor either recommends that you play it or just want to play the game themselves.
Pretty much anything by Big Potato Games! – No seriously, no only do these games have awesome names; Linkee, Obama Lama, Bucket of Doom and others; they are also all really fun and great gateway games.

Marvel Dice Masters: Civil War by WizKids Games –  This is a brand new set of Dice Masters games, a collectible dice-building tabletop game. This set is based on the Marvel's Civil War, and includes the storyline's heroes along with some fan favourites. This set also sees the introduction of some new mechanics to the game. Designer Eric Lang told us that he was very grateful they did not adjust the teams when the Civil War film was released, as he had to base the deign on the comics. We previewed one of the Marvel Dice Masters: Age of Ultron set here.

Pandemic: Reign of Cthulhu by Z-Man Games – Pandemic: Reign of Cthulhu is a very interesting twist on Pandemic, a game that now firmly occupies a pedestal in the 'classics' category of board games. The world is threatened by the Old Ones and the players taking on the roles of the investigators attempt to seal portals, before the unspeakable evils break through and destroy the world.
Of course, on the show floor you could also find well known classics, like Ticket To Ride, Splendour, Five Tribes and more. Both Esdevium Games and Coiledspring Games were there in force with the biggest and the most diverse board gaming sections. My particular highlight was Esdevium's Fantasy Flight Section with a variety of different Star Wars games, including Star Wars: Armada, Star Wars: Imperial Assault, Star Wars: X-wing and many more. Big publishers were also present on the show floor, like Mayfair Games, Czech Games Edition, showing off the jewels of their board gaming portfolios.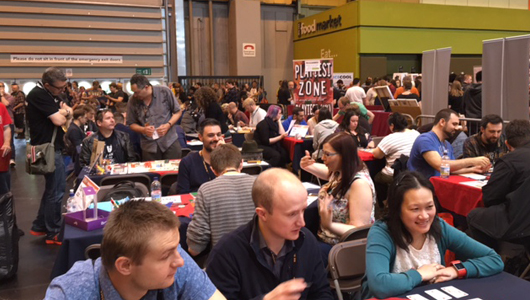 One of my highlights of the whole expo was Playtest UK section. Here designers can bring their game in various stages of development and playtest them to button down mechanics, as well as getting suggestions and advice. While the games might not be in their slick and shiny form yet, the variety of ideas, playstyles and game mechanics, some of them quite experimental, is really amazing. The buzz of one of the games shown off in Playtest UK section, Rhyme: The Rap Challenge, reached me, even though I happened to miss it on the day. There are many Playtest UK events  happening each week all around UK, and it is worth checking out their Meetup group to see if there are any events near you!
While I most definitely loved my experience at UK Games Expo, there are still ways to improve. Most competitions and gaming has been located in the Hilton hotel about a 5 minute walk from NEC. On both Friday and Saturday, gamers could stay in the hotel premises playing games well into the night. On Sunday, however, all gaming sessions were closing at 6 pm. This seemed strange to me as none of the hotel staff minded us playing on their tables, while spending money on the hotel's overpriced drinks and food. However, even during Friday and Saturday, when the gaming area was open till late, it was struggle to find a free table. The organisers of the event clearly underestimated the demand. Also if you do find a table, there is no guarantee and very little sign posting that the table has/has not been pre-booked. Now that might seem like a silly nit-pick, but if you just set up a long game with many-many intricate pieces, and fifteen minutes later you were informed that you have to vacate the table, you just might be a tad annoyed. In my opinion, the after show gaming area would be much better located within one of the NEC halls itself, avoiding a maze of Hilton's weird architecture all together.
UK Games Expo 2016 was a great show. I am more than ever excited for next year and I am also absolutely certain it will be even bigger and better than this year. As one of my favourite expos in the UK, I can't recommend it enough. Wonderful community, new and interesting games, an array of events, shows and competitions, whether you are a hard core tabletop gamer or just getting into it, UK Games Expo has something to satisfy your interest. Just beware you might end up playing games on the floor.
Tags: Andy Allen, Asmodee, Burger Boss, Coiledspring Games, Esdevium Games, Gen42 Games, Hexagony, Imhotep, KOSMOS, Legend Express, Marvel Dice Master's Civil War, Marvel Dice Masters, Ominoes, Pandemic: Reign of Cthulhu, Playtest UK, Sandcastles, Tatsu, WizKids games, Yay Games, Z-Man Games