Since its announcement, Battleborn has always had an uphill battle with me. I'm not a fan of Gearbox's shooters, I have never enjoyed MOBAs (which this was being compared to) and the name alone elicited groans from me based on how god awfully generic it was.
Skip forward to the game's release and it has further obstacles in its way. Not only has its pre-release hype been relatively muted, but Blizzard and Epic have been prepping their own projects that fall uncomfortably close to Battleborn in terms of target audience.
[youtube id="UaQK7HX2CXE" align="center" maxwidth="530″]
• Developer: Gearbox Software
• Publisher: 2K Games
• Reviewed on: PlayStation 4
• Also Available On: Xbox One, PC
• Release Date: Available Now

With all that said, it may come as a surprise to learn then that I enjoyed my time with Battleborn – unless you look up an inch and see the score.
When I started the game, a bombastic and colourful opening prologue played out. It introduces the story of the game in simple terms and then teaches you the basics of the game in a matter of minutes. Once the campaign starts in earnest though, some of that lustre is found to be lacking. The story missions feel repetitive, with go-to-A, do-something-at-A, go-to-B forming the majority of the gameplay.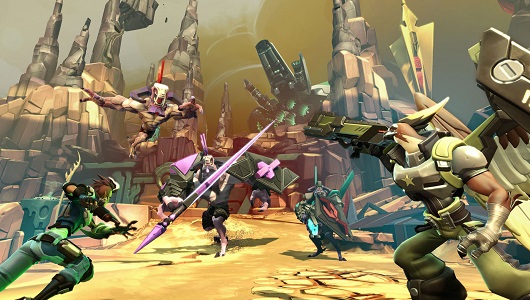 Hard as they tried, the voice cast behind the litany of heroes you get to play as were simply not able to make me love the characters. I quickly found my favourites in Oscar Mike and Thorn but it was a tepid relationship. The story simply does not give them enough to do as the characters can feel interchangeable. Their dialogue in turn feels overly energised, like they are trying to hammer their personality across.
It took some time for me to realise that the campaign, as well as the rest of the game is meant to be played with others, despite them giving you the option to tackle it solo. The difficulty seems to be aimed that way too, as I quickly found myself hitting brick walls in terms of progression. Once I submitted to the need for co-op play, the game started to come into its own.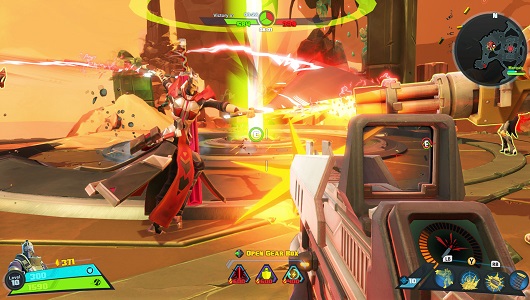 Outside of the campaign, the primary mode of play was the Incursions. The MOBA-inspired mode, with waves of minions and base management elements intact, feels special each time you play it as the characters and tactics used by each new partner is unique. Knowing how your character can help the time becomes vital, which in turn makes you feel more engaged in the team's performance as a whole.
Unfortunately, while the elements that make MOBAs in general popular to begin with are present and accounted for, there are still issues that will hopefully be remedied in further content drops. While there are more than enough characters to keep things interesting, eventually the lack of maps can make things feel a little too repetitive.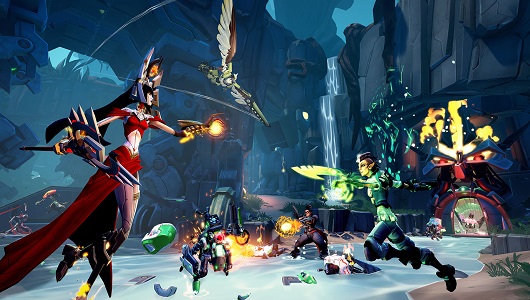 With the campaign and Incursions, each session seemed to take about 25-30 minutes to complete. I was thankful then for the Capture mode, a far more basic mode that typically lasted about 10 minutes. Each game felt far more urgent and immediate, like a sprint, when compared to the marathon campaign missions.
The levelling system is also addictive. As you earn experience, you get to choose which perks you get as you level, allowing you to further tailor your character to your play-style. These extras also provide real additions to your game too so every time I saw the Level Up message on-screen, a smile crossed my face. As you progress, these additions begin to integrate into your play which in turn helps you level up more easily – a decent reward loop.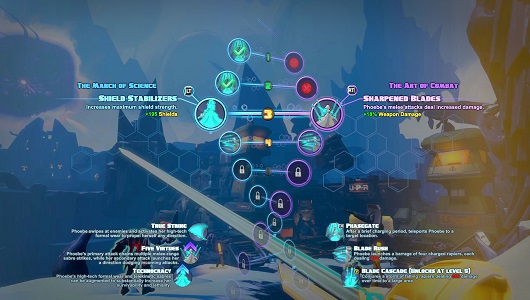 You will definitely find at least one character that plays just how you like
The prologue does a good job of setting up the world and teaching you the ropes
The voice-acting and dialogue can be a bit over-excited
The are not enough maps available in Incursion mode
It is May right now – not November – yet the amount of games coming out is getting ridiculous. Not only that, but Battleborn has released into what is becoming a crowded market for 'hero shooters'. I can't say that it will come out ahead of Overwatch or Paragon, but like choosing a console, if you do choose Battleborn, you will certainly get a good game.
Review copy provided by Premier
Official Game Site
Tags: 2K Games, Battleborn, Gearbox Software, PC, PlayStation 4, Xbox One