It's a new year, that means time for resolutions, reflection and sometimes even rejuvenation. Forget the spa break, forget the diet and exercise plan, it's time to play some games.
The idea of a video game book club has been around for a while, but I saw something recently that changed my outlook and made me make a concerted attempt to plan my gaming exploits out this year. The inspiration came from the 12 in 12 sub-reddit which was touted around the gaming subs a few weeks ago.
The principle is based on playing a specific game every month in order to either beat the backlog or redeem yourselves when you feel you've missed out on in the past. Some will look towards their missed opportunities in 2015, I'm looking a bit further afield.
My Steam library is currently jam packed with titles from years gone by, and indie titles I've endeavoured to play and support. Truth is, I'm a hoarder on content. The Steam sales have not only spoilt my stance on acceptable game prices, but has proved an invaluable source of buying up games that at the time, I thought I'd play, but only served as proof for my game completion procrastination.
One of the main problems I have is finding the motivation to start a new story driven game when I could jump on to Football Manager or Dota 2, play my game and then come off without being too bothered or affected. The fear too comes from starting a game where I would have to pay too much attention, and end up then missing something or putting pressure on myself to play the game.
Currently I have the below list on Steam set up of games that I either picked up recently or games which have been in my queue for far too long.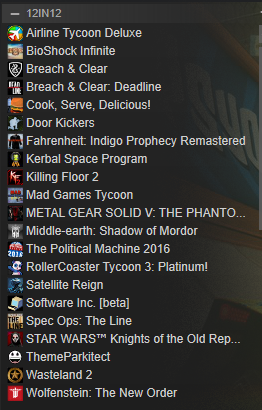 As you can see some are new, some are old, some are casual and then you have others that are hard going. Some of these aren't games I'm committing to playing until the end of their lives, but good games I need to get more playtime with.
Airline Tycoon Deluxe is something that I loved while I was younger and when I need a bit of nostalgia, it's something I can jump on.
It's not just Steam games either, now that I'm a part of the PS4 club, there is a huge back catalogue of titles I need to play. The only game in my possession at the moment is The Nathan Drake Collection so that's also on the list.
This is the start of a series where a hoarder gamer attempts to beat a never ending list of unplayed masterpieces, amazing experiences and sink your hours games. I invite not only my fellow BRB writers but also you the reader to look at your back log, anything you've missed? Anything you have an itch to play? Join in the conversation and let's beat the backlog!
Tags: Airline Tycoon Deluxe, Backlog, DOTA 2, Football Manager, The Nathan Drake Collection