It seems that whatever other qualifications you need to join Big Red Barrel's crack comic team, being a huge 2000AD fan does not seem to be one of them. Each review of a 2000AD comic published on this site seems to begin with some excuse as to why the writer is not familiar with the title. I am spared this embarrassment with Aquila: Blood Of The Iceni because it is a new title (although Aquila does draw on many elements of the 1979 Tornado comic: Blackhawk).
• Writer(s): Gordon Rennie
• Art: Leigh Gallagher & Patrick Goddard
• Publisher: 2000 AD
• Release Date: 14th January 2016

Set in First Century Rome, rather than the futuristic dystopian Mega City One, Aquila: Blood Of The Iceni is a sword and sandals epic with elements of ancient mythology and fantasy. The book opens with our hero Aquila numbering among Spartacus' defeated rebel army, crucified by the unforgiving Roman Empire and crying out to any deity that might save him. Eventually the mysterious Ammit The Devourer rescues him in exchange for his soul. Imbued with immortality, superhuman strength and a number of other "gifts" Aquila is condemned to travel the ancient world killing to fulfil his goddess' unquenchable desire for human souls.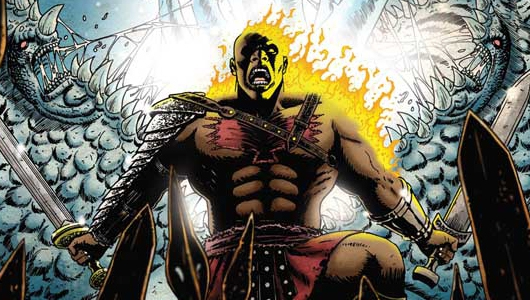 Aquila's journey takes him from Ancient Britannia and the court of Queen Boudicca to Jerusalem and eventually to Rome where he rescues a man called Cephas (Better known to us as Simon Peter) who serves a strange crucified god called Jesus. In Rome, Ammit charges Aquila to be Nero's agent, killing monsters who serve some of the many gods that surround the city in order to allow the mad emperor to ascend to godhead himself.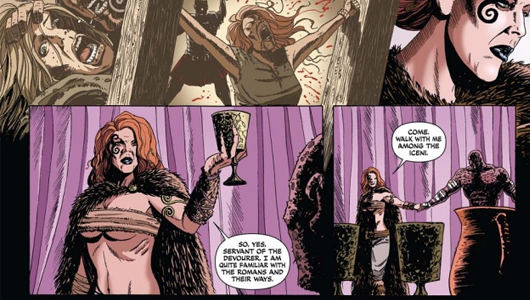 The plot is, as you probably tell, completely bonkers but it does allow Aquila's story to be woven into significant historical events of the time. As a result, those with an affinity for Roman mythology, ancient history and the history of the early Christian Church will enjoy the story even more. The writer Gordon Rennie clearly has a deep appreciation for all of this with Latin jokes, New Testament references and historical nods to be found throughout the book. The whole plot moves so fast that even when Aquila's motivations do not seem completely clear (or to make sense) this does not detract from what a cracking story this is.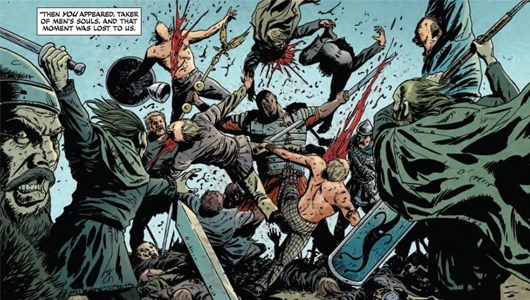 The art, from Leigh Gallagher and Patrick Goddard (best known for their work on 2000AD), is as hyperreal and gory as the story demands with action on almost every panel. Like the writing, particular attention has been given to historical accuracy with roads, buildings, temples and clothing all drawn in loving period detail. All of this means that there are a few panels that are hard to look at for the weak of stomach with blood splashes and dismemberment portrayed with every bit of enthusiasm as the uniform of the Praetorian Guard or the Roman sewer system.
Exciting story
Excellent art that really suits the story
Unusual setting rendered with care
The hero's motivations are not always clear
Very gory in places
While not completely resolving every plot thread, and certainly not ending Aquila's quest to recover his soul, Aquila: Blood Of The Iceni reaches a satisfying conclusion at the end of the volume, meaning it stands alone well as a complete book. If this standard can be maintained then there there is, however, plenty to make me think that subsequent volumes are also going to be worth looking out for. For now, this is a very good graphic novel.
Review copy provided by 2000 A.D.
Official Website
Tags: 2000 ad, Ancient Rome, Aquila, Aquila Blood Of The Iceni, comic, Rome