Amidst the current crop of post-modern first person shooters swarming the market, one plucky developer is looking to revisit the past. History enthusiasts Campfire Games have launched the Kickstarter campaign for their American Civil War multiplayer shooter War of Rights to help them continue the already three year development.
We've asked them some questions about the game, the challenges they've faced so far, why they chose Kickstarter and what the future holds for the title.
---
The American Civil War is quite a unique setting for a first person shooter, where did you get your influences from and what drives the team currently?
It is indeed! It really was a matter of us being tired of all of the modern shooters saturating the market, while most of us also have a historical interest in general. I have been fascinated with the American Civil War ever since watching the movie Gettysburg with my father, back when I was a kid and later on even more so, whilst discovering the Ken Burns documentary series about it; so I just suggested it and the others liked the idea. The influences of the game design are mostly games such as Red Orchestra, ARMA, a bit of Battlefield and Mount & Blade.
There's a huge emphasis on realism and historical accuracy, how much of a challenge has it been to ensure that everything is correct?
Quite a challenge! We have an excellent historical advisor connected (Clark Morningstar) to the development team and pretty much everything passes his eye in the development process. It can be very time consuming at times but it can also be quite fun actually. It is really about finding the most optimal way to implement the content but also about knowing when to stop. You can't get every little detail right, not if you want to get anywhere at least.
Being a multiplayer experience, you're allowing for lots of customisation, how much have you done to try and make the experience even more unique?
The customization will depend upon what regiment you choose to join. Each regiment will have certain limits tied into the appearance of the soldiers to keep historical authenticity. The Black Hats, for instance, funnily enough will all be wearing black hats.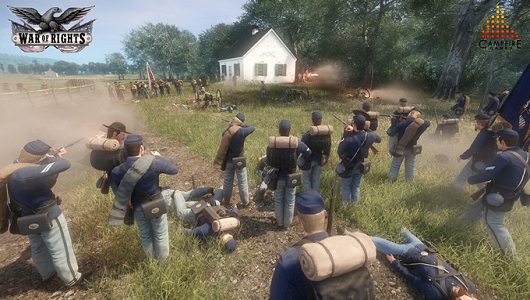 You've introduced a couple of different play styles based on the role you play on and off the battlefield. Do you plan on making more roles or will you expand on the current crop of options?
We will have different classes available all based on different ranks, yes. They will all be a part of our chain of command system that reaches from the top general down to the greenest of privates. Additional army branches like Artillery and Cavalry are also on our list of things we want to get in there to offer even more variety.  
You've spent a lot of time in making sure your maps are as realistic as possible, with great attention to detail. Will you be encouraging the players to explore in the maps while in battles or will you make things fairly linear?
They will be encouraged in a sense while fighting, yes. All of our in-game objectives are based on the objectives the soldiers had 150 years ago, so you'll naturally be fighting at the most important locations of the battlefields (such as Burnside Bridge, Dunker Church or Miller's Cornfield) if you only follow the flow of the battle. We would like to feature a single player narrated battlefield tour where you'll be able to explore the sites at your own pace and even experience some interactive flashbacks while you're at it. This is part of our stretchgoals which we'll soon release on our Kickstarter page.
It looks like a lot of work has gone in to utilising the CryEngine kit and all of it's potential – what was the initial reasoning behind CryEngine over any of the other options?
When development began, just over three years ago, it was a matter of choosing between an early version of Unity, an ancient version of Unreal Engine or CryEngine – which was miles ahead of its competitors at the time. That has evened somewhat out since then, but we're still very pleased with our choice.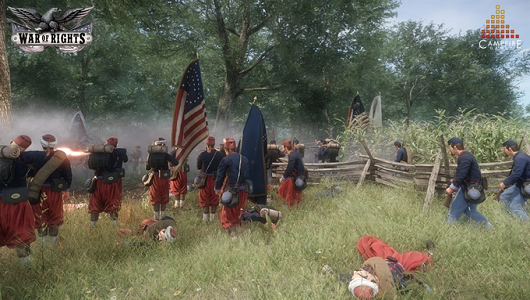 The current stock of weapons looks impressive and you say you want to add more and more as you go along – have you got any examples of what you're looking to add?
We'll be adding more rifles such as the Mississippi rifle and the Lorenz rifles as well as a few Remington revolvers – that's what's up next. Later, we'll be adding different NCO (non-commissioned officer) and officer swords too. 
You've decided to launch a Kickstarter campaign to help with your development – what made you choose Kickstarter?
We've been working on the project now for three years with no funds at all. It's been quite an undertaking for the team considering all have been working on a spare time basis just to get where we're at. At the same time, we feel like we've shown what we've been able to do with nothing to support us – imagine what we'll be able to do with funding. Kickstarter seemed like the obvious crowdfunding platform to go with. It's the most well-known there is.
There have been many successful Kickstarters but also some which haven't worked with fans – are you cautious of what has happened in the past and did you change your approach based on that?
Yes very much so. The last thing we'd want is to not being able to deliver. This is also why the funding goal is a relatively high one.
At what point in the process did you realise you would need extra funds to get the game to where you wanted it to be?
From day one I think. It's not possible to create such a large-scale game as ours without any funds.
[youtube id="z5snMNkXdoo" align="center" mode="normal" autoplay="no" aspect_ratio="16:9″ maxwidth="530″]
With the Kickstarter campaign you're offering a wide array of perks and rewards for the backers to enjoy, do you think it's important to do so?
Yes, very much so. We want to reward every person out there who's seeing potential in our project, and is willing to throw some money at us for that very reason. This is also why every digital reward is Kickstarter exclusive.
The initial reaction from the Kickstarter seems to be really positive, how much of a boost is it that your audience is voting with their wallets and supporting you?
It's a huge boost! Although we're still a ways from being funded it feels great to know that there are supportive people out there. Sadly we don't have all that much time to enjoy it since, as you probably know, launching a Kickstarter campaign isn't exactly a cakewalk.
Should you get the money you're asking for – what's the long term future for the game once you deliver on your initial promises, have you got a long road map for future developments?
We do have an internal roadmap, yes. It's our plan to support the game for many years after the initial release, adding new content such as other regiments, weapons and different campaigns.
---
As of writing the campaign has around £23,000 pledged of the £70,000 required with 24 days to go. I'm always really interested in hearing the behind-the-scenes workings on why a developer makes the decisions they do when crafting their product.
The Kickstarter ends Saturday November 14th with an expected delivery date of November 2016. You can view the project on the War of Rights Kickstarter Page.
Tags: Campfire, Campfire Games, Civil War, kickstarter, War of Rights