Borderlands was never a series that interested me. The focus on loot and co-op play didn't appeal to me. However, the world of Pandora, its characters and its more humourous tone were interesting – so when Tales from the Borderlands was announced, a game from Telltale that would explore these elements, I was on board.
Now with the finale upon us, I can honestly say that Tales from the Borderlands is currently vying for a place on my game of the year list. If you have been on the fence, you should definitely hop aboard. Here's why… apologies for all the train metaphors… again.
[youtube id="9xTTSyHkCuo" align="center" maxwidth="530″]
• Developer: Telltale Games
• Publisher: Telltale Games
• Reviewed on: PlayStation 4
• Also Available On: PlayStation 3, Xbox 360, Xbox One, PC, Mac, iOS, Android
• Release Date: Available Now

Episode 5, titled The Vault of the Traveler, picks up where Escape Plan Bravo left off. Despite finding the last upgrade piece for Gortys, Rhys has been deceived by Handsome Jack. Now faced with becoming a puppet for the megalomaniac, he must escape Helios with the rest of the gang.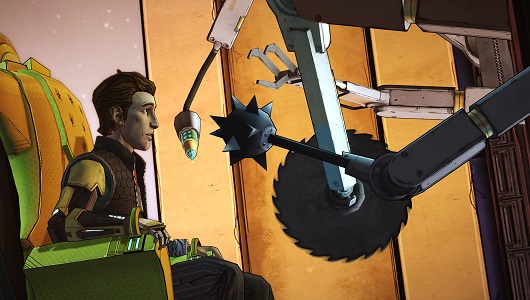 Unfortunately, Jack has taken control of Helios' systems, forcing Rhys to sabotage the station by destroying its power core. When this causes the entire structure to fall out of orbit and begin plummeting towards Pandora, all hell understandably breaks loose.
And this is all before the title card appears…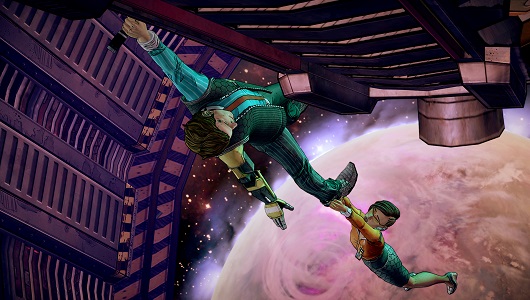 Like all of the others before it, this episode starts on a high and just keeps going. The story concludes what started out as a simple deal with an epic battle to claim a coveted vault, and throughout, the characters have kept us along for the ride with charm and wit. I've lost count of the amount of times I laughed out loud playing this game but equally, I have been kept riveted by some superb performances from Troy Baker, Laura Bailey and the rest of the cast.
When the final plan is revealed and a requirement for a team to be put together appears, your actions throughout the game come into play. Depending on your choices, some options won't be available – for me, one character was not selectable because I didn't even meet them (just showing how much scope there is for replays). Others may not be there if your choices led to their untimely demises – though I'm sure they deserved it!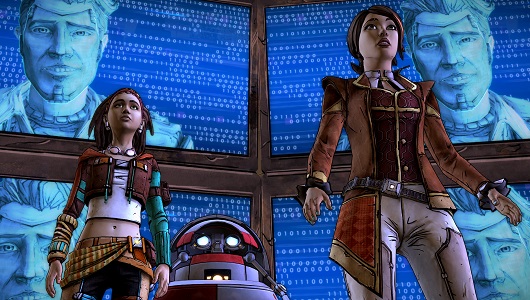 The majority of the final entry is taken up with this plan, which features a titanic battle with the Traveler, a vault monster. In one of Telltale's most action-packed scenes, you must take on the creature using everything you've learned and accumulated throughout the game. An adventure game has rarely felt this exciting for me.
Despite my obvious praise for the series, that does not mean there are not things Telltale need to focus on with future games. Firstly, while their engine has improved greatly, there are still countless reports of save corruptions and graphical hitches causing issues for players. I've been lucky to avoid the majority of these but that is not an excuse.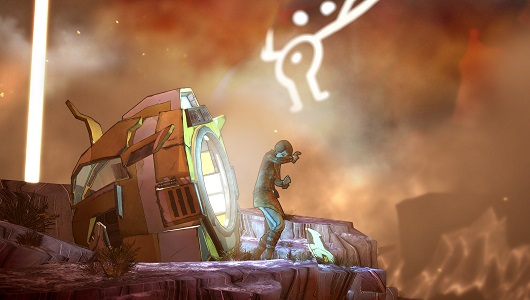 Secondly, a far more strict release schedule needs to be put in place. The gap between episodes was laughable earlier this year. Telltale can be glad that most of my own, personal frustration in this regard was because I was enjoying myself with this series but others may lose patience.
An epic final battle
Your actions across the series have real impact on your options
More laughs than you can shake a stick at
How long until season 2?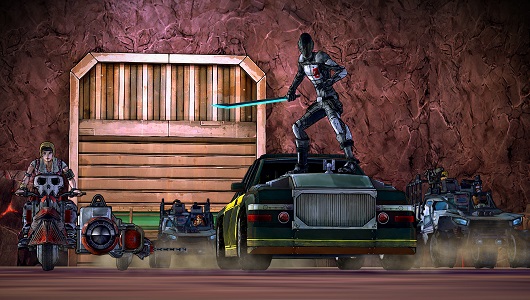 Tales from the Borderlands is currently my favourite Telltale game available. The gameplay is fun, the story is fast-paced and the characters are hilarious. If you have been reluctant to visit Pandora, worry not – there is still time to catch this train…
Sorry.
The review copy of this title was provided by Telltale Games.
Official Game Site
Tags: Borderlands, Borderlands 2, Episode 5, Gearbox Software, Tales from the Borderlands, Telltale Games, The Vault of the Traveler