Bedlam is a game based on a novel of the same name by Christopher Brookmyre which attempts to parody the history of first person shooter games. However, the only thing that Bedlam managed to achieve whilst I was playing was delivering a cringeworthy performance through shoddy gameplay, horrible voice acting and frustrating bugs which do the games it attempts to parody a great disservice. It's everything I've grown to hate about video games.
• Developer: RedBedlam
• Publisher: RedBedlam
• Reviewed on: Xbox One
• Also Available On: PC, PlayStation 4
• Release Date: Available Now

Being born in the nineties, many first person shooters of yesteryear were taking their first steps into forging unforgettable legacies – Doom, Wolfenstein 3D, Quake and Duke Nukem 3D to name but a few. Though I was too young to play them at the time, I've been back to revisit them. They were genuinely fun.
The early 2000's brought shooters such as Halo, Call of Duty and Battlefield 1942 to the table which – at the time – revolutionised the genre again. Bedlam doesn't revolutionise anything, but feels confident enough to point the finger and laugh at games that did.
Bedlam follows the story of a Scottish game developer named Heather who becomes trapped in the games she used to play whilst younger. There's no easy way to put it nicely, but the voice acting performance was enough to make me turn off the game in disgust numerous times. Her accent is so stereotypical and cringeworthy and begins to grate on your nerves after a few minutes.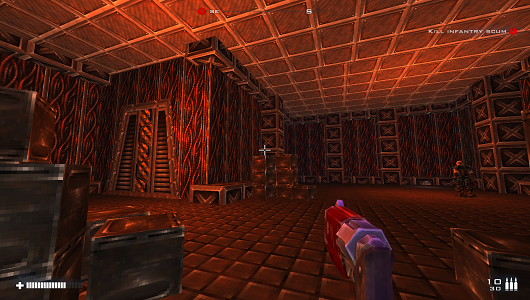 The game attempts to be funny – and ultimately thinks it's funny – but this mostly devolves into excessive swearing mixed with unfunny, questionable and crude jokes. There's even one section which replicates an online deathmatch complete with teenagers shouting abuse at you and your character shouting it back. The game had already crossed the threshold of my tolerance and patience within the first 30 minutes of gameplay. It shows glimmers of interesting storytelling every so often – as it should considering the novel of the same name tells a great story – and the premise of the game is an ultimately interesting one, but it's poorly implemented.
The gameplay itself is nothing to be impressed by. It's clunky and unresponsive and can't even compare to the older games it parodies and ultimately points the finger and makes fun of. It's a boring and uninspired shooter that doesn't feel rewarding to play in the slightest. The audio also becomes static filled and crackly whenever your player character isn't standing still which becomes frustrating too. whenever Bedlam is everything I have come to hate about video games and internet culture. It's unbearable to play and just isn't fun. There are no redeeming qualities to it at all.
A genuinely interesting premise…
…which is poorly implemented
Clunky, unresponsive and crude
Cringeworthy voice acting
Never before have I been so inclined to advise people to avoid a game like the plague. Bedlam is not worth your time and it most certainly isn't worth your money either. The sensible thing to do would probably be to pick up and read the novel the game is based on, as Christopher Brookmyre is nothing short of a great story teller. That way you don't have to suffer through the mundane gameplay and repulsive voice acting whilst getting an insight into what is a genuinely interesting premise for a story.
[youtube id="OpRxTss04sM"]
Review copy provided by Premier Comms
Official Game Site
Tags: Bedlam, Christopher Brookmyre, games, indie, PC, PS4, Xbox One