Tomorrow Spiel 2015 kicks off in Essen, Germany. The Internationale Spieltage is the largest tabletop gaming event in the world and is set to have over 700 games launching over the course of the four days. That is a lot. With the best will in the world you could miss entire swathes of games, so I thought I would do what I could to shine a spotlight of those close to home and see what the jolly shores of ol' Blighty will be exhibiting over in Essen this week.
Some are games I was lucky enough to play in an early form and some are just games I have played via my association with Tabletop Tuesday events.
Launching at Essen Spiel 2015
Burger Boss – Stand: 2E-119
You can read my full review here but if you like burgers and worker placement games than do Legend Express have a delicious combination for you. If nothing else you will want to see the big tasty, good looking packaging. Burger Boss launches at Essen. Oh and do you want fries with that?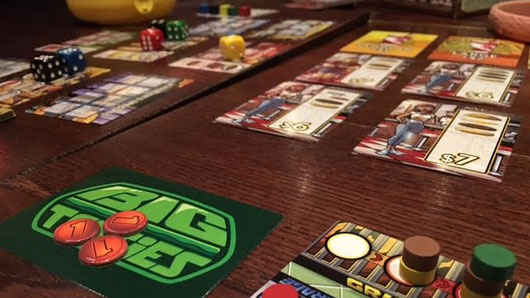 First Time at Spiel
Sandcastles – Stand: 2E-121
Launched earlier this year at UKGE after a successful Kickstarter campaign. A simple strategic game of building sandcastles. All aboard for all the fun of the beach in one small box. A good level of player interaction sees you steal pieces of other people's sandcastles with the aid of seagulls, crabs and your trusty bucket. Made by YAY Games, the creators behind Frankenstein's Bodies.
HexAgony – Stand: 2F-114
A simple but very effective abstract strategy game. Winner of the best abstract game at UKGE. May have taken thirty years to go from concept to final product but I would not wait that long to pick up a copy. A great entry point game or palette cleanser. You can read more about this in Alex's review.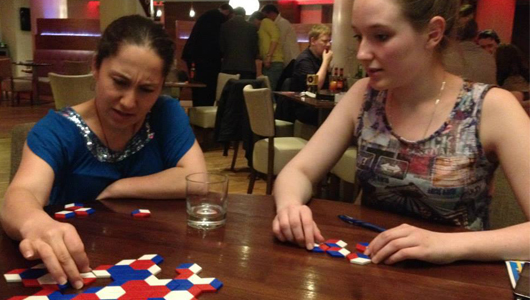 In A Bind – Stand 2E-110
Recently launched shortly before appearing as a feature game at Tabletop Tuesday, In A Bind is a silly, fun little card game. It challenges you to contort your body into continuing to satisfy conditions set by cards until the end of the game. An easy to pick up party card game.
Obama Lama – Big Potato Games –Stand: 7K-108
A silly party game about solving riddles in rhymes! Made by the people that bought us the Cards-Against-Humanity-killer Bucket of Doom! Designed by a famous radio DJ. I have not played this myself yet and not entirely sure it is my sort of game but feedback from those who have played has been very positive and people seem to have fun when playing. Big Potato Games are also likely to be exhibiting their other new games Qwordie and Mr Lister's Quiz Shootout.
And Not Forgetting…
Elysium – Space Cowboys
A lot has been written about the merits of Elysium already – and rightly so as it is an excellent game made by two of the nicest game designers around. Worth remembering in the Spiel maelstrom and worthy of noting that both designers live in the UK (one was born in Australia but we won't hold that against him too much!) A good tactical set collecting game with a strong Mythical Greek theme.
Lords of War – Black Box Games – Stand: 2E-115
Again a game that has been out for a while but had a successful Kickstarter campaign for its latest expansion back in April. Lords of War goes from strength to strength and they often have a large presence at UK based shows such as UKGE and Dragonsmeet. Worthy of hunting down at Essen if you do not usually get to see them.
Tatsu – Gen42 Games
An abstract board game of battling dragons. Fans of Gen42's previous game, Hive, should take note as this has the same tactical tactile feel. You can read some more details on Tatsu from Alex's Article from UKGE. Not certain when this is launching yet, as scheduled for 2016 and it looks as though Gen42 are not actually exhibiting at this year's Spiel. If you are lucky enough you may be able to track an early copy down at Essen but if not it is now available to play via Tabletopia.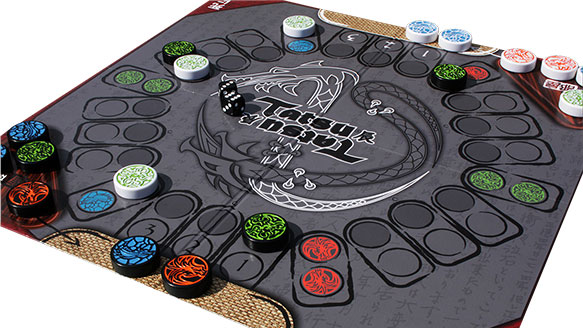 Also…
UK Game designers that I do not know as well but would also be tracking down if I was attending Essen myself include:
Orctions – Missed out on playing this at UKGE but I like the idea of the game and their stand at UKGE seemed fun.
Waggle Dance – Stand 2C-119 – Released in 2014, I have heard and continue to hear a lot of buzz surrounding this game but yet to try it for myself.
Please let me know if you are aware of any other British Designers that will be exhibiting games at this year's Spiel and I hope to be visiting the show myself next year.
Tags: Elysium, Essen, Hexagony, In A Bind, Internationale Spieltage, Lords of War, Obama Lama, Orctions, Sandcastles, Spiel, Tatsu, Waggle Dance