When Marvel Dice Masters Avengers vs. X-Men came out, my household got immediately hooked. We have spent hours arranging our teams, picking up the best character cards and balancing out dice numbers. We went hunting for the booster packs for additional characters and rare cards. This was one special kind of challenge, because as soon as the new stock appeared in the shops it was bought out almost immediately. I remember walking around UK Games Expo, the biggest board gaming convention in UK, and being laughed at three stores in the row when we asked them if they had any booster packs. And no wonder, almost immediately after its release, the game got the most dedicated, competitive, and, I dare say, obsessive fan base.
• Designer: Mike Elliot, Eric M. Lang
• Publisher: WizKids Games
• Number of Players: 2
• Playing Time: around 60 min
• Available: July 2015
Today, the game has expanded over several franchises. If you are not a Marvel fan, you could get one of the DC Comic Dice Masters set. If you do not like comics at all, then there are Dungeons & Dragons Dice Masters or Yu-Gi-Oh! Dice Masters. While the core mechanics of the game stay consistent through the sets, it is the characters and their special abilities that make every set interesting. Oh, and also the dice, all the pretty dice!
Last week, I was lucky enough to get an ahead of release look at Marvel Dice Masters Age of Ultron, another set in Marvel Dice Masters. While you could call it an expansion — as essentially this set adds variant cards and dice for existing characters as well as some new characters and the new set can be used to fight against previous Dice Masters sets— the game can be played as a standalone starter set as well. It is also worth remembering that all sets are compatible and so could be played against each other. Therefore, feel free to settle the DC vs. Marvel argument through a game of Dice Masters!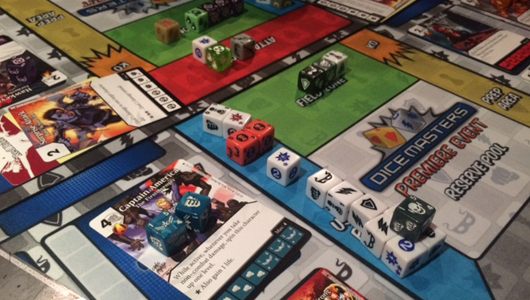 If you are new to the Dice Masters universe, this is how it works: This game could be compared to a deck building or a collectible card game, only here you are also collecting dice and have an incredibly strategic fighting mechanic. Each player chooses a team of 8 characters, where the characters with the same names cannot be chosen. Every Dice Masters set contains three or four different cards of the same character, where the cards will have different abilities and costs for fielding dice. Then players assign die for each character where there can be a maximum of 20 die overall. There are also shared "basic action" cards on the table that can be purchased during the game by both opponents. However, as you would expect in a deck-building game, every player starts with the same generic dice and buys their fancy character dice by rolling enough energy to afford them.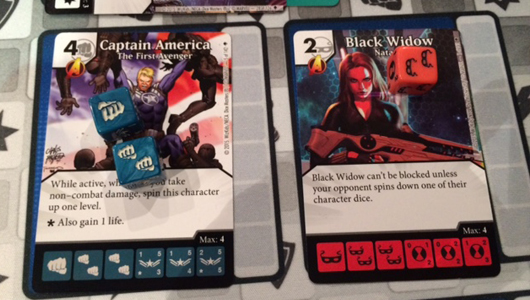 As I have mentioned before, this game is full of strategic decisions. The first decisions are made with the choice of heroes or villains for the team, then players have to pick which characters they want buy from the available pool into their active team, and of course, finally they have to decide on the fighting approach, as the goal is to KO the opposing player by dealing damage to their health, usually 20 points. The luck element is also obviously present in the game as players roll for energy and character sides of the dice but also randomly pick up four die from the dice bag on each turn. I am personally not a big fan of the games, where luck dominates the game play, but Dice Masters hits a nice balance, where luck enhances the game play, making some decisions riskier than others, but it does not frustrate.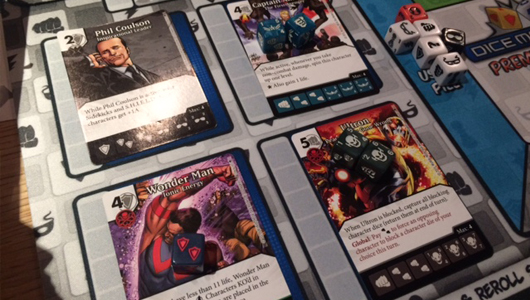 The starter set for Marvel Dice Masters Age of Ultron is enough for a 2 player game and to get a taste of the game, new characters and their abilities. However, it contains a bare minimum number of characters, but including some completely new ones, for example Ultron and Vision. Additional booster packs can be purchased, each pack containing two random cards with their respective die, one for each card. These booster packs contain different characters to the main set and are also of various levels of rarity. For example, the new set contains never seen before characters like Phil Coulson, Rocket Racoon, Groot and others. The booster packs themselves are not expensive, £1 per bag (while the starter set is £16.99 RRP). There could be doubles in the packs, which could lead to a potentially bigger investment, especially if you are a person of an addictive nature. There is also a Collector's Edition, which comes with dice storage trays most handy for storing and displaying your dice.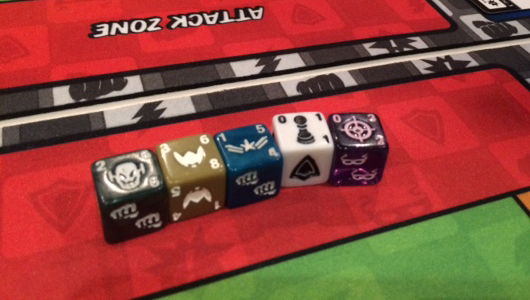 Marvel Dice Masters Age of Ultron is a good set to pick up as the first Dice Masters, and if you are not new to the game, the character abilities are ranged enough to keep your interest. I have been pleasantly surprised by the new Thor, now a lady card artwork, which helped to win one of my games with its impressive stats. The Captain America card is also one of my favourites with good stats and abilities. Even with older sets I had almost always had Cap in my team, and the new cards are a worthy addition.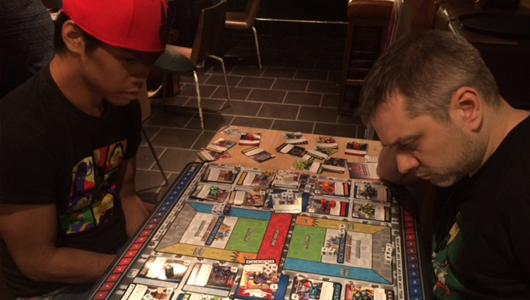 I could not write this preview without mentioning the design of the die themselves. While card artwork is based on comic artwork, familiar to some, it is the die quality and variety that sells the game to me. Every character has their own unique die design and colour. Rolling a handful of those beautiful die is one of the most satisfying gaming experiences.
Having spent the evening playing the new set at
Loading Bar
, where the preview event took place, I left thoroughly impressed. The new set had reinvigorated my passion for the game and I cannot wait to build a new team. New Loki cards and die, come to me!
Thank you to Esdevium Games for the preview event
Official Game Site
Tags: age of ultron, Collective games, DICE, Dice masters, Eric M. Lang, Esdevium Games, Loki, Marvel, Mike Elliot