It's a big old celebratory time for us as the Big Red Barrel UK Podcast has hit it's 150th episode! That's right dear listeners, after 150 episodes and more than 3 years of putting up with whatever incarnation of Team BRB UK (not to mention OHMSS & SGUK before it) has been thrown your way, you're still listening… and for this we'd like to thank you.
So in this monster episode of BRB UK, we decided to go a little crazy and attempt a 5-man show – which as you can imagine was about as successful as gifting a toddler a drum kit with a 6-pack of monster.
So get ready as Dan, Tim, Coleman, Jon and Kev all try get a word in edgeways about the following topics:
Destiny's Big Red Bulls up
Brady heads over to Rushdown for a bit of Street Fighter V
Upcoming special edition game packages:

Run around Mirror's Edge with your temporary tattoo
Navigate Just Cause 3 with a rubbish grappling hook
Jump into Call of Duty: Black Ops III with a fridge

Does Minecraft: Story Mode look any good?
Dan tries out Elite: Dangerous' Xbox One Game Preview
Tim gets ethical with Fallout Shelter
More Yoshi's Woolly World and Batman: Arkham Knight
We appreciate you chaps taking time out of your week to listen to our show.  For your convenience, you can simply download the MP3 by clicking HERE or you can subscribe via iTunes, RSS or Zune and stay up to date.

By the way dear listeners, below is a photo taken by Mr Jon Brady of the internet whilst attending Rushdown in Edinburgh. We're going to be giving out prizes to the best caption of this image.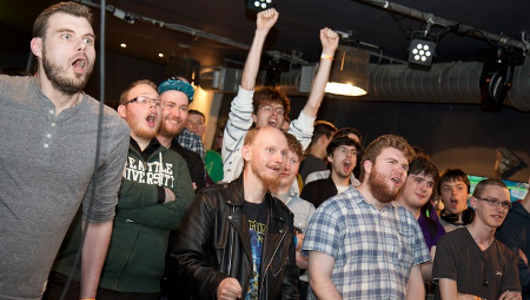 Tags: Batman: Arkham Knight, Call of Duty: Black Ops III, Destiny, Elite Dangerous, Juggernog, Just Cause 3, Mirror's Edge Catalyst, Street Fighter V, Yoshi's Woolly World