Last month Pinkerton Road treated Gabriel Knight fans with an introductory peek at Temptation, a graphic novel series that will be releasing its third and final chapter in the next few weeks. The first installment saw Gabriel returning to his supernatural obligations as a Schattenjäger ('Shadow Hunter') after the events of the third game. This assignment takes Gabriel to Germany's Black Forest, in a small (real!) town named Wolfach.
• Writer: Jane Jensen
• Artist: Elisa Pavinato
• Cover Artist: Kim Sokol, Bruce Brenneise
• Publisher: Pinkerton Road Studio
• Release Date: Available Now
At the close of Chapter 1, Gabriel had chased a sinister cloaked figure in the midst of night through the forest until it disappeared outside a small, isolated dwelling. So, we're left with some questions – what is this creature that seems to have inflicted a mystical sickness upon Jan Josef's guesthouse, a German man who we've yet to actually see in the comic? Who lives in this foggy cabin, hidden in the middle of the woods?
The latter question is answered straight away in Chapter 2, as Gabriel's attempts at stealth are… Well, terrible.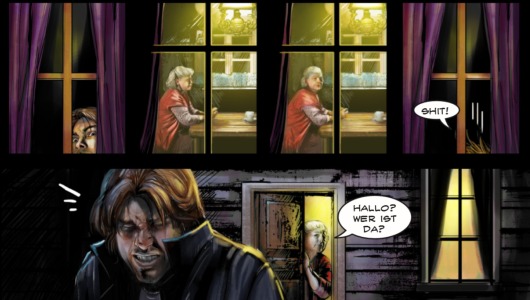 "Not that one again." Clearly, the elderly Frau is familiar with this cloaked spectacle, enough to invite Gabriel inside her home for a cup of tea.
The reader is granted insight into Gabriel's thoughts, valuable in grounding this (so far) fairly standard supernatural narrative within the character's life and past. Gabriel Knight is a fantastic protagonist; he might not transcend the stereotype of the sardonic womanizer or ever change out of his blue jeans and trench coat, but that's what makes him a classic character of '90s adventure gaming.  'The job is making you nuts' he remarks to himself, accompanied by a wonderful illustrated close-up of his eyes – one familiar, the other oddly animalistic. I mentioned in my review of Chapter 1 that the witty, sarcastic quips should always be present in any Gabriel Knight adventure, yet the more sinister and self-destructive element of his character is perhaps just as important. The weight of being the only Schattenjäger out there is evident, which is great.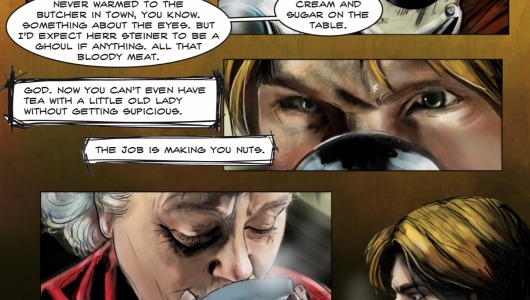 I'll be the first to admit my knowledge of comic-books is fairly mediocre, yet the graphic layout of this comic is immediately noticeable. Maybe it's the fact the imagery works so well with the eerie conversations; the reader is placed in the scene with Gabriel, drinking tea and discussing soul eaters and witches (amongst other pleasantries) whilst these purely uncanny images are projected in the background, providing more than one layer of supernatural intrigue.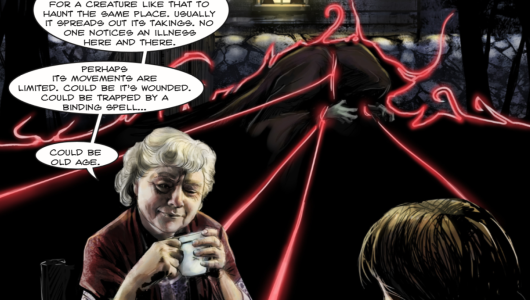 Chapter 2 leaves us on a much more substantial cliffhanger than the first, followed by a not-so-shocking revelation. This is a clever ploy, actually. Gabriel realises that his tea-drinking session with Frau Tourney might be a little too rosy, which I'm sure the majority of readers can also sense (not to put down the confrontation, which is nothing less than vibrantly grisly). However, the unexpected does occurs when a dark-haired stranger appears in the corner of the room.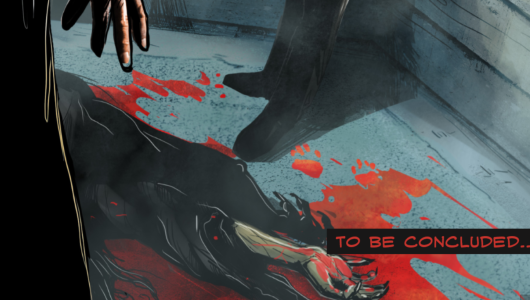 Sadly, Gabriel's sarcastic humour takes a backseat in this chapter, with focus instead on his inherent nature – that of the Shadow Hunter, which seems to have some unsettling connotations of its own. It's a shame this comic will be concluded with only one more chapter; the art-style is really quite gorgeous, conveying the mood that Jane Jensen's stories are always filled with.
If you're eager for more, the recent reboot of Gabriel's first adventure, Sins of the Fathers, is available on various digital retailers including Steam, GOG.com and the Phoenix Online Store.
Official Game Site
Tags: comics, Gabriel Knight, Gabriel Knight Temptation, graphic novels, Jane Jensen, Phoenix Online, Pinkerton Road