A fourth Gabriel Knight game remains to be seen, although it's been a treat seeing the first installment of the series brought back to life in honour of the game's 20th Anniversary. It appears Jane Jensen, the franchise's creator, isn't finished with our favourite narcissistic southerner quite yet.
• Writer: Jane Jensen
• Publisher: Pinkerton Road Studio
• Release Date: Available Now
Gabriel Knight: Temptation is a sequel in a brand new form – a graphic novel  which marks the 21st Anniversary of Gabriel Knight with its release. This isn't the first time a digital comic has been incorporated into the series; last year's reboot of Gabriel Knight: Sins of the Fathers included a graphic novel which explored the origins of Gabriel's Schattenjäger ancestry. The game itself used similar conventions – overlapping panels, expressive text – in cutscenes, bridging the gap between 3D graphics and a more old-school 2D art style that is still found in adventure game series' (Broken Sword for example).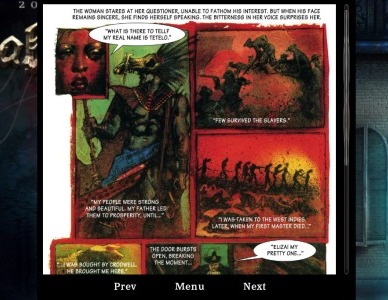 Temptation is a more refined example of Pinkerton Studio's work with this theme, as the rough, paint-stroke effects and other artistic elements have been tidied up, better suiting a graphic novel style. It feels mature – whether it's the atmospheric portrayal of light and shadows or simply Gabriel's unconcerned swearing.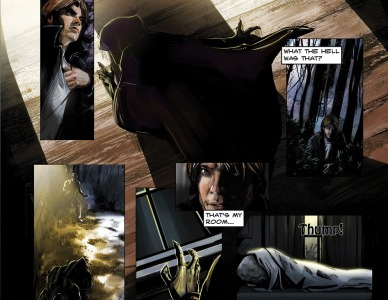 Thus, Pinkerton Road seems right at home with this storytelling form; the images laid out in Temptation display each page of this six-page opening chapter to its fullest, brimming with detailed sketches and a moody, smoky backdrop to the story. The absence of vibrant colour, the range in tones from soft facial features to harsh shadows provides this 2D story with an atmosphere that is not unfamiliar to Gabriel Knight players. The story begins with Gabriel pursuing a supernatural figure in the town of Wolfach in Germany's Black Forest – the Gabriel Knight series has always played with real-life locations. Set after the events of Gabriel Knight 3: Blood of the Sacred, Blood of the Damned, Gabriel is called to investigate the troubling aura surrounding a family guesthouse. Chapter 1 dives straight and suddenly into this menacing scene – although thankfully there remains a hint of Gabriel's grumpy sarcasm, which hopefully won't disappear in the following chapters.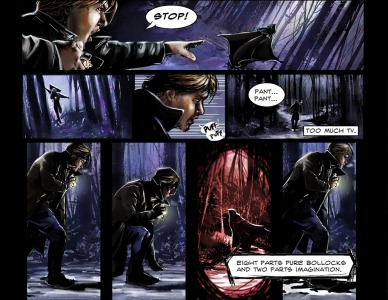 So Gabriel Knight appears to be undergoing a renewal – and better yet, Chapter 1 of Temptation is available to download for free right now. Chapters 2 and 3 will be making their appearance (also as  free downloads) at some point this month. Christmas isn't over yet!
For anyone interested to interact with this graphic-novel style, the remake of the first game, Sins of the Fathers, is also currently on sale on the Phoenix Online store. The visual update of this game is wonderful, and Gabriel Knight: Temptation seems to have taken on board its successful art style whilst also promising us a brand new story  (which for any Gabriel Knight fan, is sorely sought). For this reason alone, it's worth staying tuned for the next chapters this month!
Official Site
Tags: comics, Gabriel Knight, Gabriel Knight Temptation, Gabriel Knight: Sins of the Fathers, graphic novels, Jane Jensen, Phoenix Online, Pinkerton Road Studio