As the doors opened at the Earl's Court Exhibition Center a few days ago, gamers from across the UK got their first hands-on time with a number of upcoming titles vying for their attention. My first port o' call was the 2K booths – specifically the Turtle Rock Studios area designated for their upcoming team co-op shooter, Evolve.
Since it was announced, I have been eagerly anticipating getting my hands on the game. The premise of pitting a 4-player team against an ever-changing, player-controlled monster piqued my interest immediately. I'm happy to say that the EGX environment was the ideal place to test-drive the game – unfortunately, it didn't quell my biggest worry.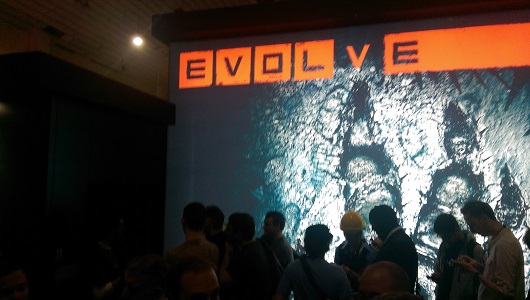 • Developer: Turtle Rock Studios
• Publisher: 2K Games
• Previewed on: PC (with Xbox One controllers)
• Also Available On: PlayStation 4, Xbox One
• Release Date: 10 February 2015
After queuing for about 90 minutes, I finally reached the front of the line. People were being admitted in groups of five (naturally) and so prior to getting in there, the group I happened to be in had introduced ourselves to each other, had fawned over the game's visuals (there was a screen outside showing repeating reels of gameplay) and had decided which class each of us would take.
Once we were admitted into the booth, a brief video outlined our roles in the game. Afterwards we took our places at the PCs and went through the character select screens. My designated class was trapper, so I had a choice between Maggie and Griffin. Despite the fantastic facial hair of Griffin, I chose Maggie as she had a kick-ass beast in tow.
Next thing we knew, the dropship had flown in and our team was dropped precisely where the monster had been moments beforehand. As the area was quite large, the head-start immediately benefitted the monster. Next though, it was my turn to shine. Maggie's 'dog' is named Daisy; she is a 'Trapjaw' that can sniff the beast out. Not only that, when under attack, she can resurrect fallen comrades and take part in battles. While she helped immeasurably in this instance in tracking the monster, it was the support class, Bucket, with his UAV, that helped us find the Kraken the first time.
The first encounter was an absolute mess. We simply failed to do anything right. In my case, I knew I was meant to drop a mobile arena device, to trap the beast into an enclosed space, making it easier to take on. Of course, I had failed to take note how exactly I could do that and messed around with my controller for a bit too long before the monster had disappeared again.
Regardless, we were constantly talking to each other, spotting dangerous wildlife to avoid and shouting hysterically when we noticed birds had been disturbed up ahead. Daisy once again spotted the footprints of the Kraken and we gave chase. By this time though, the monster had evolved and had become a much tougher prospect. After spotting the beast, I dropped the mobile arena finally – it was a big blue dome that came down over the area for a short time. Unfortunately, there is a downside to using it – the monster was locked in with us, but we were also locked in with it. At level two, it was a force to be reckoned with.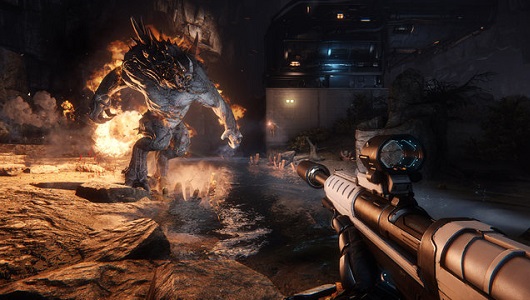 While I was downed a few times, Daisy and our medic did a good job of keeping the team together. However, the beast did manage to get to level 3. This exposed our power core meaning it was a mad scramble to keep it from winning the game. By keeping plenty of distance from the Kraken and maintaining a constant stream of fire on it, we managed to get it down to a single bar of health.
The rest of the game involved keeping ourselves alive long enough to finish the job. Communication and clear roles were key. Eventually we downed the Kraken and the sense of elation was supremely satisfying.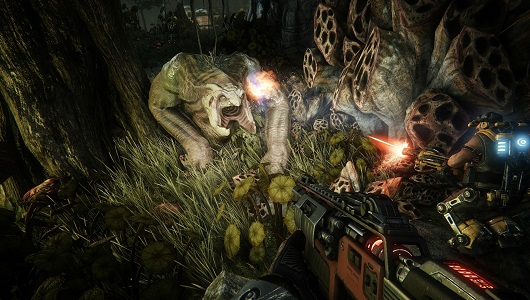 Did I enjoy myself? Absolutely. I am really looking forward to getting back into it on February 10th. However, I mentioned a worry earlier and it is true that it is still on my mind. To be specific, prior to playing the game, and even after the experience, the importance of teamwork was obvious from the get-go. I am just not sure how this is going to translate to the general public. First-person shooters, in fact all multiplayer games, have been trying to instil co-operative play in their online components for years. I cannot think of another title where it is so vital for it to land.
Regardless, Evolve is a game I will be there with on day one. I just hope there are at least three others who feel the same!
https://www.youtube.com/watch?v=zlaPT08Tmxc
Official Game Site
Tags: 2K Games, Evolve, PC, PlayStation 4, Turtle Rock Studios, Xbox One