Photo credit: Joe Brady
Competitive gaming tournaments aren't a regularity in the UK; the majority of them take place in the USA and elsewhere, home to professional squads and players that regularly dominate online communities such as Major League Gaming. Gfinity is the UK's response to this continually building competitive scene, an organisation driven to provide competitive leagues anyone at any level can join.
G3 was a brilliant opportunity to raise this awareness. This event, taking place at the Olympic Copper Box Arena, brought together four high-profile competitive titles; FIFA 14, Starcraft II, Counter Strike: Global Offensive and Call of Duty: Ghosts. There is still a great sense that these competitions are only known to those that are strong fans of prestigious players, and thanks to the wonders of social networking in spreading the word; yet Gfinity definitely provided an incentive for any fresh faces present this weekend to become involved in this growing community. The enthusiasm voiced through the commentators, casters and players themselves in favour of the push Gfinity are making to raise the profile of eSports is a very admirable, positive thing to witness.
The cube-shaped arena hosted a tournament on each side with tiered seating and an upper game floor perfect for sharpening those wits before watching the next match.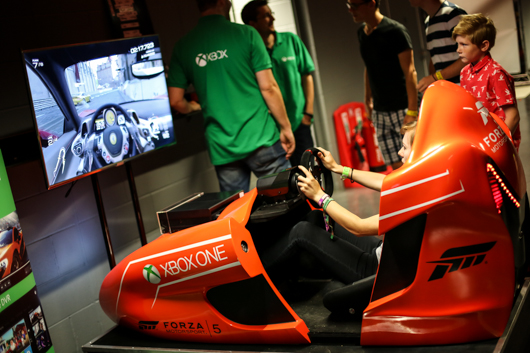 Titanfall and FIFA 14 were among the games on offer here, as well as a fun competition over at the Forza 5 spot; not only could you have a go at the just released (as of 14th August) Mad Catz racing wheel, the fastest lap time would be rewarded with an ASTRO headset. My lap time didn't quite reach the approximately 1.08 set by the winner, yet as an amateur driving-wheel user I was pleasantly surprised at this piece of kit that felt comfortable, responsive and suited the driving simulation wonderfully; unfortunately, it's still not the most affordable wheel, thanks to its £350 price tag.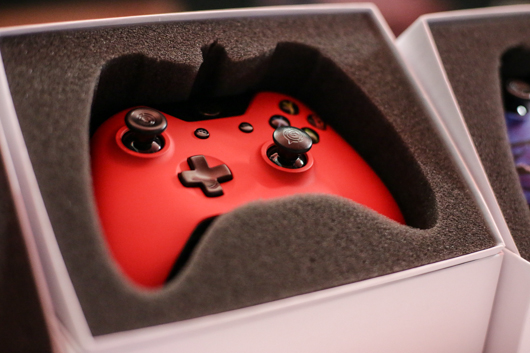 There were some less costly accessories on offer such as the beautiful and well-designed custom Scuf XBOX controllers and ASTRO and Turtle Beach headsets. By Sunday evening there was a orderly line directed towards this small alcove as people picked up their last-minute weekend mementos – perhaps inspired by the players using similar gear!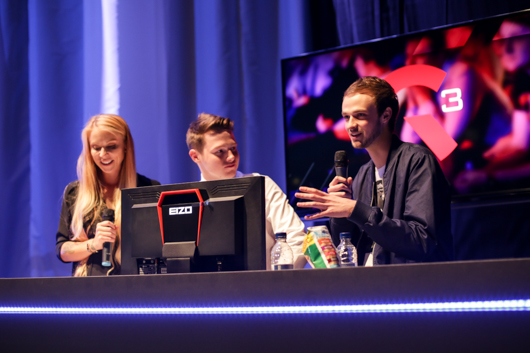 There were a host of fan-favourites from all four games, and some other familiar faces too; Ali-A could be found offering some analyst views on the action dominating the Call of Duty stage throughout the weekend, a fitting responsibility given his YouTube fame established through his first-person shooter game-play and commentary videos.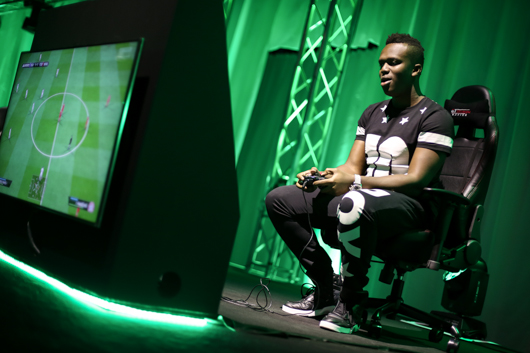 Similarly appropriate was KSI's place on the FIFA 14 stage. As a YouTube personality, KSI has arguably boosted FIFA's reputation as a professionally competitive game like no other player; his role as introducer, commentator and as of Sunday evening, player at G3's FIFA 14 tournament was a great indicator of his and the game's significant progression within eSports.
I think it's safe to say this was the funniest series of the weekend as KSI challenged friend and competitor Miniminter to a match which saw a bet of on two hundred million FIFA coins riding on it. Quite a wager! The result was absolute hilarity as KSI lost out thanks to two own goals that were urged on by an animated crowd.
As a pre-final match it was something to watch, and definitely succeeded in rallying people to witness Epsilon Vinch, a seventeen year-old French player take home the $7,500 reward. The FIFA 14 crowd differed greatly over the weekend in terms of size; with the largest number of competitors and the lowest price pool, it seems the game is still on its way to reaching the professional ranks of the other titles here.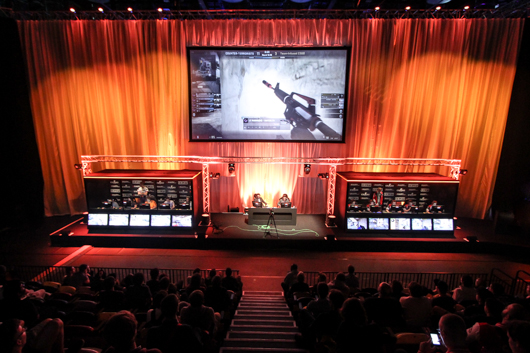 Counter-Strike: Global Offensive saw a $20,000 prize pool going to the Polish team Virtus.pro. Highest ranking teams seemed to be falling short at this event, with CS:GO being no exception; Ninjas in Pajamas currently sit at the top of the ranks yet just about made it through the group stage, finishing in fifth place. As with Call of Duty: Ghosts, the game saw some technical issues that dampened the event slightly and brought some controversial questions into play, a very significant one being the not-so-soundproof design of the booths the teams were sat in, making commentary on the opposing squad audible. Even so, the Grand Final saw some tense action with a great comeback made by the winning team in the second and final match.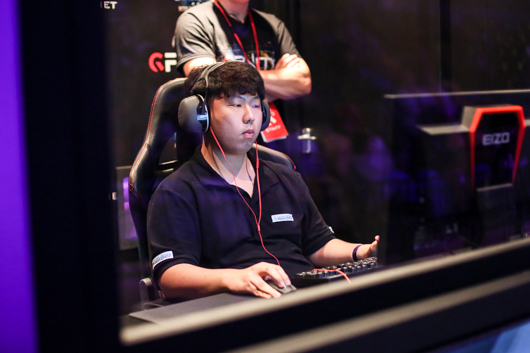 The Starcraft II World Championship Series is currently being led by MC, a Korean player who has bested his competitors with a 225 point lead. Despite this MC lost out in the semi-finals at G3, making way for Bunny, a Danish champion, to take home the $16,000 prize. There were some surprise defeats elsewhere in this tournament, with UK player DeMusliM advancing past the group stages over the current EU champion, StarDust. Perhaps it's something about competing on the home turf – being the largest pro-gaming tournament the UK has hosted so far, it's not that unlikely!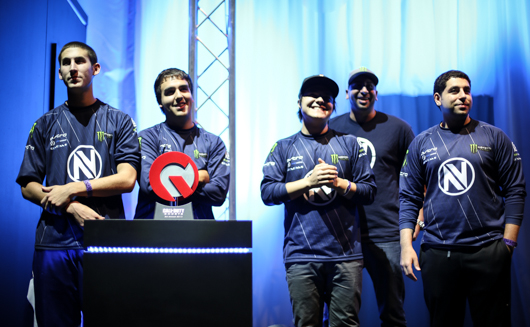 This certainly seemed the case in the Call of Duty: Ghosts tournament that had the biggest reception of all the games at G3. So much so that the Grand Final resulted in the FIFA 14 stage hosting the stream on their side of the arena, opening more seating for this impressive crowd. USA squads are the most well-known and competitively successful, yet it was still an unexpected result as EnvyUs took home the $30,000 prize. Their new roster left them with no losses and plays that blew everyone away thanks to sheer slaying power. A fantastic result for the UK fans was Epsilon's 2nd place, a great feat considering they've never defeated a USA squad in a major tournament before. It was definitely a day for the underdogs, as fan-favourites Optic Gaming unfortunately lost out in the quarter finals as did Evil Geniuses, the current World Champions.
Plenty of surprises were in store this weekend – for Call of Duty: Ghosts, several bomb glitches definitely paved the way for some hiccups, with the final between EnvyUs and Epsilon needing a couple of match restarts and admin-involvement. In competitive gaming there are always things that are going to be out of the player's control especially whilst we are still seeing the growing stages of eSports as a  global and mainstream phenomenon; this is recognisable, yet after attending events such as Gfinity's G3, seeing the support and significance this competitive entertainment has from people is extremely positive and makes for a very optimistic future for eSporting events.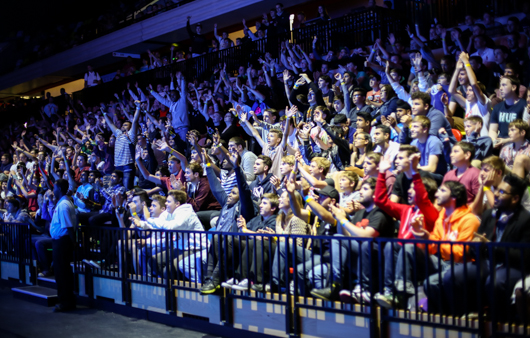 Official Gfinity Site
Tags: Call of Duty: Ghosts, Counter Strike: Global Offensive, CS:GO, eSports, Fifa 14, G3, gfinity, MLG, Starcraft II