I can still remember the swell in my chest watching the first flying scene in How To Train Your Dragon. The action, score and superb choreography had floored me – to the point where the movie's score now takes pride of place in my music collection. Now, a few years later, DreamWorks have seen fit to release a sequel and it took my breath away again.
• Director: Dean DeBlois
• Exhibition: 2D/3D
• Rating: PG
• Run Time: 102 mins

How To Train Your Dragon 2 takes place five years after the events of the first. Hiccup (Jay Baruchel) and Toothless, his trusty Night Fury dragon, go on ever more far reaching ventures, plotting new areas away from their home of Berk. For Hiccup though, this is a way of avoiding his father, Stoick the Vast (Gerard Butler) as he has decided it's time for his son to take on the mantle of 'chief' – a role Hiccup feels he isn't suited for. During one of their regular flights, they stumble upon a group of dragon trappers who are collecting as many of the creatures as they can for their mysterious boss, Drago Bloodfist (Djimon Hounsou). Unable to reconcile his father's stormy past with Drago and his own desire to avoid a war, Hiccup goes to seek Drago out, but finds something else instead.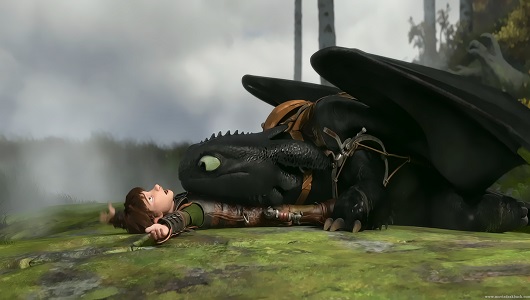 Ooh, mysterious. Or at least it would have been if the trailers hadn't spoiled it. Regardless, How To Train Your Dragon 2 manages to tell a solid family drama story without the need to rely on twists. In fact, the writing is on a par with a lot of Pixar's output in terms of strong themes and humour. Ideas about war, family and freedom are touched on, while throughout the narrative, laughs come regularly – helped in no small part by the one again superb Baruchel and a supporting cast including Jonah Hill, America Ferrera, Kristen Wig, Christopher Mintz-Plasse, T.J. Miller, Craig Ferguson and newcomer to the franchise, Kit Harrington, of Game of Thrones fame.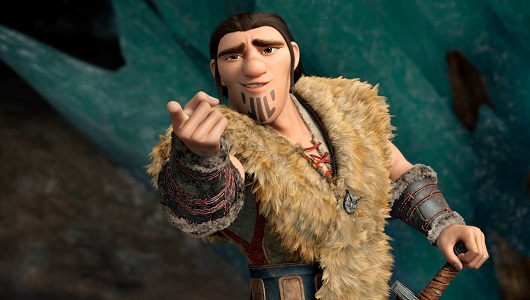 Also joining the cast is Cate Blanchett as Valka, another dragon rider, who certainly widens Hiccup's views on dragons. While the scope of the first movie was relatively large in itself, How To Train Your Dragon 2 manages to trump that, in terms of the sheer number and diversity of the dragons – as well as the level of threat offered by Drago and his dragon army.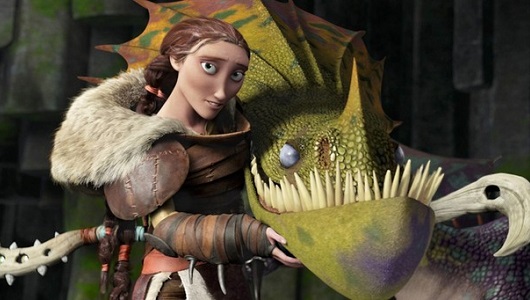 DeBlois once again manages to give his story true heft and weight, while avoiding the pitfall of it becoming overbearingly monotone. His visual style is beautiful to behold and his ability to bring music into the mix is superb – one duet in the middle act of the movie will bring smiles to many faces. If I had one minor gripe to raise, it'd be the remainder of the score. As a big fan of the previous entry's music, I was disappointed to hear the same theme redone with some terrible additional lyrics and odd accompanying instruments.
As well as increasing the variety of dragons, there are vast landscapes realised here that serve to widen the world. It seems odd to mention 3D in a review as it rarely does anything for me but the vibrant, crisp colours of How To Train Your Dragon 2 allow the 3D to truly add to this layered world too. The moments I mentioned at the start, where you will feel breathless, come in the form of dragon-flying point-of-view sequences – in which the 3D also truly shines.
Hiccup and Toothless are soul mates, for want of a better phrase. Their artificial appendages that tie them together in more ways than one. The first movie did not really beg for a sequel but I'm glad they delivered this anyway. The fact that they avoid changing the characters to create a new story, a film-making crime so many other franchises manage to commit, is testament to the excellent writing.
A well-written narrative that avoids treading old ground
A wide array of characters and dragons keeps it fresh
The 3D is actually not terrible…
…though the lyrics added to the theme are
How To Train Your Dragon 2 is a fun, thrilling ride of a movie that is not afraid to spread its proverbial wings and tread new ground. If you plan on seeing it, provided the price is not exorbitant, I would recommend the 3D showing – specifically for the dragon-riding sections. Once again, they will take your breath away
The author paid to see How To Train Your Dragon 2
Official Movie Site
Tags: America Ferrera, cate blanchett, Christopher Mintz-Plasse, Craig Ferguson, Dean DeBlois, Djimon Hounsou, DreamWorks, Gerard Butler, How To Train Your Dragon 2, Jay Baruchel, Jonah Hill, Kit Harrington, Kristen Wig, T.J. Miller