Monochroma is set in a grey world that's aesthetically powerful, interrupted by bolts of red. The style immediately reflects that of LIMBO, the popular black and white puzzler. Monochroma has a similar sense of pathos; you play as an older brother watching over his younger sibling as he chases through an idyllic farmyard setting, flying his kite. Unfortunately this picturesque and quaint locale is marred when your pursuit ends in injury as you and your brother crash through the roof of an abandoned building, breaking his leg in the fall.
• Developer: Nowhere Studios
• Publisher: Nowhere Studios
• Reviewed on: PC
• Also Available On: Mac, Linux
• Release Date: Available Now

The peacefulness of this farming community – wooden windmills, tall cornfields and trailer-like abodes – is soon met with silence. The basic soundtrack isn't greatly memorable, but first greets you with a lulling feeling that's easy on the brain; when we're left with no sound but the heavy rain and patter of running feet, the restfulness gives way to a much more solemn tone, as the only company the two have is the storm and each other – and occasionally a striped hireling in pursuit.
The wordless, nameless link between brothers does have some of its intended stir; he is helpless, and it is up to you to carry him towards safety, set him down only in lighted areas so he doesn't feel afraid, and solve the puzzles around you that guarantee safe passage forward. Most of the ambience of the game is translated through the use of light and the art style – reminiscent of the popular indie title LIMBO, Monochroma mingles 2D graphics with a beautiful cinematic style of subdued monochrome colour that is very successful when coupled with a moody and troubling anti-establishment plot. Unfortunately, Monochroma falls short of delivering the full package for a number of reasons. The flashes of red throughout the game – most noticeably the protagonist's red scarf – don't involve much significance other than providing the obvious connotations of the colour; for example, the banner sized 'M' hiked up amongst the urban sprawl of houses and factories you come across is yet more sinister. But the majority of the time, it feels unnecessary; the blotches of red amongst the monochrome environments can make it feel cheapened and more cartoony than it deserves, as the use of a singly two-tone environment is expressive enough.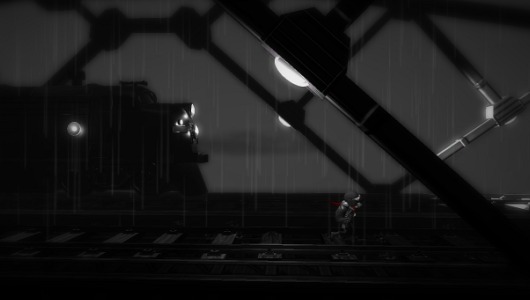 An expressionist art style is necessary in a game with no dialogue, where the surroundings are the main method of storytelling. It is an engaging method – it's very subtle, as the tranquillity of your starting environment gives way to a much more industrial, controlled setting, one that doesn't appreciate intruders, judging by the chase lead through factories and across rain-strewn train tracks. Sound effects have a strong presence, particularly given the stormy backdrop, and serve to intensify a sinister story surrounding a large corporation's creation and distribution of machines throughout society. The rousing of fear in connection to this dark totalitarian theme isn't as total as it perhaps intends; it's more the tinges of sadness at such a sorry sight, namely a broken boy being carried through this nightmarish world, helpless and reliant on his brother to take care of him. It stays with you, although that's largely because you cannot progress past each puzzle without going back for your dependent sibling.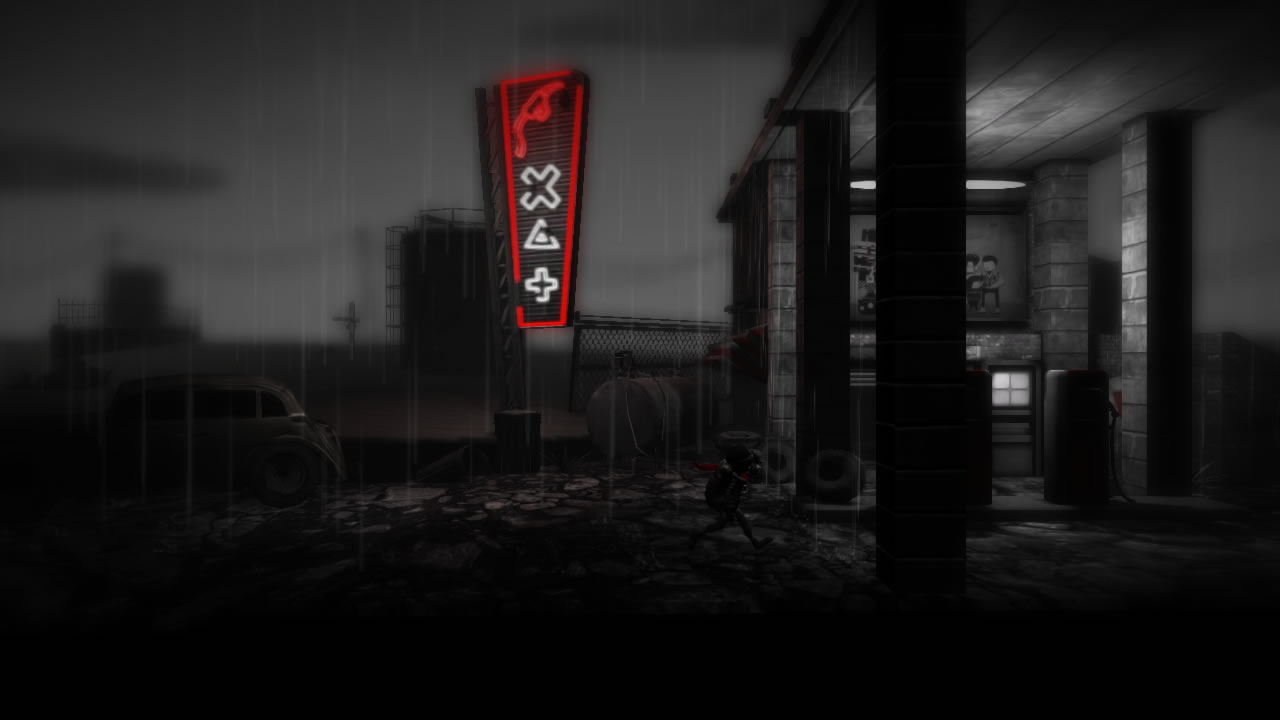 This adds a new element to side-scrolling puzzle-solving that is quite refreshing – you have a whole other body to account for, one that realistically encumbers you; you cannot jump as high, or squeeze through gaps as well as you could without his weight on your back, and there are puzzles that involve placing your sibling in the right spot to aid your progression, such as using his weight to lower a platform. It does provide a small layer of challenge, and the puzzles themselves are as enjoyable and involving as you could wish. There's clearly a focus on physics-based conundrums; many of the interactions remain the same, with simple platform jumping and rope swinging being all about timing. You have to account for that loss in height that comes with jumping between parallel objects, or attempt to hit that perfect second where your leap of faith won't end with the both of you dead. It's largely about trial and error, which makes these puzzles feel intelligently planned – they at first have that addictive desire to beat that proves a puzzle-adventure worth journeying. However, too soon do the cracks appear in the game's design and controls.
It's definitely not a good sign when a puzzle is taking a great many attempts not because you're positively baffled, but because the very simple controls don't seem to be responding as they should be. With interactions largely ruled by three arrow-keys, it shouldn't be difficult to carry out simple movements such as jumping towards a high ledge, or going from standing atop a platform to hanging off its edge. Yet it becomes increasingly frustrating when your character doesn't seem to be doing anything you want of them, and unfortunately it severely impacts the strengths of Monochroma. Rather than feeling engrossed in the game's intended malevolent plot or being absorbed into its muted,(mostly) colourless world you can feel easily disillusioned by this detachment and lack of sync with the character's actions; and seeing as it's a game with no other means of connection to the protagonist, it's an unfortunate penalty.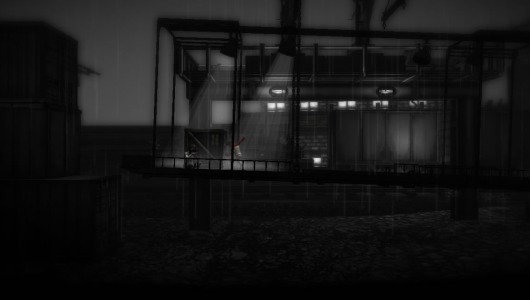 A slightly redeeming feature is the camera's movement throughout the game, as it adapts to the current level and setting in a way that feels player-friendly. Its smooth movement can bring certain objects to attention, such as the presence of lamplights that offer a safe place for your brother to perch, whilst it's widening frame allows for a decent scope of the environment, such as when you're outdoors, climbing the side of a large building and seeking an entrance towards shelter. This is a noticeable and well-designed feature, yet doesn't feel as necessary as other improvements would have been.
Muted colour scheme is quite enthralling
Impressive environment design
Controls are unresponsive and ruin puzzle-solving experience
It's hard to feel connected to the character's plight
Positive features e.g. semi-involving story are not redeeming enough
Monochroma is a promising game – there's already much appreciation for the style this game brings forth, and it contains strengths in aspects of the art design and attempts to provide a preoccupying story. Unfortunately there's not really enough to set Monochroma apart, and the control issues are unsatisfying to the point where it renders what could be a gratifying, intelligent puzzle experience very disappointing.
Review copy provided by Plan of Attack
Official Game Site
Tags: indie, LIMBO, Monochroma, Nowhere Studios, platformer, puzzle game, Steam