We are very glad that Loading Bar has found a new venue in time for us to host this year's International Tabletop Day in the new location. We have slightly forced our way in as this will be happening ahead of next week's official launch but everyone is welcome to come down and join us for some Tabletop action.
Details are below, please take careful note of the new address;
Where?
Loading Bar,
97 Stoke Newington Road,
London,
N16 8BX
*Note it currently says "Scenario" Bar on the outside.
When?
Saturday 5th April 2014, 12 Midday until 8pm.
What's there to play?
All your favourite board games have made the journey with us to the new venue. A full listing is available on boardgamegeek.com and now includes;
Carcassonne, The Resistance, Love Letter, The Walking Dead Card Game, The Walking Dead: The Board Game, 7 Wonders, Dixit, Zombie Dice, Carcassonne: Winter Edition, King of Tokyo, Mascarade, The Settlers of Catan, Star Trek: Catan, Ticket to Ride, Resident Evil Deck Building Game,  Hive, Forbidden Island, Ticket to Ride Map Collection: Volume 2 – India & Switzerland, The Hobbit, Munchkin, Legends of the Three Kingdoms, Batman: Arkham City Escape, Sid Meier's Civilization: The Board Game, Gears of War: The Board Game, Battlestar Galactica, Lords of War: Orcs versus Dwarves, Lords of War: Elves versus Lizardmen, Snake Oil, 3012, Relic Runners, Pandemic, Star Wars: The Card Game, Takenoko, Game of Thrones: The Card Game, Discworld: Ankh-Morpork, Star Trek: Attack Wing, Blood Bowl: Team Manager – The Card Game, Jungle Speed, Chess (Mario and classic sets available), Zombicide, Pokémon Trading Card Game, Coup, Story War, Dungeon Roll, Dominion, Warhammer: Diskwars, Hanabi, Android: Netrunner, Werewolf, Sopio, Something Different, Greedy Wizards, Monty Python Fluxx – Also recently added – Super Rhino and Rampage.
What's new?
There are a number of new games that will be available on the day. We may confirm some nearer the time or just save them for a surprise when you turn up!
How much does it cost to play all these great games?
Nothing. Entry is free and you are free to stay as long as you are buying drinks.
Anything special for International Tabletop Day?
As well as a pile of prizes to be won for free, we also have a MONSTER SIZED edition of King of Tokyo to be played on the day. Silly photo posing will also be possible.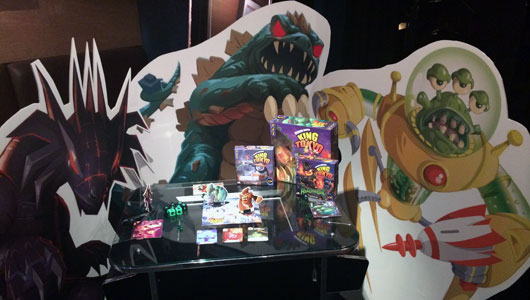 Also, please note that for regular attendees of Tabletop Tuesday's that TtT will be starting again as of next Tuesday, i.e. 8th April. Hope to see all the old friendly faces, as well as some new young ones too.
Tags: International Tabletop Day, ITTD, King of Tokyo, Loading Bar, Loading Cafe/Bar