From the same success of taking Star Wars, Batman, Lord of the Rings and more, combined with the childhood mega toy that is tiny bricks of plastic, comes LEGO Marvel Super Heroes. Once again delving into a beloved comic book franchise, this thirteenth title in the LEGO series brings you adorable versions of Iron Man, Spider-Man, Hulk, Captain America, Thor and around 145 others for a game that is sure to charm kids and adults alike.
• Developer: TT Games
• Publisher: Warner Bros. Interactive Entertainment
• Reviewed on: Xbox 360
• Also Available On: PlayStation 3, PC, Wii U, Xbox One. PlayStation 4
• Release Date: Available Now

When our planet is once again under threat from 'The Devourer of Worlds' Galactus, it's time for the Avengers to assemble and join forces with other heroic favourites to ensure the Earth's safety before its inevitable gobbling (nom nom nom). The result is an amazingly charming experience that really does have something for everybody.
If, like me, you have not found yourself falling in love with TT Games' LEGO formula in the past eight years, you could find that LEGO Marvel Super Heroes may turn you into a true believer after all. Using a Marvel licence that seems to be majorly based off the ever increasing movie universe (Earth-199999) and keeping all the features introduced in last year's LEGO Batman 2 DC Super Heroes, certainly makes this not only one of the better LEGO games so far but also one of the best Marvel titles ever!
If you've played any of the previous LEGO titles, then gameplay isn't really going to be a million miles away from what you're used to. Expect a mix of platformer, 3D brawler with a little puzzle-adventure thrown in for good measure. You'll find yourself running through the bulk of the game, beating up such baddies as Hydra forces, Frost Giants and Doombots, whilst switching between various characters and using their key abilities to advance through each level, collecting studs as you go.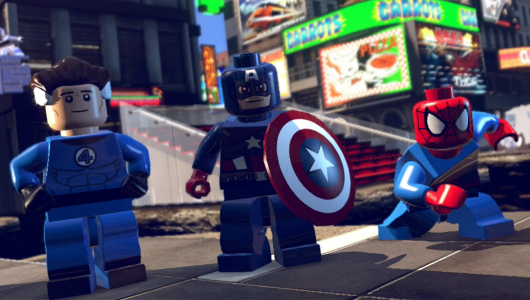 Power differentiation is a little limited and you will find that a lot of characters have if not similar, exact clone move sets as others in the huge roster. Spider-Man's webs and Mr Fantastic's stretchy arms are kind of the same thing and Black Widow's stealth mode is really just Invisible Woman's invisibility, however the game uses simplicity as a strength. Basic design and basic functionality makes this one of the most fun and extensive superhero games I've played. It's precisely because everyone is a figurine and a lot of the powers are the same with different animations, that the designers were able to put so many playable characters in the game and keep the fans happy.
A real major change this time around is the inclusion of big block characters, used to represent the more powerhouse guys (such as The Thing, Rhino, Venom and of course The Incredible Hulk). Flying abilities also have been brought forward after making their debut in Batman 2, but unfortunately, they are still rather cumbrous in use and tricky to master. When playing as Iron (Plastic?) Man, I often found myself randomly thrusting off into an undesirable direction when trying to simply move forward but after some lengthy trial and error, found myself souring through the sky like a pro (singing Black Sabbath all the way).
Similar to LEGO The Lord of the Rings and LEGO Batman 2: DC Super Heroes, this Marvel adventure once again trades in the level hub for an open world environment full of fetch quests, races, and other challenges to keep you busy long after the story has been completed. After completing the main campaign, the game showed that I'd only gotten around 22% of the way through, which just goes to show you how much additional content there truly is. While there are a lot of minor side quests, there are 11 mini levels which new heroes and villains that didn't appear in the story and are unlocked upon completion.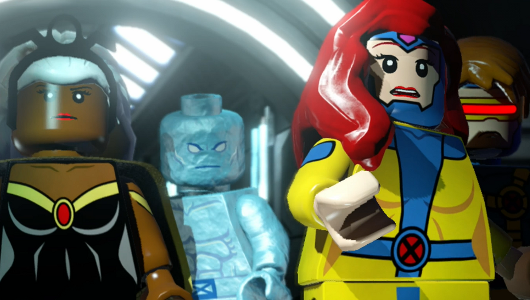 Unlike other LEGO titles, there is no traditional level hub but the S.H.I.E.L.D. helicarrier sort of acts like one. This is where you spawn in each time the game loads, where you buy extras, create characters and quickly access story and mini levels for replay. During the story, you'll often have to jump from the carrier and skydive down to New York City below (which is awesome).
Something that has been hit and miss between fans of the LEGO game franchise is the inclusion of voice acting, replacing the original mumbles and grunts used in older titles. With the vocals in mind, LEGO Marvel Super Heroes pulls together a stellar cast of talent to breathe life into these kids' playthings. Old pros like Sponge Bob's Dee Bradley Baker and Futurama's John DiMaggio are on hand to bring their distinctive styles to the table, while fan favourites Nolan North and Clark Gregg return to their beloved roles as Deadpool and Agent Coulson. But could it really be a Marvel game without the biggest name associated with the company? Of course not, that's why Stan Lee himself voices and appears in the game during various cameo roles and can even be unlocked as a playable character… EXCELSIOR!
It's more than just the voices that have been shown the correct love and attention as you can really see just how much care has gone into every aspect of the game. Watching Iron Man's animations in flying and landing are near perfect recreations of the movies. Taking too much damage when playing as Wolverine may result in you (momentarily) having to take control of his Adamantium skeleton before healing back into his old self. Hulk's move set is completely spot on and includes his classic Gamma clap, smash and for fans of the 2012 Avengers movie, the flurry of bashing that no one can resist following with saying "Puny God."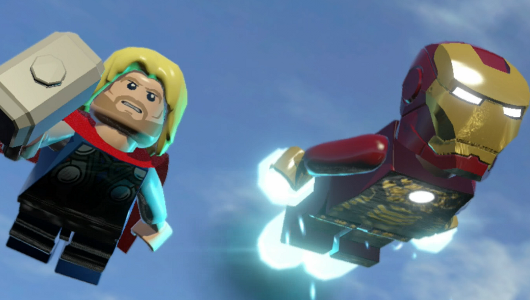 There's also a ton of humour throughout the game. One of the side-missions involves helping Drax the Destroyer locate a Saxophone (Draxophone), so that he may work on a side-career as a Jazz musician. Another moment sees Iron Man failing to take on Magneto, resulting in Tony Stark running around in only his armour's helmet and a comical pair of heart-printed boxer shorts. But the jokes aren't only geared towards Marvel – along the way I found references to Batman, Doctor Who and even Sleepless in Seattle.
All this positive talk about the game is deserved but there are still some issues to be found here that should have been fixed between the last entry and now. One of the biggest issues encountered, is the use of a single button for multiple things. Case-in-point is the fighting. During combat as the button to build is also the button for one of your special abilities, there have been plenty of times I am trying to build as Jean Gray but she is instead protects herself with a forcefield. This issue also crops up often in switching heroes, as the button to bring up the character selection menu is the same used to engage a transformation with certain characters – such as Spider-Man changing to Peter Parker or Hulk to Bruce Banner.
Unfortunately for co-op players, the eye-strain inducing dynamic split screen returns from Batman 2. This is a regular split screen which rotates depending where each player is standing. Fortunately this time around, this is optional and can be switched out for the more traditional vertical split (or for Wii U players, you can use the Game Pad as a second screen).
Even with the minor issues in the co-op split-screen and some button mapping issues, there is very little to find wrong with LEGO Marvel Super Heroes. It brings a level of child-like enthusiasm and joy to each level and character that just can't be passed up. It may not present you with an in-your-face challenge or blow you over with amazing graphics, but what does do well is give you is 20+ hours of genuine fun. Whether it's Iron Man cracking his usual joke or Dr. Doom ranting on about his Doom Ray of Doom, you will find plenty to love in each little block.
Huge choice of fan favourite characters from the Marvel universe
Entertaining story aimed at all ages
A wealth of content to discover and enjoy, even after the campaign is completed
Single buttons used for multiple functions can prove frustrating
Though the gameplay hasn't differed much in their thirteen different LEGO titles, TT Games have once again managed to show so much love and attention to their source material, and in doing so, have created the best game in their long running series.
The review copy of this title was purchased by the author.
Official Game Site
Tags: LEGO, LEGO Marvel Super Heroes, Marvel, TT Games, Warner Bros. Interactive Entertainment