Contrast has been placed in the spotlight of the games industry by Sony. Their decision to add it to the recently vacated Instant Games Collection spot left by DriveClub, on the PlayStation 4's PS+ line-up has catapulted this game into the minds of prospective PS4 owners everywhere. The question now becomes does it shine in its newly-found place of fame, or slink quietly into the shadows of gaming mediocrity.
• Developer: Compulsion Games
• Publisher: Focus Home Interactive
• Reviewed on: PC
• Also Available On: PlayStation 3, PlayStation 4, Xbox 360
• Release Date: Available Now (EU&US) / 29th November (EU – PS4)

With all of this added pressure, it is perhaps appropriate to remember that Contrast is a relatively low-budget indie platformer from Compulsion Games. The key differentiator separating this game from other platforming titles is its use of light and shadow to create puzzles. You play as Dawn, a mysterious, quiet character who only seems to be able to interact with a young girl called Didi. All other characters in the game can only be distinguished by their shadows. Similarly, Dawn is invisible to other NPCs. The story opens with Didi disobeying her mother, a cabaret singer, and venturing out in the noir-ish world with Dawn helping her to find her father.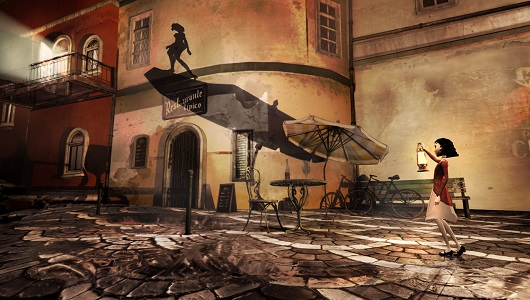 The tone of the game is exceptionally well-realised. The art Deco architecture surrounding you, the cabaret soundtrack and the dark environments all lend themselves to expressing a clear sense of time and place within the game. The beauty of the game's aesthetic is probably its best feature, with beautifully atmospheric lighting being the cornerstone of its achievements.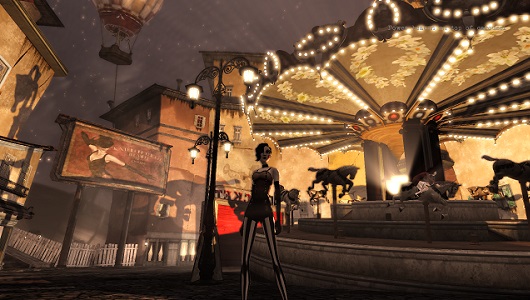 This lighting engine is obviously vitally important as the entirety of Contrast's gameplay hangs on it. Taking control of Dawn, you have the ability to blend into the shadows, traversing the environment on the 2D planes of buildings and other objects. Shadows on the walls can then be used as platforms to progress to the next area or to find collectibles. Puzzles normally take the form of either moving a light source or object in respect to a fixed light source to create pathways for you to get across. The game changes up the puzzles by adding moving light sources like carousels or hotel lobby lifts, which keep things interesting.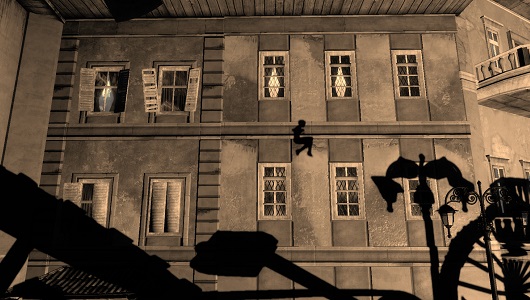 Now we get to the bad points unfortunately – firstly, the controls are far too clunky. Dawn is meant to be acrobatic and agile but movements often veer wildly between overly sensitive to almost unresponsive. When combat is shunned in place of platforming, you need to nail character movement.
The game is also linear – you spend almost the entire game just following Didi's orders and making sure she gets from A to B so that the next cutscene can play out. The few times you veer off course, you are treated to sparse areas with nothing to do.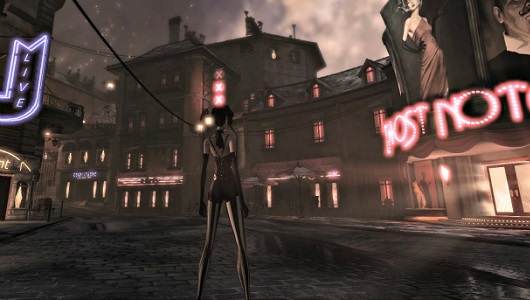 Finally, Contrast is ridiculously short. The puzzles are not exactly taxing and the story, while quite well-told, is over in about three to four hours. This is particularly disappointing because I actually felt there could – and should – have been far more to the idea of shadow puzzles. After the game shows you its limited repertoire of ideas, you feel a little let down there wasn't more to the experience.
The lighting system is superb,
…the puzzles are fun to solve…
…and the aesthetic is noir-ish and different from other games
The controls are not up to snuff,
…the game is far too linear…
…and far too short
Contrast is not a bad game. Despite the dodgy controls, I actually enjoyed the puzzle-solving and story. I just wish there was a bit more substance to it. While getting it for free with PS+ saves you money, I didn't like how much it also saved me on time!
Review copy provided by Focus Home Interactive
Official Game Site
Tags: Compulsion Games, Contrast, Focus Home Interactive, PC, PlayStation 3, PlayStation 4, Xbox 360