During the last two decades of the millennium, before I was a dashingly handsome, glamorous and well paid spy Sysadmin, I made a living working in a musical instrument shop, playing in bands and teaching guitar, bass and drums. I think that if I had a pound for every time I played the intro to Enter Sandman, I could have probably retired on a tropical island somewhere laying on a pile of cash and naked women (although possibly that might have eventually led to having a dodgy back…)
Rocksmith was originally released in 2011/12 to relative acclaim but unfortunately fell under my radar at the time. So when I was offered the chance to review Rocksmith 2014 Edition I was quite excited. Touted as a rebuild rather then a sequel, Rocksmith 2014 Edition has a whole bunch of features catering for new starters and rock veterans alike.
• Developer: Ubisoft – San Francisco
• Publisher: Ubisoft
• Reviewed on: Xbox360
• Also Available On: PS3, PC
• Release Date: Available Now
As with the original, Rocksmith 2014 Edition uses a custom cable to connect a guitar or bass to your console or PC called a Real Tone cable and the game comes in different iteration to accommodate a few different scenarios. Just the game (for users with a guitar and cable already), Game and Real Tone cable (for people that have guitars) or the whole "shebang" – game, Real Tone cable and guitar. You can also just buy the Real Tone cable, handy if you are a guitarist getting the Steam version.
I got to review the "shebang" version which came with a Real Tone cable and an Epiphone SG G-400 electric guitar.  Straight out of the box, this guitar is a neat decent number and given my background, I was actually quite impressed. It was set up quite well with a decent action , no dead spots on the fretboard and although it did have that rough rosewood fretboard feel that any sub £200 guitar has when you play them, it most certainly would take a first timer well into a playing career or even stand in as a "secondsie" for a serious musician.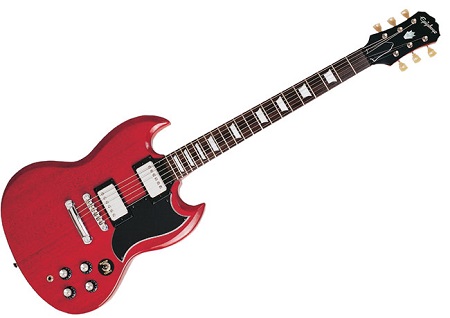 The game is visually slick and when you play it for the first time it takes you through a small introductory session to determine your experience and how you want to progress – lead or rhythm guitar or bass guitar. This, of course, determines how the game is presented to you later on in the Learn A Song section etc. After this little interlude, the game goes straight into the menu and you can choose to do whatever you like, right from the off, no annoying "unlocking portions of the game" as you progress. Instead, it takes the approach of giving you little missions to complete that encourage you to go into the easily-navigated menus and explore your options at a level comfortable to your expertise.
Beat a high score in the intriguing '80's video games-esque Guitarcade (complete with online leaderboards), have specific technique lesson or start to learn one of the 50 songs in the playlist. Original Rocksmith owners take note – you can import your tracklist into the new version.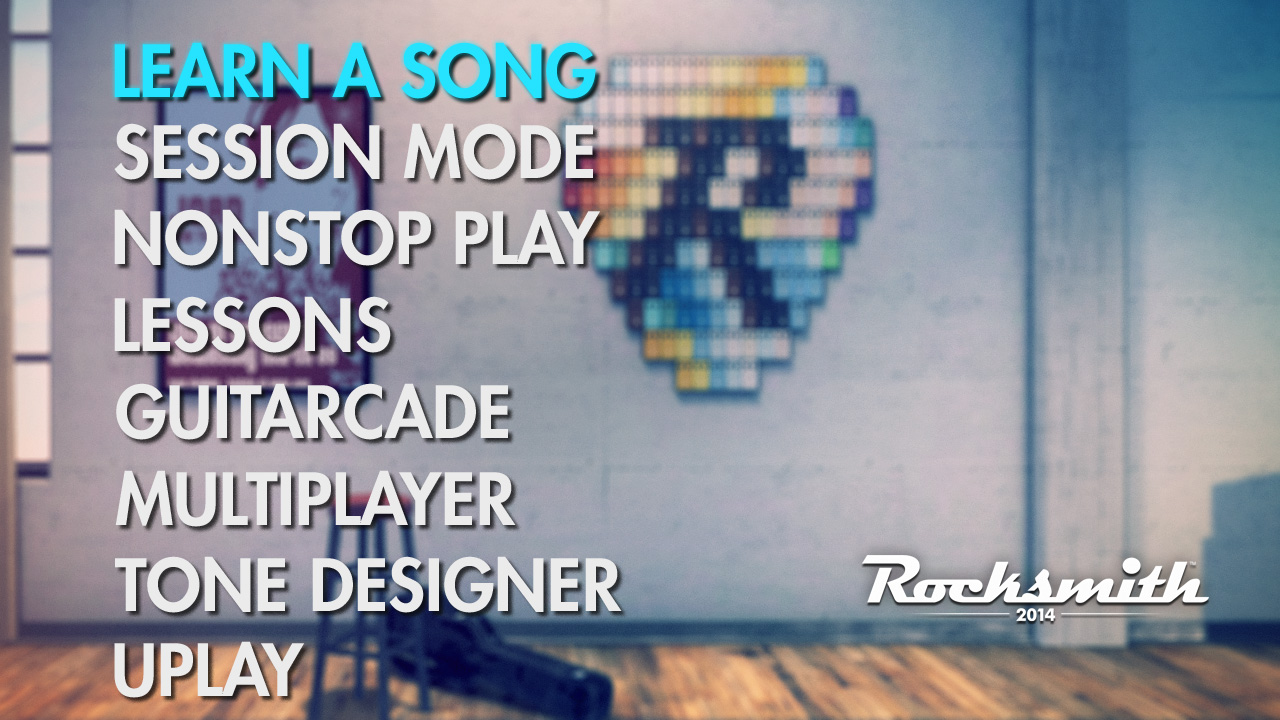 Cleverly, the playlist of songs covers a very wide spectrum of genres and styles with varying degrees of difficulty to accommodate any player. Clean stylings of R.E.M's Losing My Religion, the big dirty sounds of Jack White's Sixteen Saltines, strip it out with Pantera's Cemetery Gates and Slayer's War Ensemble or get technically perfect with Joe Satriani's Satch Boogie. Full song list here. Songs, as well as extra guitar tones,  will also be available as DLC.
If your guitar gets out of tune, the game  will make you tune it with a great visual tuning tool that colour codes the strings – a visual idea that extends into game-play as well. You can also find the tuner and other tools instantly from anywhere by hitting the Start button. As you learn and get better at a song, it adds in more notes to play and doesn't penalise you for playing the extra notes in between. For instance, through my several playings of Sixteen Saltines – a song I had never actually played before, I learnt the chord progression on first play-through and from then on was just playing along with the song like I was on stage. The game doesn't get all uppity about you getting ahead of yourself but rather starts to adjust the frequency of notes it wants you to get. A massive feature in the Learn A Song section is the Riff Repeater where you can stop the song and endlessly repeat a section of the song, slowed down, note by note until you can get it – very good for Satch Boogie…
What is really pleasantly surprising is not only the great tones of the guitars, which actually use licensed, inbuilt emulators of Marshall, ENGL and Orange amplifiers and even lets you craft and save your own custom sound, but the physical reaction time of the game. Latency is virtually non-existent, strike a note on the guitar and you hear it. There is no completely off-putting, delayed reaction which I have experienced with playing guitar through some other applications.  On that note (no pun intended), this is a game you want to have a decent sound system for, you are not doing it justice with TV speakers only.
Besides technical lessons, non-stop play mode and wee arcade mini-games, the activity I loved the most and spent a marriage-disrupting amount of time in was the Session Mode. Basically a Jam, but with people that can actually play…or be bothered to turn up. Choose up to four instruments – ranging from all sorts of different drum kits, basses, keyboards, guitars or percussion. Choose a key, a scale, a style and tempo and hit go. The instruments play along with you dynamically and amazingly well. Getting busy when you're busy, loud when you want it. Quiet when you bring it down.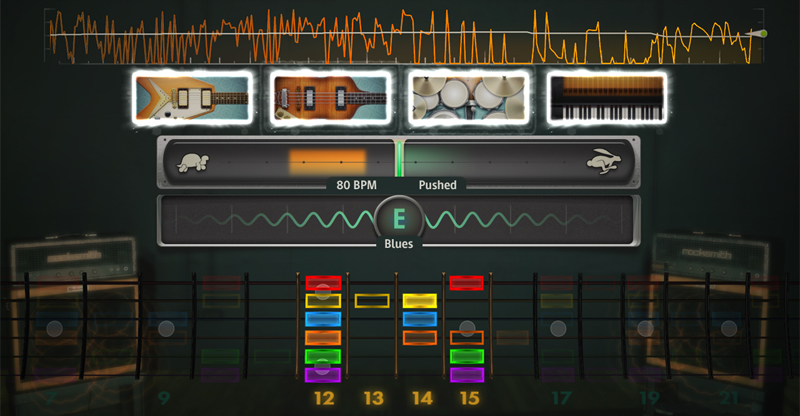 I spent an inordinate amount of time playing funk with a classic drum kit, slap bass and session guitar and me in the key of A, first over minor Pentatonic and then Dorian scales until my fingers bled (well…almost). Best music fun I've had in ages as the drummer didn't play too loud or inexplicably play out of time, the guitarist didn't overstep me and the bassist, when he finally found his way out of his locked car, played extremely competently. It was in this mode though that I found, unfortunately the game locked up and needed a full reset a few times (could have been my smokin' guitar playing I suppose) but hopefully this is something that can be addressed in a patch and certainly didn't warrant ignoring the game as a result.
Game is instantly accessible with a measured learning curve
Great variety of songs
Slick uncomplicated visuals
Great variety of nice tones
Locked up at least once a session (xbox360)
Downloadable version sans £25 cable does seem uneconomical
Any worthwhile pursuit that you want to be good at takes dedication, time and practice, practice, practice and even more practice and Rocksmith 2014 Edition quite boldly states that it's the fastest way to learn guitar (it's right there on the cover of the game…) – a big statement, given the massive plethora of material and industry built around learning guitar. Having said that, this game falls firmly under the cliche saying category of "you only get out what you put in" and therefore, if approached correctly, with discipline and time, would really be a very useful tool in learning guitar from scratch or even serve in reawakening your sleepy inner rock god and have a LOT of fun doing it too.
Review copy provided by Ubisoft
Official Game Site
Tags: RockSmith, RockSmith 2014, Ubisoft