The PlayStation Vita has some serious graphical grunt under that sleek exterior – so there's officially no better way to show off the power of the Vita than with block puzzler.  Wait, what?  Lumines Electronic Symphony is the follow-up to the hugely successful – and critically acclaimed – PSP launch title and puzzler Lumines Puzzle Fusion.  So does Electronic Symphony manage to refresh Lumines suitably for 2012 whilst keeping the nigh-on perfect core mechanics of the original games?
Developer: Q Entertainment
Publisher: Ubisoft
Reviewed on: PS Vita
Release Date: Available now

Like many popular block-based puzzlers, the premise of Lumines Electronic Symphony is a very simple one: cubes made of 4 blocks, where each block can be one of two colours, drop from the top of the screen.  You, the intrepid player who, presumably has an intense disliking of said blocks, must make them disappear by rotating and aligning them to make 4-block (or more) rectangles of the same colour.  But there's a slight twist that sets Lumines apart from other puzzlers such as Tetris: the 4-block clusters only disappear when the time line, the speed of which is dictated by the background music, passes over them.  Once that happens, points and happiness result.  There's also a couple of special blocks that occasionally drop down: the "shuffle" block randomises all of the connected blocks, whereas the "chain" block links all contiguous blocks of the same colour, clearing them once the time line passes over them.
I'll admit, it sounds deceptively simple – almost too simple.  But Lumines Electronic Symphony is one of the most enjoyable and engrossing games I've played so far on the Vita, and it is one that is perfectly suited to a handheld console.  My yardstick for whether handheld game is truly great is whether I've missed my stop on the London Underground as a result of being so engrossed in it. Electronic Symphony has managed to do that several times already.
One hallmark of the Lumines games is the fantastic soundtrack that, thanks to the fact that it sets the speed of the time line on its ever-repeating and inexorable march from left to right, is a key part of the gameplay.  Electronic Symphony is no different, featuring 34 uniformly excellent songs that range from Yesterday When I Was Mad by the Pet Shop Boys to Hey Boy, Hey Girl by The Chemical Brothers (although I would have been unable to resist using Block Droppin' Beats were I anything to do with the design of this game).  Each song featured in the game has an associated "skin" that restyles the background and the blocks that you're, erm, dropping — and this really keeps the visuals fresh as you play through the game (thanks to some intense and inspired graphical touches).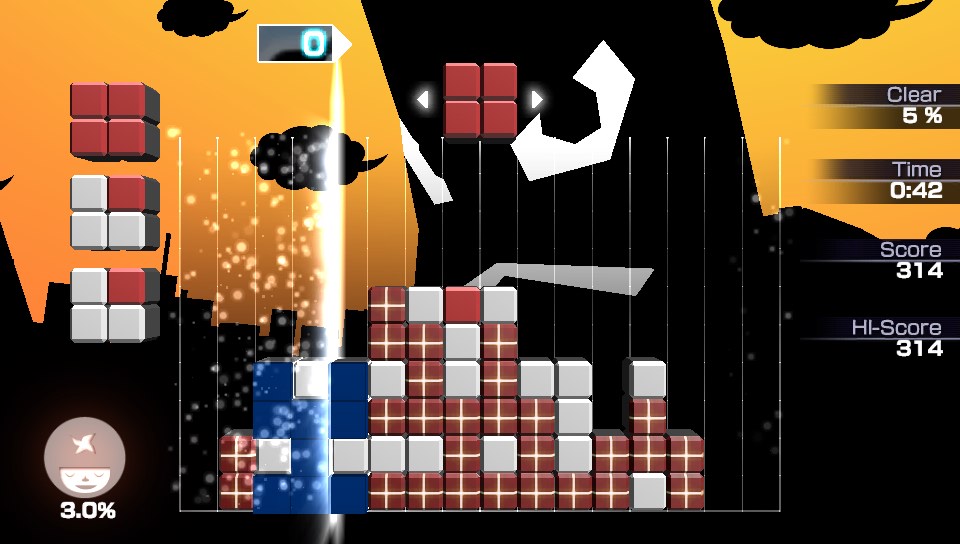 In the default mode of Electronic Symphony, known as "Voyage," you keep playing until the blocks reach the top of the screen, but once you clear a sufficient number of blocks, the music changes and the screen gets re-skinned.  What really adds to the gameplay is the fact that the tempo of the background music can change quite drastically from skin to skin – giving rise to expertly and sublimely judged peaks and troughs in difficulty and gameplay intensity as you progress.  There's true synergy between the excellent gameplay and fantastic music, which makes the game completely engrossing.
In addition to "Voyage," there's a number of other gameplay modes on offer.  The "Master" mode charges you with clearing a certain number of blocks over increasingly difficult stages, whereas "Stopwatch" challenges make you clear as many blocks as possible over 30, 60, 180 or 300 seconds. There's also a wonderful "Playlist" mode where you can queue your favourite tracks from the game and play them one by one.  There's also a  "Duel" mode, but this is sadly limited to being local (ad-hoc) multiplayer only – which is a real shame, as competitive multiplayer would have been, I presume, relatively simple to implement and would have undoubtedly been very popular.
One other interesting feature is that there's a "World Block," made up of 2,000,000 of the pesky things, for all the Lumines players to collectively clear each day.  This kind of meta-game is, in theory, a great idea.  I say "in theory" as the "World Block" refreshes at midnight – when I'm usually asleep – and has usually been completed by 5 am (when I'm usually still asleep).  Whilst this imbues a sense of mild annoyance that I'm not able to do my part to help rid the world of nefarious blocks, it's a true testament to the quality and popularity of Electronic Symphony.
All of the game modes are underpinned by an XP system. As you play, you earn XP points and level up.  Leveling grants access to more skins for use in the "Playlist" mode, as well as player avatars.  These avatars aren't simply limited to cosmetic differences, as each avatar has special powers that can be employed when you're in a tight spot. These abilities can be anything from dropping a chain or shuffle block to temporarily stopping the timeline.  In order to keep things balanced, you can only use these powers every so often, but you can power your ability back up more quickly by tapping on the Vita's back touch panel (although it will recharge on its own). This doesn't feel gimmicky or intrusive at all, and provides one of the few examples (with the possible exception of Uncharted: Golden Abyss' sniper zoom mechanic) where the use of this extra input modality truly compliments the gameplay.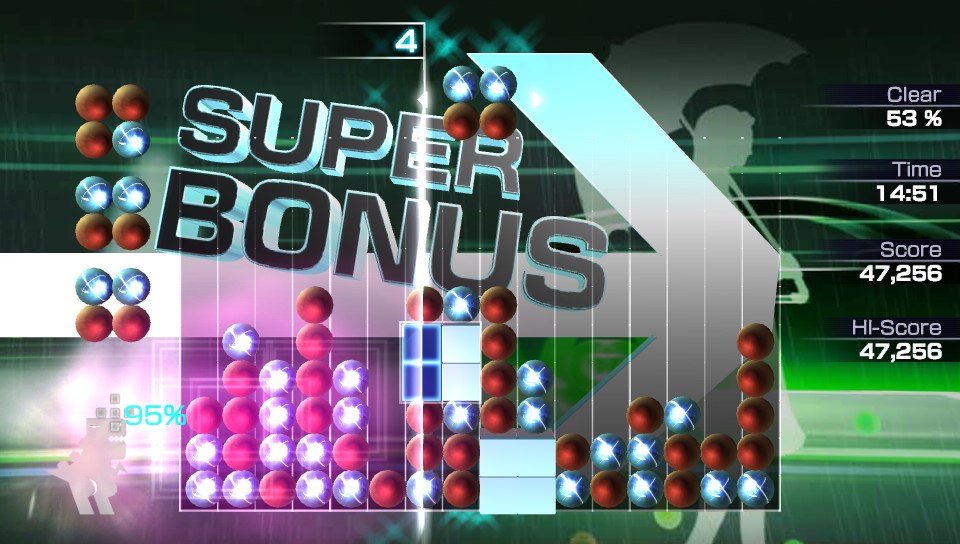 There's a phenomenal number of things to unlock (41 avatars and 43 skins), which, coupled with the leveling system, should keep you glued to your Vita for some time to come.  There's also leaderboards integrated in the game that list your friends' levels and their best score, so there's also the continual draw of proving to your mates that you're just that little bit more awesome than they are (isn't that right, Kev?).
This is a truly engrossing, fantastic and addictive game – and is certainly one of the highlights of the Vita's launch lineup.  Refreshingly, the developers have stuck to their guns and kept things simple – heck, even the visual upgrades are largely limited to rendering the the blocks in 3D as opposed to using sprites.  Just in case you need any more convincing, here's a fun fact about Electronic Symphony: the game was directed by a chap from Q Entertainment called Ding Dong.  I don't think that anyone with that name would be able to create anything other than a fantastic game.
All in all, if you have a Vita, you need Lumines Electronic Symphony in your games library.  If you don't, you're frankly doing things very, very wrong.
Simple but engrossing game mechanics
Excellent soundtrack
Brilliant incorporation of a leveling system
This game made me miss my stop on the tube
Missing my stop on the tube made me late for a meeting
I then missed my stop on the way back home, making me late for dinner
The publisher kindly provided Big Red Barrel with a review copy of this title
Lumines Electronic Symphony – Offiical Game Site
Tags: Electronic Symphony, Lumines, PlayStation, PSV, Q Entertainment, Ubisoft, Vita