As a fan of rugby union, I have been seeking out a good video game adaptation of the sport I love for years. Jonah Lomu Rugby, an original PlayStation game, is still the high-water mark that all subsequent rugby games are compared to. Opinions differ on whether titles like EA's Rugby 08 or Tru Blu Entertainment's Rugby Challenge franchise have reached or surpassed these heights.
Regardless, it is heartening to see more developers and publishers make attempts at bringing the ruffian's game played by gentlemen to video game fans. The latest pair to make this effort is Eko Software and Bigben with Rugby 20.
• Developer: Eko Software
• Publisher: Bigben
• Reviewed on: PlayStation 4
• Also Available On: Xbox One, PC
• Release Date: Available Now


The Ireland fan in me is happy to see our team's captain, Johnny Sexton, adorn the cover of the game. It is just the first indication that the developers and publishers have worked hard to secure a number of high-profile licences, such as the Top 14, Pro D2, Premiership and Pro 14. There are some notable absences though. It was disappointing to see two of the best teams on the planet, New Zealand and England, not fully licenced.
A game with on-point game-play will overcome deficiencies in licencing and Rugby 20 certainly improves on a lot of the systems they used in Rugby 18. Many of the set-pieces are broken down into mini-games that require skill and timing to succeed at. For instance, timing your engagement at the scrum correctly immediately puts you in a better position to win the encounter as the bar used to measure your dominance increases before the ball is put in. The line-out is easier to read and therefore makes challenging your opponents more of a contest.
The moment to moment game-play, outside of the set-piece, moves at a pace that will take some getting used to. Whether or not you can pass the ball on depends on numerous factors, with only a few under your control. For instance, you use L1 and R1 to pass left or right and the duration of the button press determines the distance it will go, allowing you to perform skip passes easily. However, the defensive lines of the opposition are incredibly quick, meaning that the chances of making close passes and causing breaks can be quite low. As you also only control one player at a time, you cannot place a player without the ball in a gap you see.
This is offset by set-plays that allow you to trigger defined moves for your backs. Using the directional pad, you can select four pre-defined moves to pull off. Player movement is then governed by the move and you just need to worry about passing in the correct direction at the right time. The fact that you can also make your passes slightly earlier or later, based on the movement of the defensive line adds a lot of depth to this mechanic, making it far more useful.
There are a number of polish issues that occur throughout the game that should be mentioned. These range from technical glitches, AI hiccups and physics anomalies to disappointing visuals and just plain bad commentary. While the technical issues appear every so often, the lack of graphical fidelity is a constant distraction. Player models look poor and their animations in-game as well as during pre-match cut-scenes appear stilted. The commentary is also poor in its stitching together of audio cues, leading to moments where the commentators just sound odd.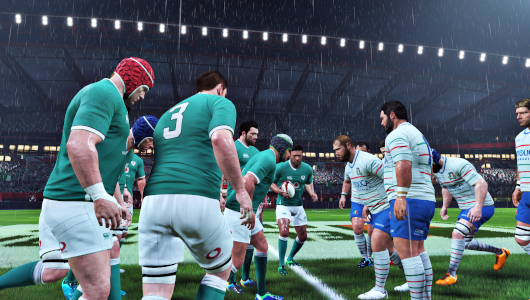 There is now a FIFA Ultimate Team-like mode, allowing you to collect player cards and use them to build a squad. The mode works well enough and the ability to earn currency seems balanced at the moment. The squad you build can then be progressed through the My Club mode. This appears to be the core of the games, as it allows you to compete from the lower leagues and manage your team through to top competitions in the world.
For novice players, there is a Training mode but it is quite bare-bones. While it covers most of the major aspects of the game, it doesn't really teach you how to play the game in a complete package, meaning new players will probably need to basic understanding of rugby before they attempt to jump in.

Set-piece plays are well implemented, fun and understandable
The My Club mode is deep enough to be enjoyable, without requiring a grind
Visually, the game is disappointing
Technical issues occur more frequently than can be ignored
Rugby 20 is an engaging title with good core game-play and a deep My Club mode. Eko Software and Bigben have created a fun rugby game, despite some technical flaws and disappointing visuals. If you have been looking for a rugby video game, this is a decent option but if you are new to the sport, I'd watch the ongoing Six Nations tournament first to pick up some of the nuances of the game. You can cheer on Ireland while you're at it!
Review copy provided by the publisher.
Official Game Site
Tags: Bigben, Eko Software, PC, PlayStation 4, Rugby 20, Xbox One