EGX 2019 saw the gaming expo return to London for the first time in a number of years. As the Earl's Court hall no longer exists, the event was held at ExCel London. Made up of two giant halls separated by a long concourse, one side of the ExCel was dedicated to EGX for its four-day stint. With the usual main show floor containing large PlayStation, Nintendo and Virgin areas, as well as the Rezzed section, board gaming area and large exhibition stages for fighting games and live streams, the overall layout would be familiar to regular attendees.
• Developer: Square Enix
• Publisher: Square Enix
• Previewed on: PlayStation 4
• Release Date: 3rd March 2020
Normal expo rules apply here so as I queued with the other early risers on Thursday morning, I knew that if I wanted to play one of the bigger games, I would have to beeline for one straight away to avoid queuing for half the day. Therefore, as soon as the large shutters opened, I headed directly to the PlayStation section to play Square Enix's upcoming retelling of one of their most successfully games. Final Fantasy VII Remake was playable for the first time in the UK and I was eager to revisit Midgar.
The demo was the same one shown off at this year's E3 and gamescom events, with Cloud and Barret on their bombing mission to destroy a nearby Mako reactor before it culminates in a boss battles against the Guardian Scorpion. While we did open the mission with Jessie, she didn't come with us as we prepared to plant the explosives.
Combat was intuitive despite it being quite different compared to the original game's turned-based system. Enemies were visible outside of combat and you triggered battles when you got close to them. I wasn't able to tell if you could sneak up or avoid combat in this demo as the path was linear and narrow but as this was also a tutorial, I doubted the option would have been there.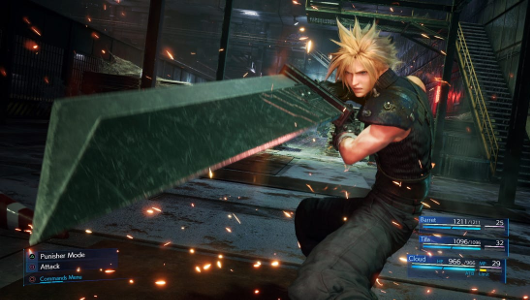 When a battle began, normal attacks were performed by pushing the Square button. Cloud's Buster sword felt weighty and the sense of power even from these attacks was satisfying. However, they were relatively weak compared to the abilities you could activate when an Active Time Battle bar was filled. Pressing the Cross button (that still sounds weird) caused the game-play to freeze and a Command menu to open. From here, you could choose between abilities, like a Braver (a single powerful slash), spells and items. Limit Breaks were also selectable in the Command menu when they become available.
Fighting the smaller enemies was quick and fun. I eventually encountered flying foes who were difficult to reach for Cloud and the game taught me how to switch characters. Barret's gun arm then allowed me to easily take them out with its reach and auto-aim. Similar to Cloud, he had a range of abilities, spells and items he could use and switching between them was instantaneous. When you were exploring though, you could only move around as Cloud.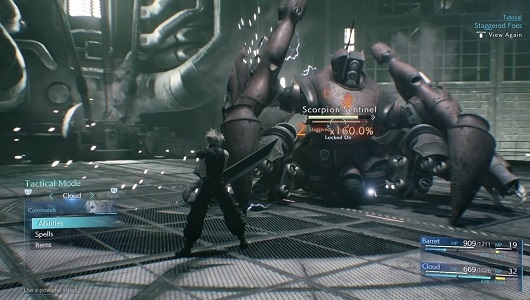 Once the boss fight triggered, I started to see the depth Square Enix were trying to introduce into the combat. Firstly, attacks from the Scorpion could be either evaded using the Circle button or hidden from by using nearby obstacles like debris. As you fought, a separate bar began to fill under the robot's health bar. When it was full, the Scorpion became staggered, allowing me to unleash my most powerful abilities, as in this state, it took more damage.
The second phase of the fight saw the Scorpion develop a barrier around it. In order to deal damage to it, I needed to run behind it and hit the exposed area near its tail. Periodically, the Scorpion would fire its tail laser, forcing me to hide. The AI on whichever character you were not playing could use some work though as they sometimes got stuck in geometry as they sought cover. However, as the tail only seemed to target whoever I was controlling, it didn't matter too much.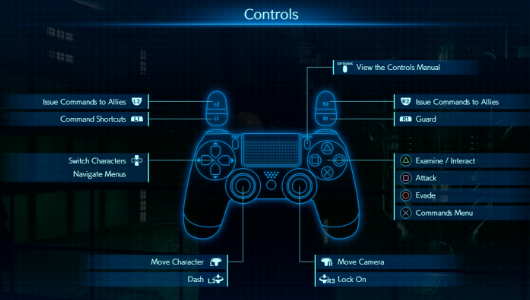 Once the final phase began and the music really ramped up, it really felt like playing the original game again. The visuals were stunning to look at and the soundtrack was as epic as it needed to be. Based on what I played, the remake will be worth the wait as it combines the old (music, characters) with the new (combat mechanics, visuals) to make something that feels fresh but familiar.
The first part (of how many?) will drop on 3rd March 2020 so there are only a few more months to wait.
Tags: demo, EGX 2019, ExCell Center, Final Fantasy VII Remake, London, PlayStation, PlayStation 4, Sony, square enix