Iron Man 3, Ant-Man, Ant-Man and the Wasp… it's not easy following an Avengers movie. Iron Man's much-maligned threequel had to come right after Nick Fury's flawed superhero group saved New York (nay, the world) and a purple-skinned Mad Titan made his brief screen debut, while Ant-Man had to follow first a mad robot trying to take over the world, and then that same purple-skinned Mad Titan wiping out half of it with a single snap.
• Director: Jon Watts
• Exhibition: 2D
• Rating: 12A
• Run Time: 129 mins

So spare a moment then for Spider-Man: Far From Home. Only two and a bit months ago the world raptured and cheered and cried for Endgame (as of this writing the second-biggest movie ever… though not if that re-release has anything to do with it) as the Avengers fully assembled and took down the Titan once and for all. As emotional epics go, it's right up there – which could make it difficult for Peter Parker's solo sequel in which he and his classmates go on a European vacation to really make its mark. Except this is really the norm. Iron Man aside, both Ant-Man entries purposefully acted as somewhat of a palate cleanser – though you could argue that IM3's comedic aspects (and personal opinion will dictate if you want to include the 'Mandarin' reveal in that category) also make it a dramatic comedown – a way to lighten the mood following the heavy plotlines of the ensemble outings. And let's be honest, if you had to pick the best character to slip right into that post-Avengers mood-lightening slot, it would be everyone's favourite neighbourhood Spider-Man.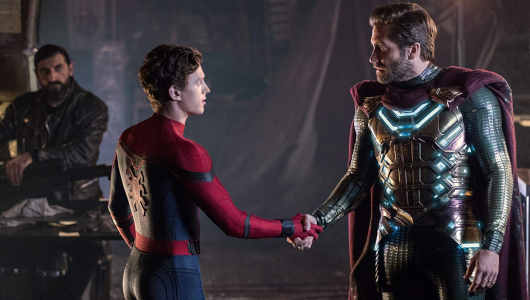 The reaction to Tom Holland in the role since his debut in Captain America: Civil War has been universally-positive, much like the reaction to Spider-Man: Homecoming, so it's safe to say that anticipation is high for the follow-up. Which makes it extremely pleasing to report that the high hopes are bang on the money. Far From Home is a delightful outing that delivers big on action, comedy, twists and turns and comic book moments, where the cohesive cast all deliver.
Despite numerous rumours to the contrary, Michael Keaton's Vulture is out this time as the movie's other big star, with longtime MCU-linked Jake Gyllenhaal in as Mysterio. The trailers' revelation that this newcomer comes from an alternate universe – a multiverse if you will – has got people talking… and that's all we can really say about that. Similar to Endgame, it's hard to talk about the movie's plot here without dropping into spoiler territory, so let's instead focus on what we can talk about. Holland is once again an absolute joy in the lead role, removing any doubt (if there was any lingering anywhere) that he is far and away from the best Spider-Man we've seen yet on the big screen. Maguire and Garfield had their fans, for sure, but Holland has been so universally accepted since stepping into the role in Civil War that already you just can't imagine anyone else as Peter Parker. Following the on-screen events of Endgame and Tony Stark's heartbreaking demise (it's not a spoiler any more guys), Parker is forced almost by proxy and association to step up and fill the almighty boots worn by the genius, billionaire, playboy philanthropist, and Holland does a wonderful job of getting across the youngster's duelling emotional inability to fill the Stark role and of desire to actually step away from the world of Avenging and trying to save the world, instead more keen on hatching and executing a plan to hook up with the apple of his schoolboy eye.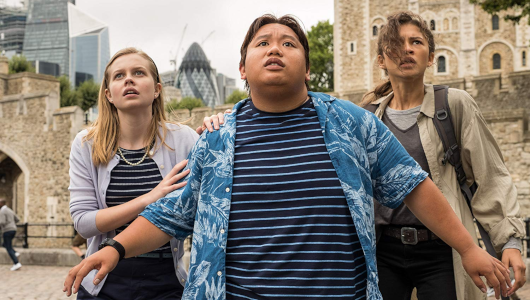 Yep, MJ. Played with an appealing charm by Zendaya in Homecoming and amplified here with great comic timing and sharp deadpan delivery, there were definite hints of growing chemistry between her and Holland in the first outing, and this time out their relationship is front and centre for large parts of the movie. Indeed, more often than not the burgeoning teenage love takes centre stage over the threats being unleashed on the world. And what's more, it works thanks to her and Holland and some great storytelling and direction by Jon Watts. The director manages to intertwine a teenage high school love story with a world-threatening disaster epic and brings the goods on both counts. Action, too, is definitely not short-changed, with Wats clearly loving the ability to take Spidey out of the Queens setting from Homecoming having a European canvas on which to paint his lead character's web-slinging shenanigans. Venice and London, especially, give us some high-octane sequences.
Character-wise, it isn't all Holland and Zendaya taking over the show as Gyllenhaal certainly makes his mark in his first (and hopefully not final) MCU outing. He is an absolute joy as Quentin Beck, soon to be dubbed Mysterio, especially once things step up a gear (no spoilers but it's not hard to see happening what happens – not least if you know your Spidey comics) and he brings an energy and presence that really compliments the movie's tone. A word too for Samuel L. Jackson, again given more free rein to continue exploring Nick Fury's multi-level deep character in ways similar to that seen in Captain Marvel, this time putting across a man who has been gone for five years (remember, the Snap? Or is that the Blip now?) and come back to a world he doesn't know. Regrettably, the one character that does feel let down is Jacob Batalon's Ned, and that is through nothing more than circumstance. His and Parker's friendship was a staple of Homecoming, but with the Peter/MJ relationship taking the main focus here, Ned seems to be pushed somewhat to the sidelines. He does get a romantic subplot to give him something to work with, but there could definitely have been more done with him, especially given how much of an impact the Parker/Ned chemistry made on the first film.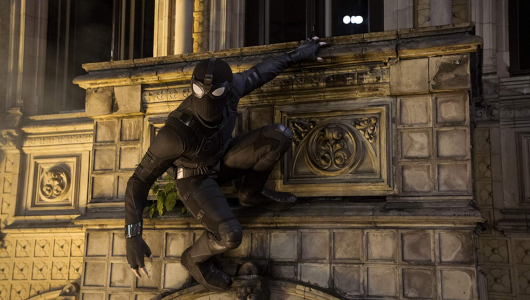 This is really the film's only negative – in itself, an indication of just how good it is and how great a job Watts has done – and should not detract from just how remarkable and enjoyable the whole thing is. I could criticise a minor subplot with Remi Hii that ultimately goes nowhere and is dropped pretty quickly, but it's so minor that it feels almost not worth mentioning. Instead, focus on the great cast chemistry between the leads, comedic moments (Martin Starr's turn as Peter's teacher Mr Harrington is superb) and some intensely-wonderful scenes that would not be out of place in a Doctor Strange movie. Also a brief note – not that it should need bringing up after eleven years and twenty-three movies – but you absolutely must stick around after the credits. I will, and physically can't for risk of spoilers, say no more than that.
Ultimately, you will be extremely hard-pressed to find anyone that comes away from this disappointed. It has comedy, action, heart, emotion and anything else you could want to look for in a movie. Instead of taking its position as the palette cleanser to Endgame, Far From Home has instead done its damndest to outshine everything in Phase three and lay down a marker to everything still to come in Marvel's much-anticipated fourth phase of the MCU.
Tom Holland further cements his position as the definitive on-screen Spidey
Jake Gyllenhaal makes a sterling MCU debut
Amazing action scenes
Batalon's Ned is disappointingly underused
Heroes can come from different universes, strange new worlds or every corner of space, but sometimes all we really need is our friendly neighbourhood Spider-Man. As long as he is around, the MCU will survive a long time yet.
Tags: Cobie Smulders, Columbia Pictures, J. B. Smoove, Jacob Batalon, Jake Gyllenhaal, Jon Favreau, Jon Watts, Marisa Tomei, Martin Starr, Marvel, Marvel Cinematic Universe, Marvel Studios, Mysterio, Peter Parker, Quentin Beck, Samuel L Jackson, Sony Pictures Releasing, Spider-Man, Spider-Man: Far From Home, Tom Holland, Zendaya