Comparison is often not a good thing. Even if differences exist, if something is shared – name, story, content, whatever it is – it will inevitably lead many to match one off with the other to determine which one is better. So for Andy Serkis to bring his vision for Rudyard Kipling's The Jungle Book to the big-screen less than three years after Disney's $177m version is brave, to say the least. And when I say big-screen, that of course was the original plan. However six months ago, a deal was made to bring this new re-telling to Netflix, a move some suggested would ease the pressure on Warner Bros. in the event of a box office flop and save millions on marketing the film. Whatever the reason, it doesn't take away from the fact that the two will get compared, though with Serkis keeping his version closing to the original Kipling source material, it gives him the chance to offer something just different enough.
• Director:  Andy Serkis
• Exhibition: 2D
• Rating: 12A
• Run Time: 104 mins

While some aspects of Kipling's original book differs from Disney's original re-telling, the basis of the story stays the same; a tiger kills a mother and father, their baby survives and gets adopted by a panther and a wolf pack. And for the most part, things are kept as we know them, aside from a story detour involving a hunter looking for revenge that takes up a small portion of the tale and, ultimately, really adds little.
Of course, Serkis' history and position as the King of Motion Capture™ make him the perfect candidate to direct and feature here, and in some cases, the effects work is of a high standard, especially when seen from a distance. Fluidity and 'natural' movement can sometimes be a sacrifice when it comes to CGI, especially in animals, but here there aren't any major issues in that department. The issue, unfortunately, comes in the design of the creatures. Whether intentional for the viewer's benefit, there appears to be a big element of humanising the animals, with the facial features in particular just not looking right, and it does affect the viewing. Even though you know you're not watching an actual bear and panther square off with a menacing tiger, it still takes you out of the moment. Suspension of disbelief, and all that.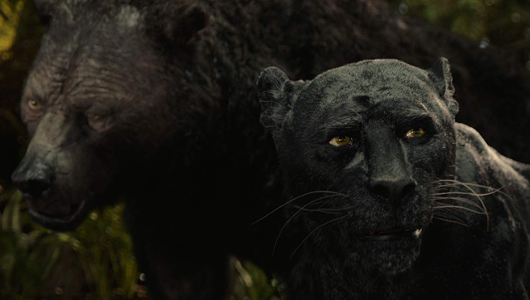 Of course, being a motion capture movie, the visuals are only one part of it. Serkis has assembled quite the A-list cast to lend their voices, to varying degrees of success. Benedict Cumberbatch voices Shere Khan, and while you will inevitably and obviously get reminders of The Hobbit's Smaug, his performance makes Shere menacing and intimidating. At the other end of the scale, Cate Blanchett's Kaa is underwhelming and far too overdone; Scarlett Johansson brought enticement and seduction to her Kaa three years ago, while Blanchett's serpent sounds like someone with a 40-a-day smoking habit. Christian Bale, meanwhile, very occasionally brings Batman's gruffest vocals to Bagheera and makes you think he's about to enquire where the trigger is.
The movie's biggest issue is the difference between how it looks and its story. Between the often-stellar effects and gritty, dark and sometimes-picturesque jungle environment, the visuals are mostly great, which makes the conflicting story all the more frustrating. At times it feels aimed at children, very simple in its execution and presentation. But scenes such as Mowgli coming face-to-face with a friend stuffed and mounted, or cute, innocent animals being hunted and killed, are most definitely not aimed at children and will very likely cause upset. And there are most definitely not any Disney-like musical interludes to lighten the mood, indeed there is no singing here. The jungle is a cruel place, full of darkness, threat and, in many cases, death. It's like Serkis and his scriptwriter couldn't decide what this film is meant to be. Referencing Kipling's work more closely, of course, means it will be darker than Disney's offering, and that would be fine, but when the story offers very little complexity and is as easy to follow as a standard family-friendly movie, it's jarring and ultimately affects the viewing.
Cumberbatch menaces as Shere Khan
Looks magnificent in places
The contrast between a kids story and an adult look drags the film down
The vocal performances need to be reined in
Some of the CGI work is off-putting
In some cases, Serkis must be congratulated for Mowgli. A lot of the effects work carried out by his performance capture studio is superb, and his bravery and determination in attempting to offer something different from a familiar story deserve credit. However, underwhelming vocals from some of his big-name cast slips in CGI and a big disconnect in scripting and presentation drag this one down. After two trips to the jungle in less than three years, now might be the time to take an extended break from this story before one day returning, hopefully with nothing more than the… bare necessities.
The author paid to see Mowgli
Official Movie Site
Tags: Andy Serkis, Benedict Cumberbatch, cate blanchett, Christian Bale, Freida Pinto, Matthew Rhys, Mowgli, Naomie Harris, Netflix, Rohan Chand, The Imaginarium, The Jungle Book, Warner Bros. Pictures