After unfair criticism to Rocky Balboa, and with most declaring the end of the famed Rocky franchise, Creed was like a literal right hand out of nowhere. Critically and commercially praised, Ryan Coogler's shift of the focus to Apollo Creed's son was looked like a renaissance for the franchise, a chance for Sylvester Stallone to show that he can actually act – and very well – and was just a damn good movie. This time out, Coogler takes a back seat and sits in an executive producer role, while Steven Caple Jr takes over the directorial duties, though maybe it would have been better if he didn't.
• Director:  Steven Caple Jr.
• Exhibition: 2D
• Rating: PG
• Run Time: 130 mins

Let's get the negatives out of the way first; Coogler struck gold with the first movie by not shying away from emotion and drama. Creed wasn't just a boxing movie, it was a movie about a fatherless son torn between wanting to explore his father's name and a desire to move away from that very same thing. Creed II, on the other hand, seems all too quick to move away from that same emotion and drama and get attention back inside the ropes. Don't get me wrong, there are emotional moments but it always feels like there could be more to explore before we are dragged back to the matter at hand. The other main issue here is with the writing, inasmuch as that it fails the film. The storytelling feels more in your face than in the first movie, whereas Coogler showed a delightful layer of subtlety and a 'less is more' technique. Here, Caple Jr seems to use announcers' commentary for exposition and has his characters have a lot more to say that is probably needed.
Elsewhere, the film's antagonist Viktor Drago – with dad Ivan at his side – doesn't get anywhere near the sort of focus one would expect. Indeed, aside from one short argument between the two about his mother, we hear nothing from the man. Yes, we know his dad killed Creed's dad, and then Rocky walked into Mother Russia and beat Ivan in his own backyard, but other than a loose thread of a story about Ivan shaming and embarrassing his country all those years ago, we have no idea why this whole feud is even happening.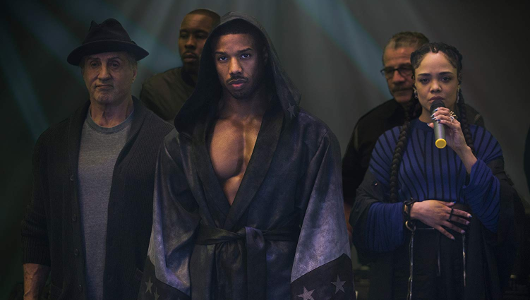 But happen it does, and this gives Stallone another chance to show off the acting chops that surprised many in the first film. Conflicted, scared and alone, Balboa is not about the bravado that the original series showed him in, but here – and in the first film – his role is not about that. You can tell that Stallone is happy and comfortable in the supporting role and adds a gravitas to the film that many did not think possible. You can't help but feel for him when he is hurting, and be happy for him when things go his way. In many ways, and echoing something that Stallone himself has been publicly suggesting in the promotion for this movie, this feels like a natural end of the road for Rocky. And if it does end up being just that, Stallone can be proud that he added several exceptional layers to a character that many thought could never have. He also thankfully maintains his excellent chemistry with Michael B. Jordan, who has really grown into this character and has firmly made it his own. Whatever the future holds for this franchise, and especially if this is the last we see of Stallone in it, it feels like Jordan is more than capable of carrying this moving forward.
Alongside them once again is Tessa Thompson, now a big-time star since her appearance in the first film thanks to her star turn in Marvel's Thor: Ragnarok and upcoming appearance in Avengers 4 are superb once again. Bianca is still dealing with her hearing issues and concerns that her soon-to-be-born baby is going to inherit the same issues, and Thompson plays these issues really well. Despite that, however, she still feels wasted here, like there could be so much more for her to do, given the story playing out with Creed.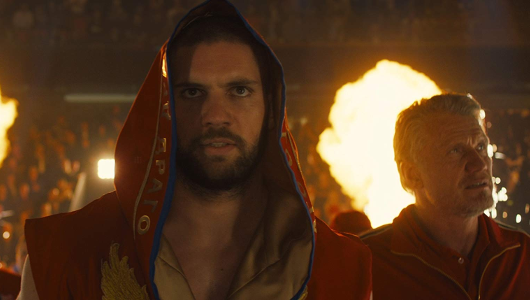 Back to Stallone though, as there is one more thing we have to touch on. Of course, the film's main story brings the Drago family back into the mix, meaning a reunion between Stallone's Italian Stallion and Dolph Lundgren's Ivan Drago. Like Stallone, Lundgren is not commonly known for his acting ability, which makes this, even more, the pleasant surprise. One scene, in particular, taking place in Rocky's empty restaurant, is wonderful in its subtlety and presence. It is a joy to watch these two in the same frame again, even more so if this does turn out to be Stallone's swansong in the series.
A final note for the film's concluding set piece; taking place in the ring as all good boxing movies should be, it is a well-shot delight and sucks you in, while the end sequence – with oh-so-familiar music – is extraordinary and will make all longtime Rocky fans feel all tingly and nostalgic.
Great in-ring action scenes
The three leads are excellent, though Thompson could have been given more to do
The final sequence – with THAT music
Woeful use of Drago Jr.
Scriptwriting is poor
Doesn't explore the emotional elements enough
All in all, and despite its flaws, Creed II is a very good movie that occasionally saunters into 'great' territory. Whether Stallone sticks around for one more fight or not, as long as Jordan is at the helm, the series isn't down for the count just yet.
The author paid to see Creed II
Official Movie Site
Tags: Creed II, Dolph Lundgren, MGM Pictures, Michael B Jordan, New Line Cinema, Phylicia Rashad, Rocky, Steven Caple Jr., Sylvester Stallone, Tessa Thompson, Warner Bros. Pictures, Wood Harris