Two Point Hospital is created by some of the same people who worked on Theme Hospital, but is it fair to compare the two?
This is a question I have asked myself as I played the demo earlier in the year and you know what? Yeah, it might not be fair to compare them against each other but I loved Theme Hospital so much, I even recently played it for many hours again, and I'm still enjoying the core gameplay. The fact that a new game is out that is like a more modern, upgraded version excites me.
• Developer: Two Point
• Publisher: SEGA
• Reviewed on: PC
• Also Available On: Mac, Linux
• Release Date: Available Now

Theme Hospital by Bullfrog, released 1997, was massively popular in my household and many others on PC mostly. It had a lovely silly humour which started with the ditzy doctor on the menu to the illnesses, tanoy and the shooting mice mini-game.
Two Point Hospital by Two Point Studios, released this year (2018), with a large fan base who waited eagerly for it. It has silly humour that starts with the voice-over in the menu, to the illnesses, tanoy/radio DJ and the shooting off unibrow mini-game.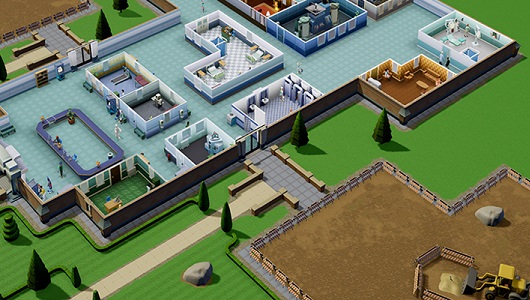 As you can see from the two descriptions that both games can be seen as being very similar to each other and therefore likely Two Point Hospital will be seen as the spiritual successor to Theme Hospital because of this. Of course, Two Point Hospital is way more modern with the way it presents itself:
It is true 3D, rather than 2D sprites that give a fake 3D look (such as what Theme Hospital used).

You can now rotate the camera and change the height so that you can see the full map from any angle, which is very useful.

The character models look modern and clear (look like claymation).

You can micromanage your staff by clicking on them and telling them which departments they are allowed or not allowed to work in.

The Oscar type award ceremony after every game year in a hospital.

Brand new silly sounding and looking illnesses – such as Light Headedness and Cubism.

You can get a janitor to capture ghosts (so long as they are trained to do so), which can run amok and scare staff and patients (sometimes this can cause patients to leave the hospital).

The people's moods in the game cause interesting interactions that can help improve staff morale which can turn can improve their performance or it can go the other way and decrease morale causing bad performance.

The challenges your staff present to you can be quite useful as you can gain some good money from those -These can be a challenge to improve a room or maybe to train a number of staff or such.

The little actions that the characters do sometimes when they are bored or waiting for something like pulling out a wand and just do a Harry Potter swish of said wand, can be amusing.

It has a nice system where when you unlock an item, department or training you can then use it at all of your hospitals. So this means you can unlock something and then go back to an older hospital to improve it with what you unlocked or start the level again with all the stuff you have unlocked.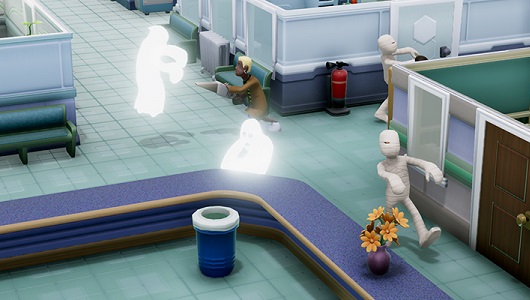 The more I play the more I find that I didn't notice before in previous sessions. I have to admit I have spent hours on this game, according to steam I spent 10 hours the demo alone.   I do really enjoy this game not just because I enjoy hospital management games but also because you can see how much love, time and effort they have put into it.
You can look at the hospital from different angles and rotation. I find this useful when building and seeing how you can fix a pathfinding issue with the NPCs
You can unlock stuff and then go back and improve an older hospital
The animation for destroying something to add on a building to your hospital. It's like Thanos is destroying for you… you can laugh evilly as you destroy the nearby playground "Boohahaha!"
Though the Radio DJ and Tanoy Lady are funny, I do start to get bored of hearing the same stuff over and over
Fixing a pathfinding issue can be annoying if you start getting such issues.
Sometimes it can feel a bit too forgiving and easy (sometimes)
Would I recommend this game? Yes, it is a worthy addition to the management sim genre, and an excellent first game from Two Point Studios, who plan to make further games within the Two Point County setting that they have created.
Review copy provided by SEGA
Official Game Site