It is a good time to be a gamer at the moment, especially if you own a PlayStation 4. Sony's first-party offerings this generation have been outstanding so far, in large part due to the quality and talent they have fostered over the years. This has been typified recently by Santa Monica Studio and their triumphant return to the God of War franchise.
• Developer: Santa Monica Studio
• Publisher: Sony Interactive Entertainment
• Reviewed on: PlayStation 4
• Release Date: Available Now

When the game was first revealed at the beginning of Sony's E3 press conference in 2016, I was immediately in awe. While I had always known that the developers at Santa Monica Studio were technical maestri, the fact that they could take a character that had practically become a parody of himself and effectively make me care about him and his relationship with his son in the space of five minutes blew my mind. I began to wonder what they could achieve with Kratos over the course of a full-length story.
It took almost no time at all for me to become invested in this journey. The opening moments of the game see Kratos gathering wood for his late wife's funeral pyre. Through Christopher Judge's incredible performance, as well as the aforementioned technical mastery of the developers, the pain of loss etched across the Ghost of Sparta's face is raw and affecting – something six prior games in the franchise were unable to achieve. This connection to the characters and their stories is what propels the entire narrative of the game and keeps your focus whether you are fighting gargantuan creatures or exploring Midgard.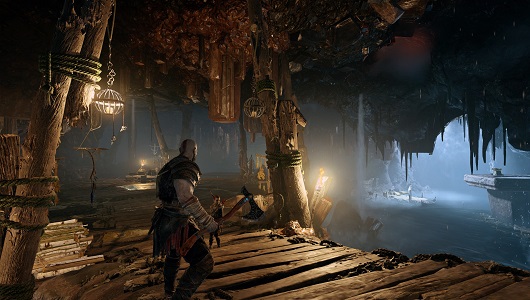 If you are new to Kratos as a character, you will not miss out on much in this game as the writers do an excellent job in conveying all you need to know. The primary focus is on the journey you take with your son, Atreus, to spread your wife's ashes from the highest peak in all the realms. It is clear from the beginning that Kratos was an absentee father, always near the boy but rarely present. This places a lot of strain on their relationship, making the opening hours of the game uncomfortable for both of them as they must fight together to get where they are going.
In a departure for the series, the game's camera is no longer directed for the player, instead adopting a similar view to games like The Last of Us or Horizon: Zero Dawn, with control of the perspective, mapped to the right stick. This also corresponds with changes to the combat system, with light and heavy attacks now mapped to the R1 and R2 buttons respectively. Your primary weapon in the game is also different; instead of the blades that have become synonymous with the God of War franchise, you now wield the Leviathan axe. Despite all of these changes, however, combat remains one of the game's strongest elements – feeling simultaneously familiar to the flow of previous titles whilst also requiring you to think about your surroundings and battlefield positioning far more. This truly feels like a maturing of the mechanics rather than an all-out change.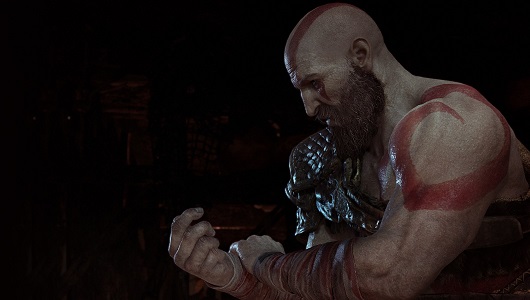 Atreus is also responsible for a major game-play change too. Up until now, Kratos has acted as a one-god-army, taking down pantheons of fellow gods on his own. The introduction of his son now means that Kratos can actively call on his help in battle, with a specific button (square in this case) mapped to Atreus' actions. This will prompt him to loose an arrow at whatever enemy you are targeting, usually distracting them or sometimes stunning them. Incorporating him into your moveset becomes invaluable as he is your main method of managing opponents on the battlefield.
Moving the setting from Greece to the realm of Midgard also changes the relationship Kratos has with his environment. He is now an outsider, requiring his son's help to translate writings he is unfamiliar with. This plays into the game-play too, as reading language cyphers allow Atreus to unlock other realms to travel to. Given Kratos' abrasive demeanour, Atreus also acts as your ambassador to the other inhabitants of Midgard. Brok and Sindri, dwarf blacksmiths, act as roaming shops that you can use to buy and upgrade armour and weapons. They also have a story of their own that Atreus actively participates in and progresses in parallel to your own in the game.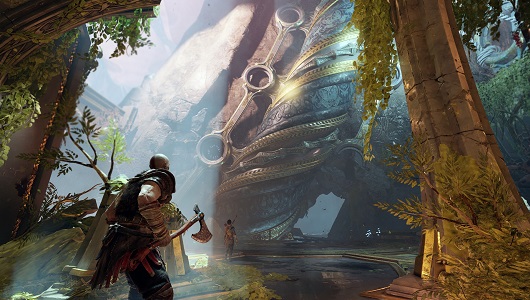 Side content and quests like this in God of War are expertly woven into the themes of the game. You will often meet characters with tasks for you that relate to missing family, betrayals or consequences of interacting with gods. All of these are fun to do and give sufficient rewards to feel worthwhile but also play into the key relationship being developed in the game.
It is immediately obvious that the game is visually a masterpiece. From the characters to the environments, the artwork and visual fidelity on show is astounding for a game running on an almost five-year-old console. Each realm you visit is also strikingly beautiful, with Alfheim being a particular highlight. Even the creature designs have a beauty to them; a disgusting, abhorrent beauty!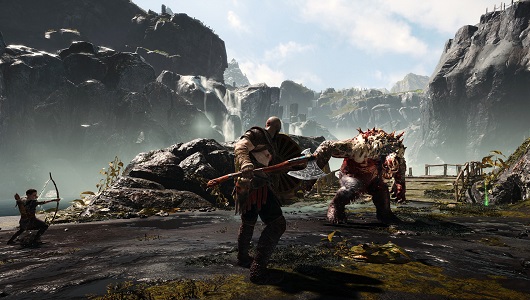 Combat feels familiar but matured, powerful but deliberate too
You will genuinely care about Kratos and his son
The story is superbly written and delivered
This game is crying out for DLC and the fact we may not get any is hurting me
There are still plenty of games left to come out this year but it is going to take something truly special to shift God of War from the top of my personal game of the year list. This may well qualify as my game of the generation, whenever that discussion needs to be had. Santa Monica Studio and Cory Barlog have crafted a masterpiece that deserves to be played and discussed in the same way we laud games like The Legend of Zelda: Breath of the Wild and Uncharted 2: Among Thieves. It is most definitely a good time to be a gamer at the moment.
The review copy of this title was purchased by the author.
Tags: god of war, PlayStation 4, Santa Monica Studio, Sony Interactive Entertainment